Starbucks CEO faces legal trouble, Google says bots aren't sentient and investors pick profit over ESG
Also: Spindrift's take on the "balsamic Coke" TikTok trend.
Hello, communicators:
Sparkling water brand Spindrift's recent take on a TikTok trend was well-received by viewers, prompting more than 3,000 likes and garnering 54,000 views.
The "balsamic vinegar Coke" trend entails users mixing balsamic vinegar with a seltzer water of their choice in the hopes that the resulting carbonated beverage will taste like a healthier version of Coca-Cola.
By and large, it does not. But Spindrift's TikTok followers were more than happy to drink up the company's take on the trend.
"Kombucha and body wash," the video's star comments after crafting the drink. "I like it."
"This is the winning brand TikTok of the week," commented one user.
"Omg I almost did this today but I didn't want to waste a spindrift," said another.
"Grossest combo," another proclaimed. "But Spindrift alone? The only thing I drink <3"
It's a good reminder to keep an eye on social media trends — you never know when one will surface that seems tailor-made for your brand.
Here are today's other top stories:
Google denies claims of AI sentience
Google is denying claims made by one of its researchers that one of its artificial intelligence projects has become sentient.
In a Medium piece, engineer Blake Lemoine published his conversations with AI chatbot system LaMDA and asserted that the exchange proved sentience.
Google has placed Lemoine on paid administrative leave. Google spokesperson Brian Gabriel told the Washington Post that "there is no evidence" that the LaMDA system is sentient:
Our team — including ethicists and technologists — has reviewed Blake's concerns per our AI Principles and have informed him that the evidence does not support his claims. He was told that there was no evidence that LaMDA was sentient (and lots of evidence against it).

Of course, some in the broader AI community are considering the long-term possibility of sentient or general AI, but it doesn't make sense to do so by anthropomorphizing today's conversational models, which are not sentient. These systems imitate the types of exchanges found in millions of sentences, and can riff on any fantastical topic.

Hundreds of researchers and engineers have conversed with LaMDA and we are not aware of anyone else making the wide-ranging assertions, or anthropomorphizing LaMDA, the way Blake has.
Why it matters: Gabriel's detailed statement works because getting specific when refuting claims made against your organization is important — especially when it comes to technology companies — because consumers are becoming increasingly worried about the power of tech companies and the implications of AI. A detailed statement is almost always stronger than a vague one.
---
MEASURED THOUGHTS
A new survey from Morning Consult shows ESG commitments may not be as important to investors as companies think.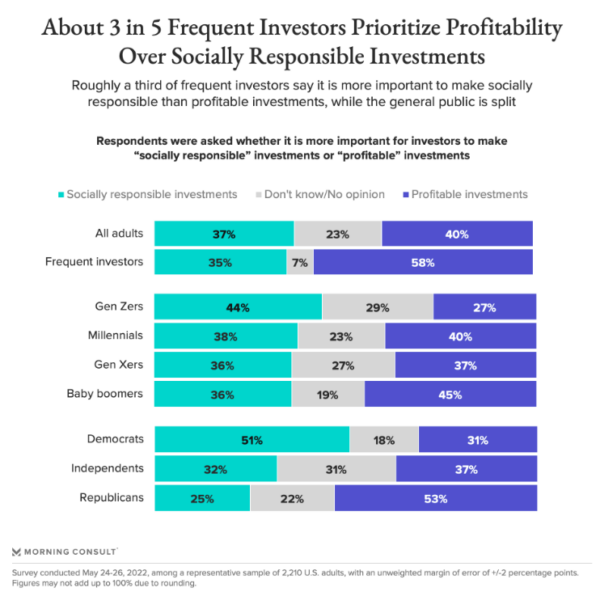 Just over a third (35%) of frequent investors said it's more important for investors to make "socially responsible" investments" than "profitable ones," compared to 58% of respondents who said the opposite.
Unsurprisingly, Gen Z is the group most likely to prioritize socially responsible investments over profitable ones (44%), while nearly the same percentage of baby boomers (45%) prioritize the opposite.
This data is in contrast to other surveys that show consumers want more from the companies they support on ESG topics. It's a good reminder to PR pros that your investor relations strategy shouldn't necessarily be the same as your general PR messaging.
Starbucks CEO accused of illegally refusing good faith union bargaining
The union behind Starbucks workers has accused CEO Howard Schultz of violating labor law during an interview with New York Times journalist Andrew Ross Sorkin. The union filed a charge with the National Labor Relations Board.
When asked about Starbucks workers' unionization efforts, the union claims that Howard's response constituted "an implied or actual threat to refuse to engage in good-faith bargaining with the Union," among other charges.
"We have to demonstrate to our people they can trust us," Schultz said, which prompted Sorkin to ask if he could ever envision "doing that and embracing the union as part of it?"

Schultz flatly answered, "No."
Why it matters: PR pros should be careful to work with legal counsel on crafting interview strategies and responses that fall within the legal and ethical boundaries CEOs are held to. Executives should be thoroughly prepped on what they can and can't say, especially with regard to topics like unions, mergers and other sensitive legal matters.
COMMENT