IBM responds to age discrimination lawsuit, Americans want more tech industry oversight and Coinbase's Super Bowl ad garners huge Twitter response
Also: Go boneless with Wingstop for Valentine's Day, a new survey for social media pros and more.
Hello, communicators:
Today is a big day for couples, greeting card companies and romantic Italian restaurants around the world. But if you're single and feeling blue this Valentine's Day, Wingstop wants you to know that it's okay to go…boneless.
The fast-casual chicken joint's cheeky V-Day campaign encourages customers to get out of bed and into a Wingstop, offering boneless wings for $0.70 and "thigh bites" for $4.49.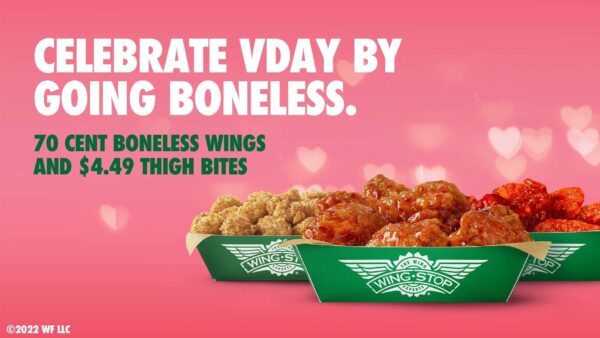 "Our fans are at the center of everything we do and this year we wanted to honor our single fans with a spicy offering," said Wingstop's Chief Growth Officer Marisa Carona. "There's so much to celebrate about going boneless on Valentine's Day, like the chance to stay in, kick back and dig into some flavorful food. Wingstop is about more than a meal, it's a flavor experience that will bring the heat to any boneless evening."
To best reach its target audience, Wingstop is promoting the deal with in-app ads on Tinder.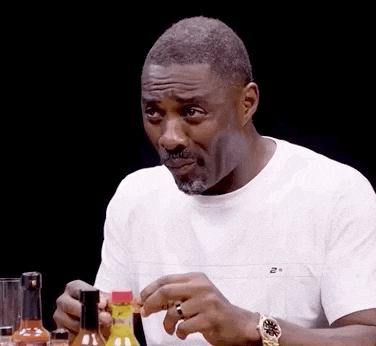 Here are today's other top stories:
IBM responds to age discrimination lawsuit
Hundreds of IBM workers are suing the technology company for age discrimination, claiming that execs dubbed older employees "dinobabies" and discussed ways to force them out.
According to reporting by Bloomberg, a court filing in the case alleges that multiple high-level IBM officials were involved in an email conversation that included speculation about how to "accelerate change by inviting the 'dinobabies' (new species) to leave" and frustration over the the lack of younger employees at IBM.
An IBM spokesperson said in a statement that the company never engaged in systematic age discrimination and it terminated employees because of changing business conditions, not because of their age. In 2020, the median age of IBM's U.S. workforce was 48, the same as it was in 2010, according to the statement.

The spokesperson also said the language cited in the emails "is not consistent with the respect IBM has for its employees and as the facts clearly show, it does not reflect company practices or policies."
Why it matters: Discriminatory hiring (or firing) practices are an easy way to sink your company's reputation—among customers, clients and potential employees alike. IBM's statement is an effort to separate the company's values from the behavior of individual employees.
In a situation where hundreds of former employees are claiming that an organization's C-suite is behaving badly, however, it may be necessary to take it one step further than a statement and show thoughtful action to counter a damaging narrative.
---
MEASURED THOUGHTS
New poll results from Morning Consult show more than 60% of Americans believe that the benefits provided to customers by major tech companies aren't worth the cost associated with the industry's increasing power.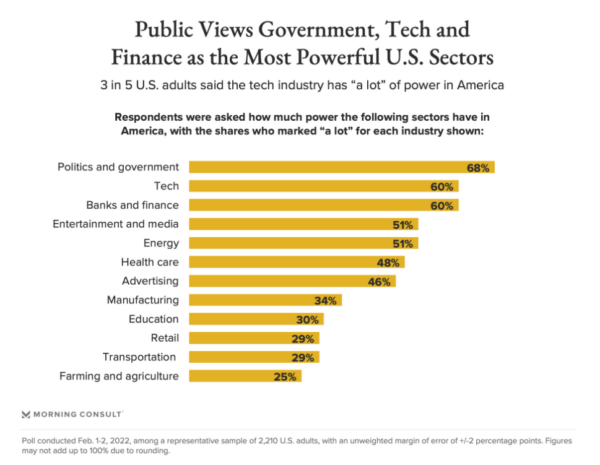 The same poll found that people view the tech industry as second only to politics and government in terms of power in the United States.
With the acknowledgement of that power comes the desire for oversight of the tech industry—nearly 2 in 5 poll respondents said the government should regulate technology companies more than it currently does.
Check out more from the Morning Consult poll here.
---
TAKE OUR SURVEY
We want to know about your career as a social media professional.
How big is your team? Are you valued at your organization?
If you're interested in helping benchmark the career path potential of social media professionals and shedding light on how social media is internally managed, viewed and evaluated, take our survey. The Social Media Career Survey is a follow-up to a 2020 report by the Institute for Public Relations, Ragan Communications and the University of Florida.
Whether you're in charge of company social media or involved in social media for a client, we welcome your participation.
Respondents will receive a full report on the findings, which will also be shared on PR Daily.   Responses will remain confidential.
Coinbase's Super Bowl ad takes Twitter by storm
Crypto exchange platforms had their proverbial day in the sun on a sultry February day in Los Angeles during the Super Bowl LVI. Coinbase arguably walked away with the most talked-about ad of the night, garnering more than 600 mentions and retweets per minute at the peak of discussion about the crypto platform on Twitter.
The company's 60-second commercial featured a QR code bouncing around a black screen, reminiscent of older computer screensavers (and yes, it did hit the corner perfectly at the end of the ad.) People who scanned the code were redirected to Coinbase's promotional website, with information about a limited-time Bitcoin investment offer.
The mystery of the QR code piqued the interest of many viewers—so many, in fact, that the Coinbase website momentarily crashed.
Oh wow that was more popular than we expected, but don't worry … we're all still going to make it! Check your emails if you had a problem and sign up/see terms for our $15 BTC giveaway here → https://t.co/fKHisXZJJc #WAGMI pic.twitter.com/ie7VXPS2xy

— Coinbase (@coinbase) February 14, 2022
And as The Verge reports, other brands took notice:
Other companies, like Meta, were quick to jump onto Coinbase's bit. Shortly after Coinbase's ad debut, Meta's Quest account tweeted its own bouncing QR code that linked out to the company's Foo Fighters-led VR afterparty it has planned for after the game.
What do you think? Was the popularity of Coinbase's ad negated by its nearly immediate tech troubles? Or do the Twitter analytics speak for themselves? Share your thoughts with us on Twitter using the hashtag #DailyScoop.
---
Announcing the PR Daily Leadership Network
PR Daily has launched the PR Daily Leadership Network, a unique membership group from Ragan Communications offering peer-to-peer advisory and team training along with a unique slate of resources and events to help public relations professionals break through the noise, increase their visibility and forge meaningful connections.
The Network provides daily insights and coverage on a range of topics including media relations, social media, measurement, Diversity, Equity & Inclusion, branding, thought leadership and crisis communications.
"The fast pace of change coupled with the demand on public relations professionals to protect and sometimes defend their company's reputation make it imperative for leaders to tap into the wisdom of other communicators and continue to learn and grow," says Diane Schwartz, CEO of Ragan Communications. "The PR Daily Leadership Network provides the answers but also encourages members to question the status quo and push for positive change."
Visit leadership.prdaily.com to learn more.
COMMENT