Survey: Email dominates; intranets get a rebirth
A new report reveals the most used channels, what employees want to hear about most right now, and much more.
So much about communications has changed since the onset of COVID-19, including the channels used to reach employees.
Email, historically the top channel used by communicators, has in­creased in importance, as half of re­spondents in a new survey report using email more now than they did before COVID-19. Not surprisingly, the biggest jump of any channel was virtual and video meet­ings, with 96% of respondents saying they use it more than before. Intranets, the third most-used chan­nel, historically eschewed by em­ployees, has seen a resurgence, with 58% of communicators using it more than they did pre-pandemic.
[FREE DOWNLOAD: The State of Corporate Communication: Summer 2020]
These were among the findings of a recent survey to evaluate the current state of corporate communications. Ragan, in conjunction with PoliteMail, surveyed more than 350 communicators in early July 2020 for our "State of Corporate Communication: Summer 2020" report.
According to the report, the top four channels currently used by communicators, regardless of company size, are email; virtual and video meetings; the intranet; and internal social network­ing, chat and real-time messaging tools.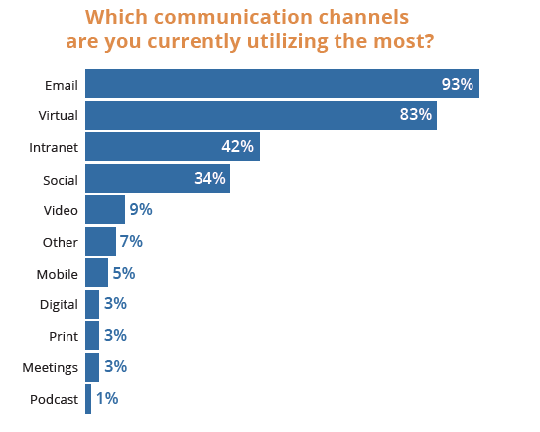 This revealing report reveals the answers to the following questions:
Which communication channels are you currently utilizing the most?
Are you measuring your communications efforts?
Which topics do employees want to know the most about right now?
What percent of your workforce is currently working from home?
How long do you anticipate work from home will remain?
Download your copy of the free report today.
COMMENT