The Academy defends inaction during Oscars, tracking sentiment over religious objections to vaccines and Bruce Willis' diagnosis prompts dialogue on aphasia
Also: a look at Twitter's unrequited love for the NASA Perseverance Rover.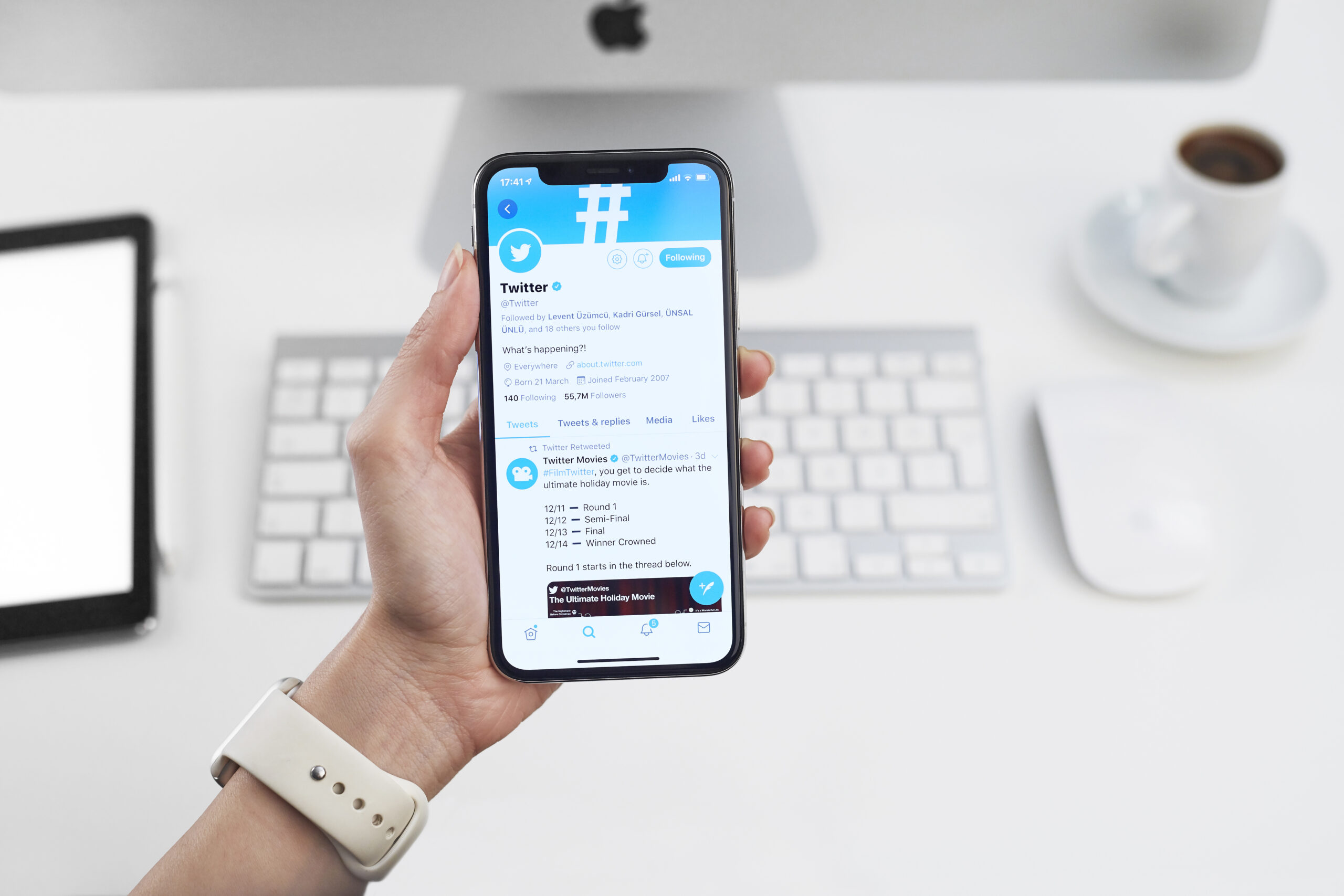 Hello, communicators:
Did you know that the Twitter's own official account follows only one other account?
@Twitter has more than 61 million followers, but the singular object of its affections seems to be the official account for NASA's Perseverance rover (@NASAPersevere).
Unfortunately, Twitter's admiration seems to be one-sided: @NASAPersevere does not follow them back.
It's a good reminder that playing around with which accounts your brands follow on social media can drum up interest and intrigue. (Remember KFC?)
Here are today's other top stories:
The Academy defends its actions during Oscars ceremony
The Academy of Motion Picture Arts and Sciences is setting the record straight when it comes to what happened following Will Smith's violent outburst at the Oscars.
In a new statement published yesterday, the organization asserts that it did, indeed, ask Smith to leave the ceremony after the incident — but he refused.
Additionally, The Academy's statement included details about disciplinary actions it will take against Smith and addressed Chris Rock directly:
Mr. Smith's actions at the 94th Oscars were a deeply shocking, traumatic event to witness in-person and on television. Mr. Rock, we apologize to you for what you experienced on our stage and thank you for your resilience in that moment. We also apologize to our nominees, guests and viewers for what transpired during what should have been a celebratory event.
The news received mixed reactions online:
people who have gotten punished by the academy: will smith

people who haven't: mel gibson, casey affleck, kevin spacey, james franco, adrien brody, roman polanski, woody allen

i wonder what the correlation is 🤔 https://t.co/W7lZoG9FSi

— ً (@bIckstvnes) March 30, 2022
I don't believe this crap by the academy for second because they handed him his Oscar for best actor and also unlimited time for his speech. #BlackTwitter https://t.co/X6R7LHhXUi

— Maxine Baptiste (@brownsugar7878) March 30, 2022
I love that the Academy asked Will Smith to leave the Oscars and he was like, "No" and they were like, "No worries, just thought we'd ask."

— Max Weiss (@maxthegirl) March 30, 2022
Why it matters: The Academy's statement is a clear attempt to communicate the organization's thinking and processes during a confusing and unexpected event. The apology to Rock and viewers, guests and nominees is a nice touch, acknowledging that what happened (the slap) was inappropriate.
However, as The Academy's discipline of Smith proceeds, the organization will have to grapple with a mismatch between its enforcement of its conduct policy and its previous failures to discipline past Oscar winners who have been found to be in violation of its stated values.
---
MEASURED THOUGHTS
New research from the Pew Research Center shows most Americans don't believe people should lose their jobs due to religious objections to the COVID-19 vaccine.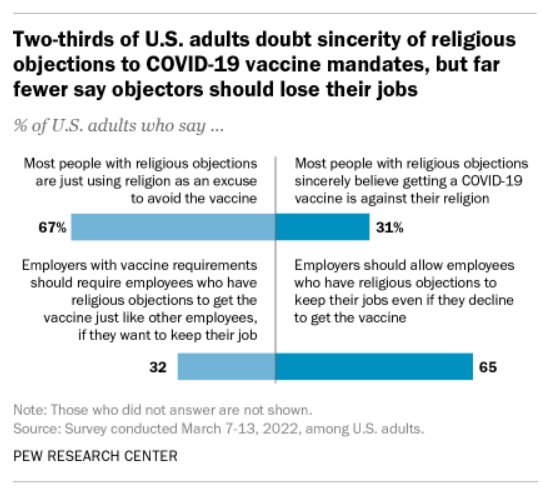 Sixty-five percent of respondents said that "employers should allow employees who have religious objections to keep their jobs even if they decline to get the vaccine."
Even among those who say most religious objectors are just using religion as an excuse to avoid the vaccine, there are more people who think religious objectors should be allowed to keep their jobs (37% of all U.S. adults) than think religious objectors should be required to get the vaccine to remain employed (29%).
The data is a reminder that vaccine mandates evoke complicated views from audiences. Even if you believe that a religious exemption is sought as an excuse, forcing the issue could backfire for your organization.
Read more from the Pew Research Center study here.
---
TAKE OUR SURVEY
We want to hear from our community about how their thinking has changed on media relations and its value inside their organization. If you work in communications, please take our short survey to help us chart the value of media relations for 2022.
The survey will take less than 10 minutes to complete and participants will be entered in a drawing for a $100 credit toward a Ragan event. All individual responses will be kept confidential.
Results from the survey will be shared at PR Daily's Media Relations and Measurement Conference in New York City on May 11.
Aphasia nonprofit helps audiences understand Bruce Willis' diagnosis
Following the news that actor Bruce Willis is stepping away to better handle his struggle with aphasia, the National Aphasia Association (NAA) leapt into action.
The nonprofit organization, which advocates for people with aphasia and their families, posted two articles about Willis' situation — a statement about Willis' diagnosis and a lengthier blog post titled "Understanding Bruce Willis' Aphasia Announcement."
NAA shared the blog post in a tweet, which at the time of publication has received 31 retweets and 52 likes:
Understanding #BruceWillis's #aphasia announcement: https://t.co/1t3K25JgKS

— Natl Aphasia Assoc (@NatAphasiaAssoc) March 30, 2022
What it means: The NAA's response to the Willis family's announcement is a good example of newsjacking to drive traffic and engagement to your social media accounts and website. Because the NAA is an advocacy organization experienced in working with people who have aphasia, it's a logical move for them to address the situation, and falls within their ability to address the news with the appropriate tact and empathy.
COMMENT