TikTok challenges rev up social media engagement effort
Cisco turned to the fast-paced platform to share #LoveWhereYouWork stories from intern ambassadors.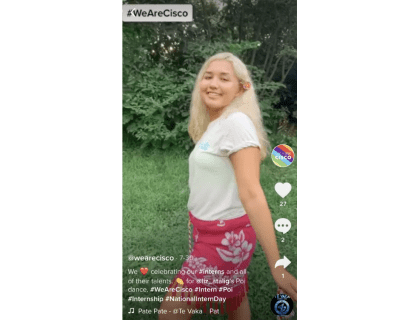 Cisco's social media audience consists of two personas: current employees and potential candidates. It has a variety of social media strategies to engage both audiences, but wanted to activate its virtual summer interns to become content creators on TikTok in a pilot program. The goal was simple: to create #WeAreCisco advocates through motivating them to be a part of something new and exclusive, while allowing them to be creative.
Pilot program was first of its kind 
The pilot program—the first of its kind at Cisco—activated interns to share their #LoveWhereYouWork story through a variety of TikTok "challenges" that the #WeAreCisco team issued weekly throughout the summer. To reach the active TikTok audience, Cisco worked with its university recruiting team to identify interns who might be interested in participating, then created an initial group of intern ambassadors and employee ambassadors (to highlight how the intern experience was integrated into the employee experience) and introduced them to the program using Webex Teams technology.
From there, the pilot spread through word of mouth internally at Cisco, which grew ambassadors with interns and employees who reached out also wanting to participate.
The employer brand team created a fluid editorial calendar of topics or "challenges" that it issued to ambassadors. Knowing the fast-paced nature of TikTok, the team pivoted and adjusted along the way a trending dance/game/song seemed relevant and fun for ambassadors to participate in (like the "Dolly Parton 9–5 Challenge," the "Electricity Game" or the "What I'd Wear" challenge.)
Throughout the pilot, the team was in constant communication with the ambassadors, getting their feedback and learning what types of challenges they liked participating in and which ones might be a bit daunting from a time perspective.
Weekly challenges amplify ambassador content
At the beginning of each week, Cisco announced the week's challenge and asked interns and employees to share their TikTok posts using #WeAreCisco along with other appropriate hashtags. Then it shared links to the TikToks in its Webex Teams room, to inspire people and also urge them to like and comment. Additionally, the team created a @WeAreCisco TikTok account. It was a test of the tolerance for the brand on the channel, but also as a place to amplify more of its ambassador content.
Creative metrics tell the story
The team got creative in how it captured metrics. It asked all ambassadors to fill in a custom Smartsheet form each week for insight into how their content was performing and how to learn from it. Through evaluating metrics and testing different types of challenges, the team learned that quickly capitalizing on TikTok trends generated more views and engagement, and using relevant hashtags and sound bites allowed the #WeAreCisco content to show up in search and reach a larger audience.
Other metrics include:
265K views on ambassador content; 19K views on @WeAreCisco content.
One intern post went viral with 239K views.
@WeAreCisco TikTok using trending sound and concept resulted in more than 14x more views than average content on the page.
A prospective employee messaged Cisco on Instagram, saying they found @WeAreCisco through an intern TikTok and wanted to learn more about what it takes to work at Cisco.
One TikTok-famous dad with 14K followers duetted his daughter on the WeAreCisco account.
COMMENT