Twitter adds ALT text badges to photos, Ogilvy UK won't work with influencers who retouch their bodies and faces and marketers worry over loss of cookies
Also: Here's what PR pros should know about NYT's new directive to its newsroom to tweet less.
Hello, communicators:
Dean Baquet, executive editor of the New York Times, is telling his reporting staff he'd like them to spend less time on Twitter.
"We can be overly focused on how Twitter will react to our work, to the detriment of our mission and independence," Baquet wrote in a letter to staff obtained by Axios. "We can make off-the-cuff responses that damage our journalistic reputations. And for too many of you, your experience of Twitter is shaped by harassment and attacks."
The New York Times has faced criticism of how it protects its reporters from harassment and bullying, both on social media and offline. The newspaper announced sweeping changes to its social media policy for reporters this week, which some critics called contradictory and warned that it could promote censorship.
we're cancelling each other over newsroom social media policy takes today. post your cancellable newsroom social media policy take.

— angel (@angelmendoza___) April 7, 2022
For PR pros, it's a signal that newsrooms might be rethinking their relatisonship to social media. But no one is leaving social media completely — and even Bacquet reiterates the value fo Twitter for reporting. But there are other ways for reporters to find stories, and PR pros should look to connect in other ways, too.
Here are today's other top stories:
Twitter adds ALT badges to photos, tests 'unmentioning'
Twitter announced a slew of updates and user experience experiments this week, among them the global debut of alternative text badges and improved descriptions for tweeted photos.
As promised, the ALT badge and exposed image descriptions go global today.

Over the past month, we fixed bugs and gathered feedback from the limited release group. We're ready. You're ready. Let's describe our images! Here's how: https://t.co/bkJmhRpZPg https://t.co/ep1ireBJGt

— Twitter Accessibility (@TwitterA11y) April 7, 2022
The ALT badges are part of the social media giant's attempts to make the platform more accessible.
Before Thursday's change, most users didn't necessarily have access to alt text descriptions unless using screen readers. Twitter first introduced image descriptions in 2016, but it could be hard to find where and how to add them. The company didn't have a dedicated accessibility team until late 2020, with workers who wanted to work on accessibility issues volunteering their time.
And the Twitter Safety account shared a new feature the company is testing: "unmentioning," which would allow users to leave conversations and tweet threads.
How do you say "Don't @ me," without saying "Don't @ me"?

We're experimenting with Unmentioning—a way to help you protect your peace and remove yourself from conversations—available on Web for some of you now. pic.twitter.com/rlo6lqp34H

— Twitter Safety (@TwitterSafety) April 7, 2022
Why it matters: Twitter's accessibility updates are a good faith effort to make the platform easier to use for those with sight loss. And its "unmentioning" feature could very well mitigate online harassment and threats, like those tech writer Taylor Lorenz has written about experiencing on the platform. Both updates speak to the company's efforts to make user experience more accessible and pleasant — something that could garner a few positive headlines as Twitter's PR team grapples with its controversial new board member.
---
MEASURED THOUGHTS
A new report from data analytics company Unsupervised shows many young marketers are feeling lost at the prospect of reaching audiences without the help of third-party cookies.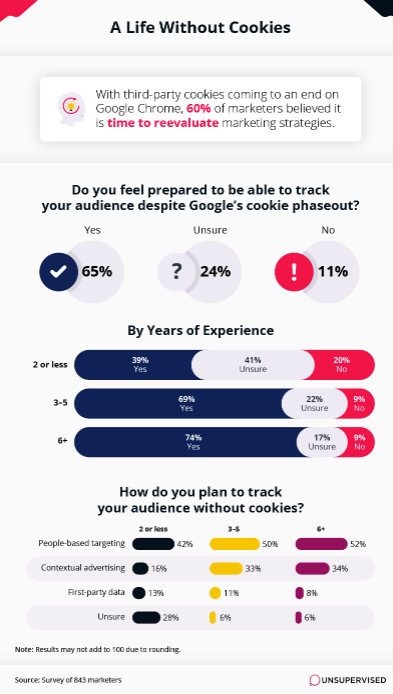 While less than 10% of marketers with more than six years of experience felt unprepared to track audiences following the phaseout of Google's cookie software, that number more than doubled for marketers with less than two years of experience in the industry.
When asked how they plan to track their audiences without cookies, 28% of marketers with two or fewer years of experience said they were unsure.
It's a good reminder to PR pros with more years of experience in the field to check on early-career colleagues and share tips.
Read more from the Unsupervised report here.
---
TAKE OUR SURVEY
We want to hear from our community about how their thinking has changed on media relations and its value inside their organization. If you work in communications, please take our short survey to help us chart the value of media relations for 2022.
The survey will take less than 10 minutes to complete and participants will be entered in a drawing for a $100 credit toward a Ragan event. All individual responses will be kept confidential.
Results from the survey will be shared at PR Daily's Media Relations and Measurement Conference in New York City on May 11.
Ogilvy UK ends partnerships with influencers who digitally retouch their faces, bodies
Ogilvy's U.K. organization announced this week it will combat the negative effects of social media on mental health by implementing a ban on partnerships with influencers who retouch their faces or bodies.
The move comes as the British government reviews the Digitally Altered Body Image Bill, which would require influencers to disclose when they've edited their appearance for an advertisement or promotion.
The Drum reports the Ogilvy team will consult with brands (like personal care company Dove) and influencers about the ban before officially implementing the policy in May.
Rahul Titus, head of influence with Ogilvy, told The Drum that he is hopeful that Ogilvy's policy shift will help get the Digitally Altered Body Image Bill passed:
"We have a duty of care as marketers, as agencies and brands to the next generation of people so they don't grow up with the same stuff we are seeing now," says Titus.

He acknowledges that brands have "dipped their toes" in unedited influencer images, but they always fall back on running misguided anti-editing campaigns rather than implementing sweeping change.

"A lot of research has gone into this. We've been working with our behavioral sciences team and talking to a lot of influencers and we've spent a lot of time figuring out how to make it work."
What it means: Titus' statements to The Drum emphasize Ogilvy's moral responsibility in the fight against the negative mental health effects of social media. His words about "the duty of care" for marketers sends the message that the agency is changing its policy not because of the forthcoming legislation, but rather because it is the right thing to do — whether or not that's actually true.
COMMENT