Twitter CEO walks back Elon Musk board appointment, Academy apologizes for inaction following Will Smith's Oscars slap and who is interested in the metaverse
Also: Etsy sellers are striking starting today — and taking to Twitter to spread the word.
Hello, communicators:
Etsy sellers are striking this week in protest of the company's recent fee increase.
Sellers took to Twitter to spread the word about the strike:
I'm joining the #EtsyStrike, my shop will be closed April 11-18 to protest the newly raised fees. Apparently, the millions of dollars passively earned off of our transactions isn't enough!

Please help out all the creatives who host on Etsy, and don't cross the picket line! pic.twitter.com/PaAZZAdcRv

— 🍒 Sergle 🍒 (@serglesinner) April 11, 2022
Our Etsy shop will be closed April 11th – 18th to support the #EtsyStrike. The hike in the transaction fees is ridiculous. 😠 pic.twitter.com/ZYxyYHNsRU

— GazeCreate (KIMOKAWAII Con!) (@GazeCreate) April 10, 2022
And the replies to tweets from Etsy's official account are filled with references to the strike:
That is really cool. Now of only you weren't ripping off your sellers with outrageous fees and predatory advertising practices

— Nix (@FirebirdLeather) April 10, 2022
Ratio + everyone boycott them until the 18th since sellers are on strike due to outrageous fees + treat your workers better pic.twitter.com/ODnQKxRxCL

— Jules | Gay Pirates Brainrot 🏳️‍🌈 🏴‍☠️ (@voidaxolotl) April 11, 2022
I guess I won't be buying anything from Etsy anymore with your obscene raise of fees for sellers.

— NancyT (@Tingo5) April 7, 2022
Etsy has yet to respond on Twitter, but has deployed spokespeople to give statements to news organizations like The Verge.
It's a good reminder to PR pros that addressing crises with news organizations might not be reaching the audience you need to assuage. Consider speaking directly to your audiences through social media.
Here are today's other top stories:
Twitter CEO says Elon Musk will no longer be joining tech company's board
Parag Agrawal, CEO of Twitter, shared late Sunday that tech mogul Elon Musk has decided not to join Twitter's board.
In a message posted to his official Twitter account, Agrawal wrote that, pending a background check and formal acceptance, Musk was set to join the board. But Musk declined the invitation the morning his appointment should have become official.
"I believe this is for the best," Agrawal wrote.
Elon has decided not to join our board. I sent a brief note to the company, sharing with you all here. pic.twitter.com/lfrXACavvk

— Parag Agrawal (@paraga) April 11, 2022
Agrawal asserted that the company will continue to value Musk's input as a shareholder, even though he will not become a board member.
"There will be distractions ahead, but our goals and priorities remain unchanged," Agrawal added at the end of the note.
Musk's appointment to Twitter's board came after he purchased a more than 9% stake in the company, making him Twitter's largest shareholder. The news followed a flurry of critical tweets from Musk about Twitter's free speech policies and user experience features.
Why it matters: Agrawal's message, especially the bit about "distractions ahead," signals that something may have gone awry in Twitter's relationship with Musk. It's a good reminder to PR pros that CEO communications can be powerful tools during times of uncertainty about your organization.
It's also an example of how you can share internal comms messaging through external channels — and how those internally focused notes should be prepared to stand up to external scrutiny.
---
MEASURED THOUGHTS
A new Morning Consult report shows younger adults are more likely to be interested in the metaverse and its various iterations than their older counterparts.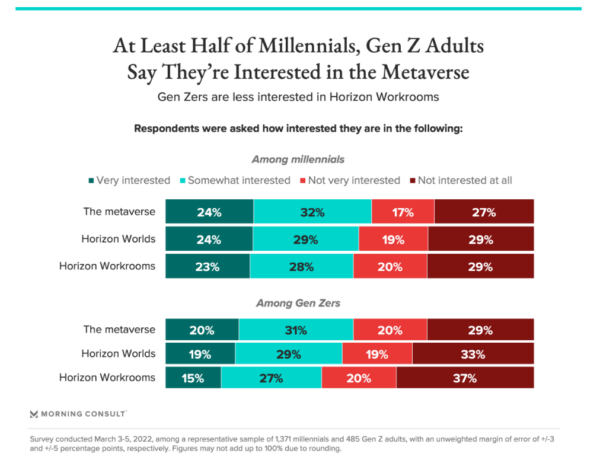 Thirty-six percent of all U.S. adults said they were interested in the metaverse, while 56% of millennials and 51% of Gen Z respondents said the same.
However, the numbers of interested adults drop when it comes to Meta's virtual reality offerings Horizon Worlds and Horizon Workrooms.
Morning Consult's Chris Teale writes:
…there is evidence that some aspects of the metaverse are entering the public consciousness. Meta's Oculus app was downloaded approximately 2 million times globally in the days after Christmas, and became the most popular app on Apple Inc.'s App Store and the most popular free app on Alphabet Inc.'s Google Play Store in the United States over the holiday, according to data from Sensor Tower.
Read more from the Morning Consult report here.
---
TAKE OUR SURVEY
We want to hear from our community about how their thinking has changed on media relations and its value inside their organization. If you work in communications, please take our short survey to help us chart the value of media relations for 2022.
The survey will take less than 10 minutes to complete and participants will be entered in a drawing for a $100 credit toward a Ragan event. All individual responses will be kept confidential.
Results from the survey will be shared at PR Daily's Media Relations and Measurement Conference in New York City on May 11.
Academy apologizes for inaction following Will Smith's Oscars slap
The Academy of Motion Picture Arts and Sciences announced last week it will ban Will Smith from Academy events, including the Oscars, for 10 years.
In an open letter, Academy President David Rubin and CEO Dawn Hudson apologized for the Academy's inaction immediately after Smith took to the stage and slapped presenter Chris Rock, who moments before had made a distasteful joke about Smith's wife, Jada Pinkett Smith.
"During our telecast, we did not adequately address the situation in the room," the letter reads. "For this, we are sorry. This was an opportunity for us to set an example for our guests, viewers and our Academy family around the world, and we fell short — unprepared for the unprecedented."
The official open letter to the Academy from President David Rubin and AMPAS CEO Dawn Hudson pic.twitter.com/gTzXkdpfcd

— Erik Anderson (@awards_watch) April 8, 2022
"This action we are taking today in response to Will Smith's behavior is a step toward a larger goal of protecting the safety of our performers and guests, and restoring trust in the Academy," the letter continues.
The Academy garnered criticism for not moving to remove Smith from the event following the slap. Just 20 minutes later, Smith took the stage to accept the Best Actor award for his performance in "King Richard."
What it means: The Academy's statement is taking accountability for what happened that night, while also conveying the difficulty in responding to such an extreme set of events. By admitting to a loss of trust in the institution, Rubin and Hudson attempt to show humility. And the direct apology to the audience and Academy members shows a genuine recognition of the seriousness of the event.
COMMENT