Twitter co-founder critiques board amid buyout drama, Panera's CEO outlines brand values and Black Americans' identity is very much rooted in their race
Also: April snowfall in the Midwest U.S. trends on Twitter.
Hello, communicators:
If you woke up this morning to a light dusting of snow on the ground, you're not alone.
"SNOWING" — yes, all caps — is trending on Twitter after a winter storm blew through the eastern Midwest.
Snowing…again. Happy Monday! pic.twitter.com/YugVaeNSXq

— Tegan G. (@TeganG_) April 18, 2022
PR pros, keeping an eye on trending topics on social media is a good way to score easy brownie points with your audiences, especially with something as innocuous as the weather.
Depending on the brand, you could easily take advantage of the "snowing" trend and offer an alternative (your product or service) to grumbling about the chilly weather.
We'll be on the lookout for brands that tweet about the snowy weather today!
Here are today's other top stories:
Former Twitter CEO Jack Dorsey slams Twitter board as it weighs takeover bid
Twitter is facing a new round of public drama after its former CEO Jack Dorsey criticized the company's board as the "dysfunction of the company."
Dorsey's assertion came in the form of a tweet as part of a thread started by venture capitalist Garry Tan discussing the role of board members in startup culture:
it's consistently been the dysfunction of the company

— jack⚡️ (@jack) April 17, 2022
Earlier, he responded to another tweet in the same thread. It quoted venture capitalist Fred Destin citing what he called a "Silicon Valley proverb": "Good boards don't create good companies, but a bad board will kill a company every time."

Dorsey responded, "big facts."
Why it matters: The approval or disdain of a former CEO and co-founder, especially one with as much media power as Dorsey, can make or break brand perception. If stakeholders are led to believe there is internal turmoil taking place at a company, your organization's problems could metastasize.
While Twitter's situation is somewhat unique, it is a reminder for PR teams to have good relationships with investor relations and social media teams, as these matters are going to increasingly play out on public platforms.
---
MEASURED THOUGHTS
A new report from the Pew Research Center has found that most Black Americans say being Black is central to their sense of self.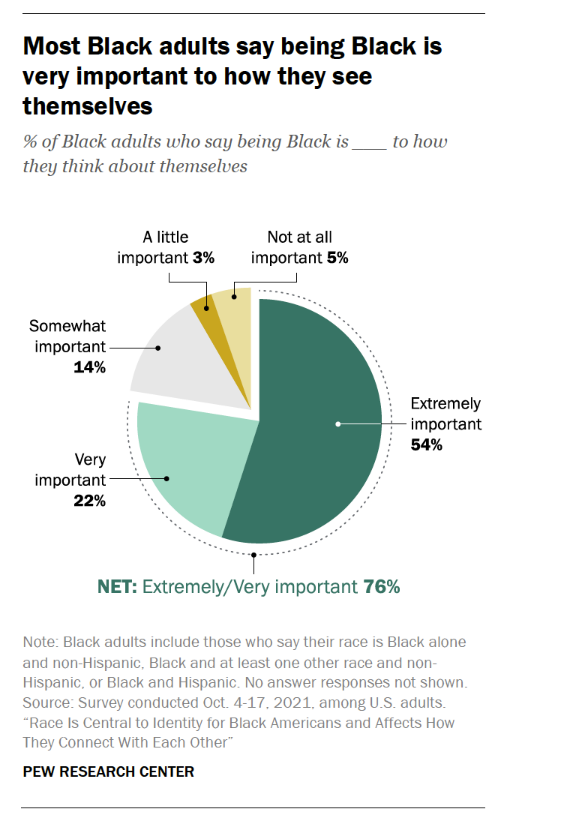 Seventy-six percent of polled Black adults said that being Black is "extremely" or "very important" to how they think about themselves.
A significant share of Black Americans also say that when something happens to Black people in their local communities, across the nation or around the globe, it affects what happens in their own lives, highlighting a sense of connectedness. Black Americans say this even as they have diverse experiences and come from an array of backgrounds.
Considering your audiences' identities is a crucial part of creating inclusive messaging that will resonate with a diverse array of people. It's important that PR pros make an effort to understand every community they wish to target with their messaging — and others outside of that range as well.
Read more from the Pew Research report here.
---
ATTEND OUR MEDIA RELATIONS CONFERENCE
Join us in New York City on May 11 for a one-day, in-person conference all about media relations and measurement.
At PR Daily's Media Relations & Measurement Conference, you'll learn how to score the coverage your brand deserves and generate results—and then showcase those results to management. You'll also learn the latest measurement tools and methods for everything from internal comms and media relations to social media.
Each attendee will receive a Media Relations & Measurement Conference Certificate of Completion.
Register here before April 27 to receive a special attendance rate.
Panera Bread CEO leans on personal background to define brand values
Niren Chaudhary, CEO of Panera Bread, is at the forefront of the company's efforts to reduce its environmental footprint and provide consumers with a healthy fast-casual dining option.
In a new interview with the New York Times, Chaudhary explained that his Indian upbringing influences his values as a business leader:
India is a spiritual country, and it's kind of shaped me and my very core. My philosophy is that the best way to practice spirituality is to just be a good human, and being a good human is the best form of religion. That means focusing on your actions and not being so obsessed about the outcomes. The right outcome will happen if there is sincerity of purpose. That really shaped me growing up.
Chaudhary noted that Panera recently published the carbon footprint of all its menu items and emphasized the idea that corporations are responsible for making meaningful steps to combat climate change:
I think it's time all corporate leaders and companies embrace that mind-set, and many are. That's how we start making meaningful progress. Not by expecting somebody else to come and wave a magic wand and somehow make it better.
What it means: Consumers want to hear more from companies about how they're working to do good. CEO messaging can be a powerful tool if used responsibly and correctly, and Chaudhary's interview with a legacy news organization is a good way to show stakeholders and consumers how serious the company is about its ESG goals.
COMMENT