USAA downplays $140M government fine, TikTok expands new 'Stories' feature and Netflix's power revealed with Formula 1 partnership
Also: Mattress Firm releases branded podcast about sleep.
Hello, communicators:
Mattress Firm is working with Vox Media to release a branded podcast on sleep.
The mattress company will release the first episode of "Are You Sleeping?" on April 1. (Is this an April Fool's joke? We hope not.) Throughout its 10-episode run, the podcast will "showcase unique stories and community-sourced questions to better understand why sleep matters."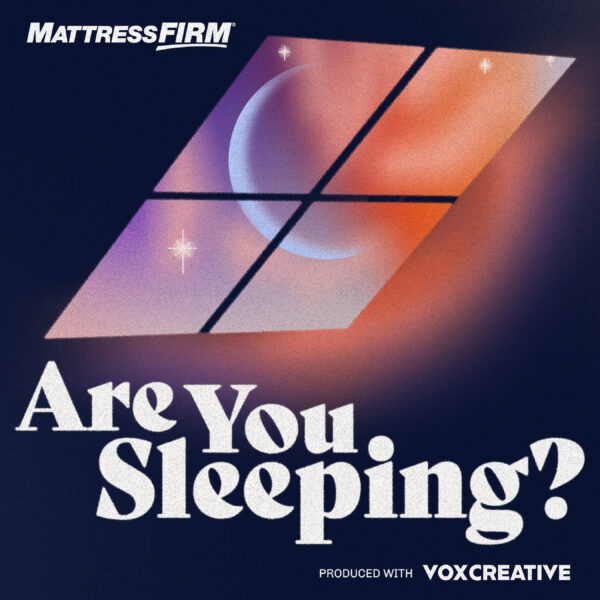 "At Mattress Firm, we are committed to helping all people sleep well so they live well," said John Eck, President and CEO of Mattress Firm. "Sleep is extremely personal, yet a universal part of the human experience. We are excited to connect our passion for sleep with the power of storytelling through this compelling 10-part podcast series. We hope to reach millions who struggle to sleep each night but need more insight to better understand why sleep matters."
Here are today's other top stories:
USAA downplays $140M fine for failing to report suspicious transactions
The New York Times reports that USAA Federal Savings Bank has been fined $140 million by a federal regulation agency for failing to follow laws that prevent money laundering.
The Office of the Comptroller of the Currency and the U.S. Treasury's Financial Crimes Enforcement Network (FinCEN) said the bank had failed to report thousands of suspicious customer transactions, including some used for apparent criminal activity.
USAA said on Thursday that it had not sufficiently strengthened its anti-money-laundering abilities and expertise to meet federal requirements but was cooperating with the Office of the Comptroller of the Currency.

"While the issues identified in these orders did not result in any individual member harm, we understand the importance of these requirements," the bank's chief executive, Wayne Peacock, said. "USAA has already made progress in many critical areas by investing in new systems and training, enhancing staffing and expertise, and improving our processes. And we have an unwavering commitment to the military community."
Why it matters: Peacock's statement to the Times emphasizes to customers that the crisis has no impact on their individual accounts.
The crisis response from USAA identifies the problem and steps the bank plans to take to ensure future mistakes are avoided. Peacock managed to bring it all back to USAA's core values of serving the military community, while glossing over why USAA failed to invest in necessary prevention measures to avoid money laundering.
In crisis communications, when claiming to have made progress on key issues that led to a major mistake or reputational hit, its important offer specifics and numbers to create a compelling story about organizational change.
---
MEASURED THOUGHTS
New research from Morning Consult shows that the Formula 1 racing series is experiencing a substantial increase in American fans thanks to a popular Netflix show.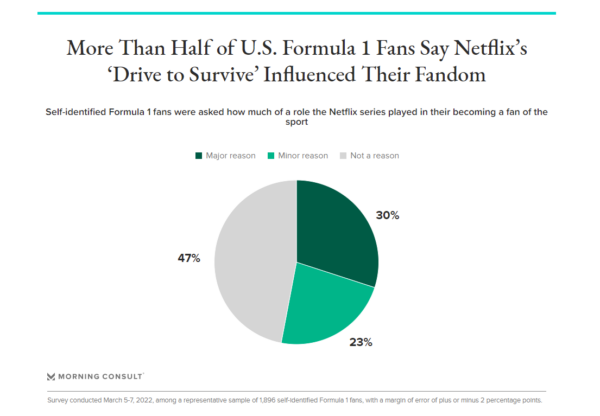 Twenty-eight percent of U.S. adults say they're fans of Formula 1, an increase from 21% in polling conducted just before the COVID-19 pandemic. Fifty-three percent of survey respondents said the Netflix series "Drive to Survive" played either a major or minor role in their becoming a fan of the sport.
Morning Consult's Alex Silverman reports:
The ticket market for the inaugural Miami Grand Prix in May is white hot, and Las Vegas is reportedly all but a lock to land a race of its own in the near future. The series is also expected to receive a significant raise on the media rights front following the expiration of its deal with ESPN at the end of the upcoming season. American brands are increasingly coming on board as team sponsors, and there is reportedly interest among U.S. sports executives about investing in team ownership.
It's a clear demonstration of the cultural power of Netflix to build brands with unprecedented global reach for a television and movies platform.
View more from the Morning Consult report here.
---
TAKE OUR SURVEY
We want to know about your career as a social media professional.
How big is your team? Do you feel valued at your organization?
If you're interested in helping benchmark the career path potential of social media professionals and shedding light on how the discipline is internally managed, viewed and evaluated, take our survey. The Social Media Career Survey is a follow-up to a 2020 report by the Institute for Public Relations, Ragan Communications and the University of Florida.
Whether you're in charge of company social media or involved in management for a client, we welcome your participation.
Respondents will receive a full report on the findings, which will also be shared on PR Daily.   Responses will remain confidential.
TikTok expands new "Stories" feature
Short-form video behemoth TikTok is expanding its experiment with disappearing "stories" (à la Snapchat and Instagram) after rolling out the feature to more users earlier this week.
TikTok Stories will last for 24 hours and can only be viewed by clicking on a user's profile picture on their profile page. Additionally, TechCrunch reports that stories are appearing on the app's For You page, where users can leave a public comment on the disappearing content.
So we're doing stories on TikTok now 😏

Wonder how this is gonna work/tie in pic.twitter.com/uTeZUWR6I8

— Esportscenter (@_esportscenter) March 17, 2022
"Currently, we're expanding a pilot test, which provides creators with additional formats to bring their creative ideas to life for the TikTok community," a TikTok spokesperson confirmed to TechCrunch.
What you should know: As social media changes, so do the requirements for having a successful brand presence on various platforms. Marketers and PR pros might well be able to use TikTok Stories in the same way they currently use the same feature on Instagram and/or Facebook—or, TikTok's stories feature could become its own content format, with new trends and standards unique to the platform.
It's a good reminder to stay up to date on social media policies and features, and to not be afraid to try new things with your social strategy.
COMMENT