The Waffle House Index, why TikTok removed 113M videos and more
Plus: Facebook is testing subscriber posts.
You know the weather is bad when your local Waffle House closes.
The restaurant chain is known for rarely closing – even during natural disasters.
But not even scattered, smothered and covered hashbrowns can stand up to Hurricane Ian.
Waffle House officials said 35 locations are closed across the state as of Wednesday morning.
"We do have closures in mandatory evacuation zones and locations within low-lying areas that are subject to severe flooding," Waffle House Vice President of Public Relations Njeri Boss told USA TODAY.
Waffle House closures are noted by FEMA, who watches the "Waffle House Index." The informal system was created by a former director of the agency after a run of hurricanes in 2004.
All @WaffleHouse restaurants are open 24/7. That's why @FEMA created the "Waffle House Index" to determine severity of storms. If a @WaffleHouse location closes, the storm is really bad! #Florence pic.twitter.com/0yu0tC29Sj

— Mark Friedlander (@markfri09) September 12, 2018
FEMA said that the test is useful to determining how the community is doing after a storm.
"The Waffle House test just doesn't tell us how quickly a business might rebound – it also tells how the larger community is faring," a FEMA blog post said. "The sooner restaurants, grocery and corner stores or banks can reopen, the sooner local economies will start generating revenue again – signaling a strong recovery for that community."
What it means: Brands dream about a celebrity referencing their brand online. Waffle House has a federal agency who uses their branding for helping judging the power of a storm and monitors their company decisions on determining how cities they serve are bouncing back. We haven't seen recent social media posts from Waffle House about their FEMA connection during Hurricane Ian, but it's a powerful story to tell about how their brand is impacting the community.
Why videos get removed from TikTok
TikTok said in its quarterly transparency report released Wednesday that it removed 113 million videos between April and June this year due to policy violations.
About 44 percent of videos were taken down due to violations concerning minor safety, TikTok said. The report indicated that other violations included illegal activities and regulated goods, as well as adult nudity and sexual activities.
The company said 48 million videos in the last quarter have been removed by the platform's automated systems, many before users reported them to TikTok.
"Leveraging machine learning has been especially impactful when it comes to our countering harmful misinformation," the report reads. "We expanded our capacity to iterate rapidly on our systems given the fast changing nature of misinformation, especially during a crisis or event (e.g. the war in Ukraine or an election)."
What it means: TikTok's proactive moves are a sign that the social network is taking online safety seriously. Cleaning out inappropriate videos will improve user experience and continue to draw general audiences to TikTok. And that's a good sign for communicators who have found success with TikTok.
Facebook testing subscriber posts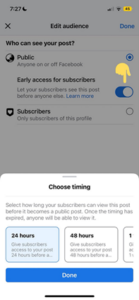 Facebook is testing post options which could provide a new revenue source for brands.
The social network is looking at subscriber-first posts which would allow brands and other content creators to offer posts to subscribers first for 24 hours, 48 hours or a week.
Meta has teased ways of making its sites more appealing to creators and brands, including more related content suggestions through Instagram and additional tools for Facebook page owners to expand the reach of their brand.
What it means: Subscriber posts on Facebook could be an absolute home run for brands, who can make special offers and exclusive content to their customers, while also providing a new revenue source.
Why the SEC is looking at the original MoviePass
MoviePass is back in business, but some of its original founders are in court.
The business offers a monthly subscription service to watch movies in theatres and originally offered unlimited movies for $9.95 per month, but dropped the unlimited part after losing money and ended up filing for bankruptcy in 2020. The business formerly offered unlimited movie theater viewings for $9.95 each month. After unsurprisingly losing money, they dropped the "unlimited" but still filed for bankruptcy in 2020.
The SEC recently filed a complaint against former MoviePass CEO Mitch Lowe and Ted Farnsworth, the former CEO of parent company Helios and Matheson Analytics , claiming they lied about how it planned to be profitable and used "fraudulent tactics to prevent MoviePass's heavy users from using the [unlimited subscription service]."
The claim is disputed by Chris Bond, a spokesman for Farnsworth.
"The complaint concerns matters subject to an investigation that the company and other news outlets publicly disclosed nearly three years ago, and Mr. Farnsworth's legal team will maintain the challenge to this complaint. Mr. Farnsworth continues to maintain that he has always acted in good faith in the best interests of his companies and shareholders."
The new version of MoviePass is being beta tested in Chicago, Kansas City and Dallas with no unlimited viewing.
What it means: The initial version of MoviePass seemed doomed from the start, because of inconsistent communications messages from the company. Now they're stuck explaining those communications in court. It's a reminder to work closely with the legal department before there's a crisis to offer clear and legally sound messaging.
Chris Pugh is a staff writer for PR Daily. Follow him on Twitter and LinkedIn. Send story ideas to ChrisP@Ragan.com.
COMMENT
Tags: hurricane ian, Moviepass, TikTok, Waffle House