Wells Fargo suspends hiring policy, plant-based meat's PR problem and how many hours PR pros log in a week
Also: Burger King Austria talks tops and bottoms in new Pride month promotion.
Hello, communicators:
Burger King's Austria arm is celebrating Pride by talking about tops and bottoms — just not in the way you might think.
View this post on Instagram
The brand shared a promotion in which Austrian stores will serve "Pride Whoppers," burgers with either two top buns or two bottom buns. The Instagram post says it's meant to promote "equal love and equal rights."
Twitter users were quick to point out the double entendre:
you walk into burger king and they say happy pride do you want the top or bottom burger pic.twitter.com/Z6To1U2Vec

— matt (@mattxiv) June 4, 2022
Burger King Austria made a Pride burger that's either two tops or two bottoms… what in straight hell? pic.twitter.com/bSl3Cyiq9p

— Jarett Wieselman (@JarettSays) June 3, 2022
Here are today's other top stories:
Wells Fargo suspends hiring policy after fake interviews
Following a bombshell report from The New York Times, banking giant Wells Fargo will suspend a hiring policy that enabled some managers to conduct fake job interviews with people of color and women.
The Times reports that Charles Scharf, CEO of Wells Fargo, announced the suspension of the policy in a letter to employees this week:
On Monday, Mr. Scharf told employees that the policy would be put on hold for several weeks to give the bank's leaders time to study its use and make changes.

The pause would allow the bank to gain confidence that "the guidelines live up to their promise," and that "hiring managers, senior leaders and recruiters fully understand how the guidelines should work," Mr. Scharf said in the letter.
The move is a reversal from the bank's previous position on the accusations, in which a Wells Fargo spokeswoman defended the official hiring practices.
What it means: Wells Fargo is also still dealing with the shadow of its last scandal, in which employees opened fake accounts, pointing to a larger cultural issue within the company and another instance of dishonesty with audiences. Scharf's letter to employees takes a positive tone — he focuses on the improvement of the offending policy, rather than the accusations of discrimination it prompted. It's an example of using internal CEO messaging as PR or external messaging.
---
MEASURED THOUGHTS
A new report from Muck Rack reveals how many hours PR pros work on average — and the number might be higher than you think.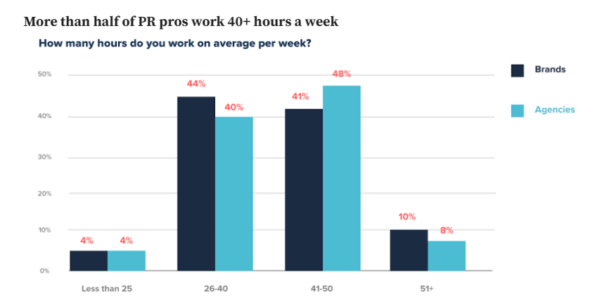 More than half of respondents (55%) across brands and agencies said they work more than 41 hours a week, with agency PR pros reporting they work more hours on average than in-house professionals.
What's your experience like? Are you with an agency or a brand — and how many hours per week do you work on average?
If that number is creeping toward 50, consider attending Ragan's Workplace Wellness Conference in Chicago, August 16-17, where you'll learn from top wellness companies about the best ways to improve workplace well-being.
Read more from the Muck Rack report here.
Plant-based fake meat: Has the novelty worn off?
New reporting from CBC shows sales of faux meat (including Beyond Meat) decreased 4% last year following two years of steady growth.
CBC's says that plant-based meat alternatives are more expensive on average than natural beef, poultry, fish and pork products.
But the dollar amount isn't the only thing contributing to the drop-off in sales:
While vegetarianism is a steady and growing force in the food business, [Professor Simon Somogyi] says most people interested in plant-based eating are happy to eat more fruits and vegetables and conventional proteins like beans and lentils, as opposed to factory-made plant products that masquerade as meat.

"They were all the rage and consumers were curious to try them out, but now they've tried them and that fad has sort of worn off," he said.
Why it matters: It seems that faux meat companies' marketing strategy burned fast and bright — rather than low and slow, like good barbecue — resulting in a steep drop off in consumer interest and sales. It's a good reminder that your messaging strategy about a new and exciting product can and should capitalize on novelty but should also include a longer tail to convince consumers to keep coming back.
COMMENT
One Response to "Wells Fargo suspends hiring policy, plant-based meat's PR problem and how many hours PR pros log in a week"
Adrienne

says:

Plant-based meats are highly processed and contain "unnecessarily" large amounts of sodium. That's we avoid them.