When is it OK for your brand to weigh in on breaking news?
Newsjacking is a powerful technique, but in these turbulent times, an ill-conceived comment can do a lot of damage. Consider this guide.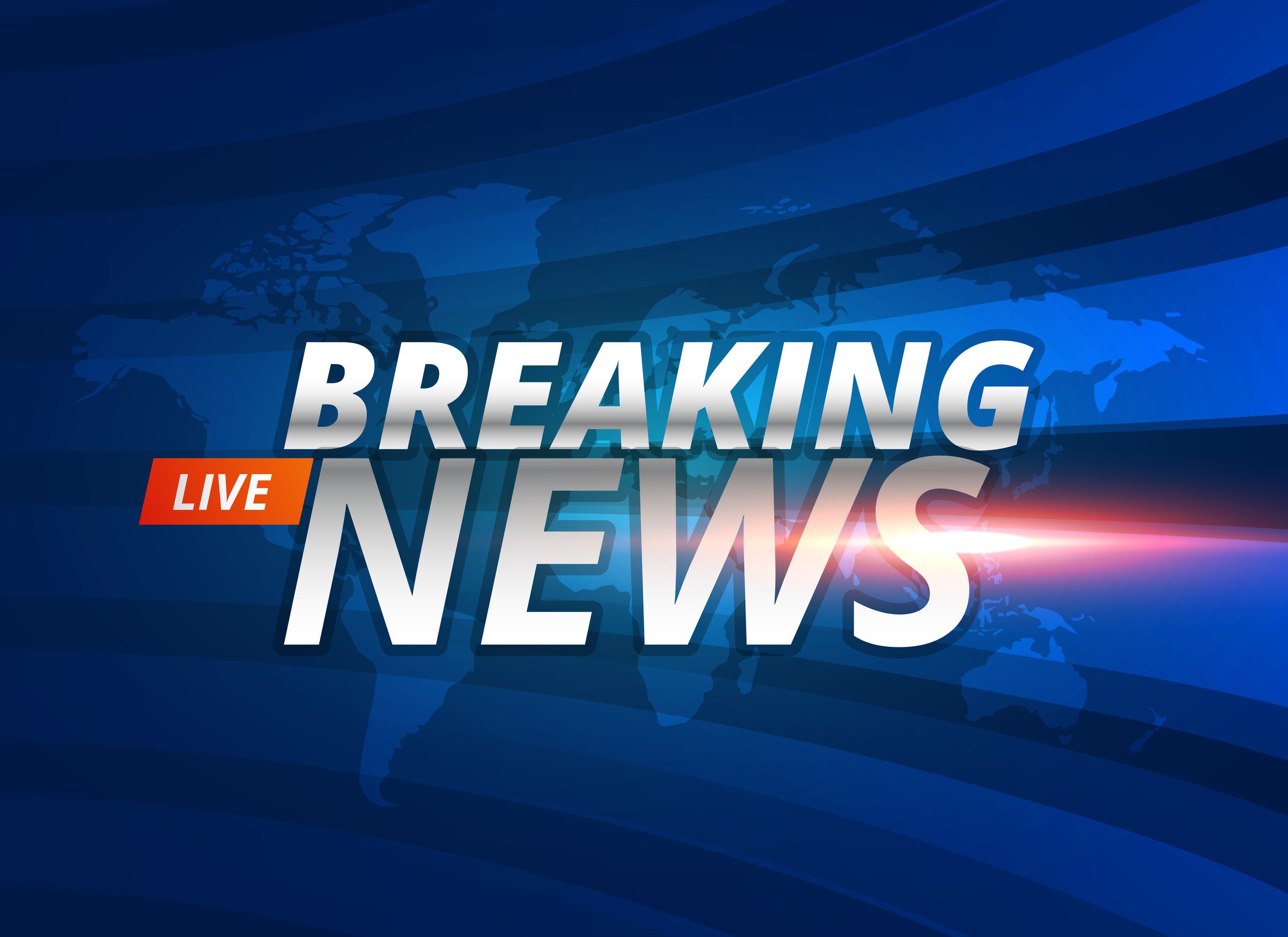 Digital PRs and link builders know there's nothing like newsjacking to help get a content campaign off the ground, especially amid a tough news cycle. We've all used the tactic of piggybacking off a trending topic of interest to earn coverage for our brand or client's brand.
You can't go about newsjacking the same way in 2020 as you may have in years past. The significant events of 2020 in the U.S., namely the global coronavirus pandemic and the murder of George Floyd and subsequent Black Lives Matter protests across the country, are serious topics. You can't throw something together last minute.
If you do it wrong, at best you won't receive any press mentions. At worst, you will create a tone-deaf campaign that damages your brand reputation and hurts readers.
Here's a short guide on how to do newsjacking right in 2020, if you must:
Contribute to the conversation (positively). 
Marketers often try to keep content lighthearted and playful to earn press.
I've personally noticed that the heavier the topic, the harder it is to earn coverage. This particularly holds true if the methodology for the project is unsubstantiated (i.e., the data you use hasn't been tested for statistical significance). Serious journalists cover serious topics that merit serious methodologies.
These last few months have seen coronavirus news dominate the media. In fact, in a Fractl analysis of over 23 million news articles, the last 5 months have seen close to 50% of online authors covering COVID-19 related content.
When newsjacking, the tone of the news should match up with the tone of your campaign. You would never make light of something as serious as the heroin epidemic, so why would you try to joke about COVID-19?
In February, CNN covered a campaign created by a PR agency that tried to play off the virus by conducting a study of 737 "beer-drinking Americans" via phone interview.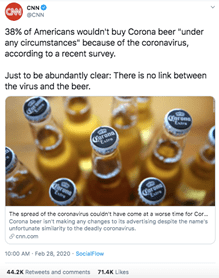 At first glance, you might think, "Solid play by the PR agency for earning huge coverage for a newsjacking campaign!" And you might continue to believe that if you feel that any press is good press.
But you have to ask yourself, did 38% of people really associate the beer company with the virus? The statistic is misleading.
The 38% (of beer drinking Americans) aren't those who won't drink because of the coronavirus, but rather for any reason, including beer preference.

That statistic starts to make more sense now, assuming that 737 Americans is a large enough sample size and that the data were tested for statistical significance, and the questions asked weren't leading in any one direction.
The global pandemic has caused the deaths of over 600,000 people worldwide. About a quarter of those people are U.S. citizens. Is the entertainment value of this campaign, which does nothing to help anyone, really worth the backlinks?
At the end of the day, it's up to you to decide if your brand wants to contribute to the conversation, or if it intends to make a positive impact.
Make a (non-performative) statement.
As a brand, before you say or do anything related to a topic as important as Black Lives Matter, ask yourself: Have we done anything (or plan to do anything) as a company to support this movement? Are we committed to improving our business from within to combat racism and social injustice?
If the answers are no, don't even bother to make a statement.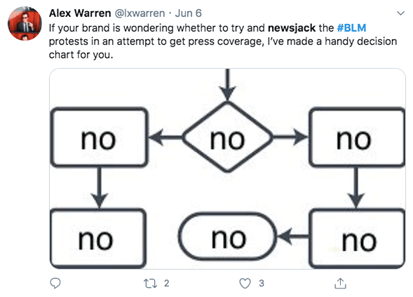 Similar to coronavirus, the BLM movement is a matter of life and death. I'll never say never, but tread carefully and err on the side of extreme caution if you intend to tie BLM with any campaign you're producing. In fact, better than creating a PR campaign about BLM, why not:
Partner with a Black-owned business to create that campaign
Elevate Black voices in your campaign
Launch a campaign to support and raise awareness around a Black-owned business
Include calls to action to donate to charities that support the BLM cause
Above all else, if you're a white-owned business, do not create a content campaign related to BLM to make money. It will backfire, and it is antithetical to the movement's mission.
If you want to make a statement (instead of a campaign) about BLM, you can earn press if you do it the right way. When it seems that every brand or business is posting a black square on Instagram, a real and impactful statement that advances the movement's mission will stand out from the crowd.
Babynames.com's website did just that.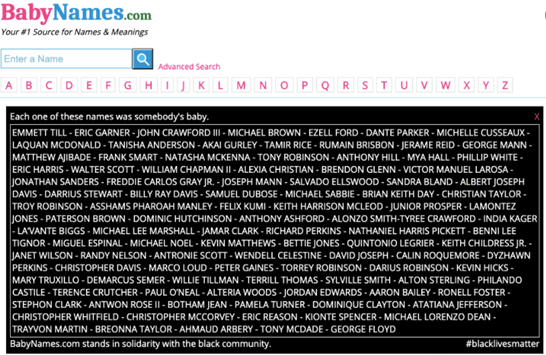 On their homepage, they listed the names of Black people that were killed. They ended the list with "Each one of these names was somebody's baby."
This simple statement ties into their brand identity (baby names) without pandering or trying to make it about themselves. They also included a link to a page to donate to the Black Lives Matter movement in their tweet.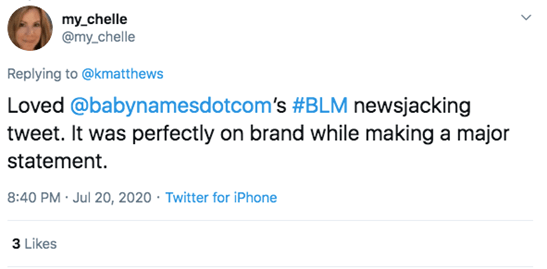 Of course, your statement should be genuine and directed toward benefiting the movement and not your brand. As a side-effect of their sincere support, their chilling and poignant statement earned coverage across the web.
Some final notes about how to best contribute to serious news stories this year:
Internally, make sure your brand is stepping up to do all that it can to help people during this challenging and stressful time.
Offer to create a campaign or conduct a methodology pro-bono for a non-profit that contributes positively to a cause.
Include calls to action to help support the cause on all your related content.
Team up with experts outside your organization who know more about the topic(s) than you do.
Seek to contribute positively and understand the intention behind any ideas you want to put into action.
Domenica D'Ottavio is the brand relationship manager at Fractl.
COMMENT