Why PR pros should care about Musk's proposed Twitter purchase, Oregon university responds to simulation backlash and corporations remaining in Russia
Also: Quartz removes content paywall.
Hello, communicators:
Business publication Quartz is dropping its paywall.
In a post on the site's homepage, CEO and co-founder Zach Seward wrote that the move is driven by the company's goals and values:
We exist to help business leaders and their companies use power wisely, act with compassion, create products that truly matter, and do what they can to fix a broken planet and economic order. Those goals are clearly better-fulfilled by making Quartz's journalism as accessible as possible.
It's a good example of value-driven business operations and corresponding.
Quartz stories be like:
Here are today's other top stories:
Why PR pros should keep an eye on Elon Musk's proposed Twitter purchase
Tech mogul Elon Musk broke the internet Thursday morning when he shared an offer to buy social media platform Twitter.
I made an offer https://t.co/VvreuPMeLu

— Elon Musk (@elonmusk) April 14, 2022
In a letter to Twitter Chairman Bret Taylor, as reported by Reuters, Musk wrote that he wanted to unlock the app's "extraordinary potential":
"Since making my investment I now realize the company will neither thrive nor serve this societal imperative in its current form. Twitter needs to be transformed as a private company," Musk said in his letter to [Taylor].
Why it matters: Musk's potential takeover of the company could mean big changes to how Twitter operates; he's been outspoken about his criticism of Twitter's policies on free speech. It's an important series of events for PR pros to watch as Twitter remains one of the most popular social media platforms for brands to interact with audiences, especially journalists.
---
MEASURED THOUGHTS
A new report from Morning Consult polled Americans on what reasons justified companies continuing to operate in Russia.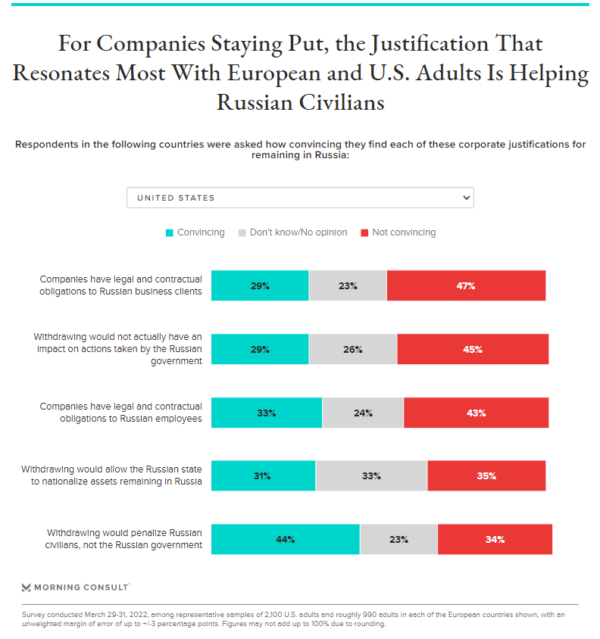 Forty-four percent of respondents said they found the reason "withdrawing would penalize Russian civilians, not the Russian government" to be a convincing corporate justification for companies remaining in Russia.
Morning Consult's Sonnet Frisbie writes:
Companies whose business activities do not lend themselves to such messaging — like managing hotels or purveying luxury goods — should think carefully about their Western audience before deciding on a course of action.
Read more from the Morning Consult report here.
---
ATTEND OUR MEDIA RELATIONS CONFERENCE
Join us in New York City on May 11 for a one-day, in-person conference all about media relations and measurement.
At PR Daily's Media Relations & Measurement Conference, you'll learn how to score the coverage your brand deserves and generate results—and then showcase those results to management. You'll also learn the latest measurement tools and methods for everything from internal comms and media relations to social media.
Each attendee will receive a Media Relations & Measurement Conference Certificate of Completion.
Register here before April 27 to receive a special attendance rate.
OHSU responds to simulated phishing exercise backlash
An Oregon university is dealing with social media backlash following a phishing exercise email sent to employees purporting to offer nearly $8,000 in COVID-related assistance money.
A simulated phishing exercise is "where deceptive emails, similar to malicious emails, are sent by an organization to their own staff to gauge their response to phishing and similar email attacks."
In an emailed statement to PR Daily, Sara Hottman, associate director of media relations for Oregon Health & Science University, acknowledged that the phishing exercise felt "insensitive and exploitative":
This week, as part of OHSU's regular exercises to help members practice spotting suspicious e-mails, the language in the test email was taken verbatim from the actual phishing e-mail to ensure no one else fell for the scam.

That was a mistake. The real scam was insensitive and exploitive of OHSU members — and the attempt to educate members felt the same way, causing confusion and concern. We sincerely apologize to our OHSU community.
The university's phishing exercise was met with outrage on Twitter:
my university sent an email about providing $7,500 in assistance to those experiencing financial hardship due to the pandemic….turns out it was a PHISHING exercise…

is this a joke???

— Nina Luong (@nina_luong) April 12, 2022
Dude I was fuming . Like ?? Make a phishing exercise about an amazon gift card . Look at the email pic.twitter.com/lWFYak9A3x

— Babs (@barbscass) April 13, 2022
THIS is how you treat your employees OHSU? You think it's appropriate to mock the financial struggles of your staff with a phishing exercise? God forbid you actually offer your staff some much needed assistance after they've busted their asses during Covid.
DISGUSTING @OHSUNews https://t.co/ragROmbVYk

— MaliceInBlunderland (@MissSkrewt) April 13, 2022
What it means: OHSU's response includes a direct apology to the community affected by the exercise and validates the emotional response of the many critics. However, the university did not address the issue on social media, where much of the backlash is still lingering. It's a good reminder to meet your audience where they are, especially in times of comms crises.
COMMENT