11 predictions for 2021 from PR insiders
Will we go back to the office? Will we find more civility and positivity in the new year? What trends from 2020 are here to stay? Industry leaders weigh in on these pressing questions.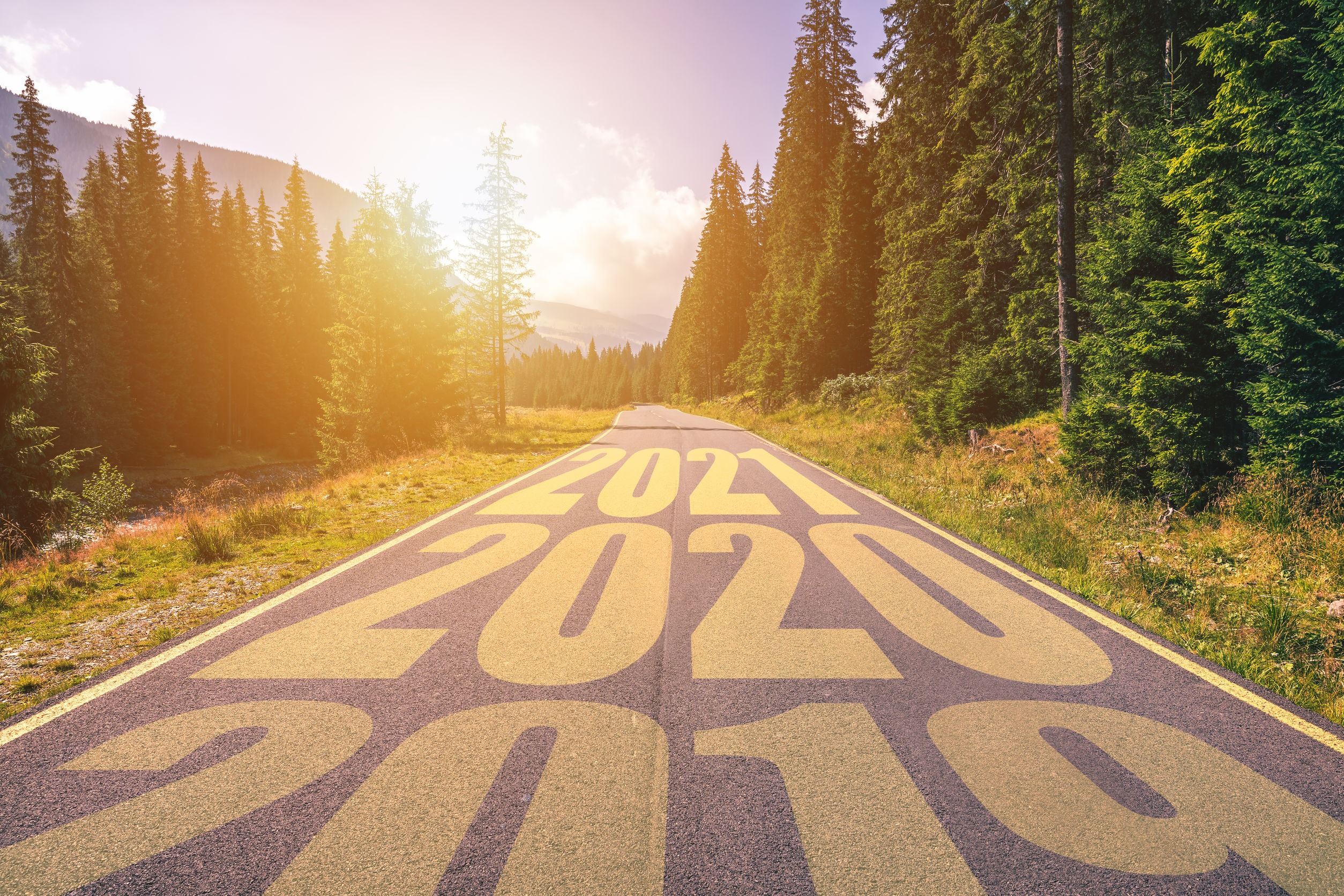 It might be a fool's errand to try and surmise the trends that will shape the industry in the year ahead. After all, there were plenty of predictions made at the end of 2019 that were quickly rendered worthless in the first months of 2020.
Still, the changes we've experienced over the last year are less of an aberration than a jump forward, with progress skipping a few rungs on the ladder. The digital transformation that now is remaking the modern workplace was already in the wings. The events of 2020 just gave it center stage.
Can we make predictions about what the forces of 2020 have unleashed on the year to come? Perhaps our prognostications should come with plenty of hedges and qualifiers, but savvy pros can make an educated guess about what will come next.
Here are the some predictions that top communicators are sharing for the year ahead.
1. We're going back to the office.
That's the aspiration for AxiCom's new executive vice president and managing director, North America, Steve Kerns. Without in-person collaboration, PR work has lost some of its magic, he says—The sounds of voices talking over each other, peeking through a conference room window to observe the animation of a brainstorm, the energy of a new business pitch or working the room at a networking event."
Kerns takes his cue on a return to the workplace from comedian Jerry Seinfeld, who asserted, "energy, attitude and personality cannot be 'remoted' through even the best fiber optic lines." Kerns adds: "As it becomes safe to work from the office again, I predict that we'll become reacquainted with and deepen our reverence for what happens on a busy day in the office."
2. Employee engagement will be crucial for brand reputation.
Stacy Adams, head of marketing at Vyond, argues that the differences across demographics made manifest during the pandemic will be a thorny issue to solve for internal comms—but essential for maintaining brand status.
"In 2021, it will be critical for internal communicators to communicate benefits in a way that stresses their impact across the entire employee base, not just for a few particular groups," she says. "For example, when companies like Facebook and Salesforce introduced pandemic policies to help working parents balance their workload with kids at home, those without kids felt left behind, and these new policies (like extra time off and flexible schedules) sparked internal debate and tension among colleagues, fueling external media coverage and attention."
3. Leadership comms will use more video. 
In fact, Adams argues that all successful communicators will be doing more video. "The most successful communicators will lean into video," she says. "With employees 75% more likely to watch a video than to read text and up to 22 times as likely to retain the information, video communications are the best way to build culture and community within the workforce."
4. Influencer marketing will zero in on authenticity.

Megan Maguire, senior vice president for East Coast PR at Lewis, shares an optimistic view for communicators working with online personalities, provided they can offer a genuine message.
"2020 has shown us that consumers are deeply invested in who the influencers they follow are as people," Maguire says. "Beyond fashion tips or new recipes, consumers want to know that their favorite influencers are driven by the causes they care about or even their political beliefs. This means businesses must be especially careful in identifying influencers to represent them, making sure they're vetting beyond reach and demographics, and looking at their passions and how they connect with their followers, to ensure they're a fit for the brand."
However, some experts also believe influencers will be looking to move away from all the hard news topics that dominated 2020.
"The events and hardships of 2020 compelled many influencers to pivot away from their normal content to focus on activism," says Abigail Quesinberry, associate vice president of social media & influencer marketing for French/West/Vaughan. "For many, it just didn't feel right to post according to their regularly scheduled programs in the midst of a pandemic, civil unrest and a divisive and anxiety-filled election season. In 2021, while the collective social consciousness among influencers will remain high, we anticipate there will be more room for brand partnerships and more light-hearted content coming from influencers."
5. More brands are going to be talking about their purpose.
Dr. Jennifer Scott, clinical assistant professor, PR and corporate communication with NYU's School of Professional Studies, says that embracing core values and brand mission will be crucial steps in the days ahead.
"Communicating brand purpose is now the price of entry," she says. "In 2021, PR professionals will have to engage brands in meaningful actions on relevant social issues, or risk being called out for 'woke washing.'" She adds that organizations will have to live their purpose through both internal and external activations.
And when it comes to purpose, organizations should be prepared to answer tough questions on sustainability, which Scott says will take center stage post-COVID.
"In 2021, accelerating environmental and climate crises will combine with the public's post-pandemic anxiety to put sustainable practices center-stage for brands and PR communicators," she says. "Corporate responsibility will increasingly merge with corporate identity, and PR professionals must enhance their capacity to reach and engage multiple stakeholders as demands for action intensify."
6. Agility will be paramount.
Susan Thomas, CEO of 10Fold Communications says that in 2021 victory will go to those who can be fast and adapt to change.
"If there is one thing the pandemic taught us in 2020, it is to be nimble," she says. "We saw companies pivot to adapt to the needs of the workforce that was largely working from home, to shoppers that found it dangerous or very inconvenient to shop in-person, and even to those who needed to be entertained during what became very long and monotonous days."
It's a refrain that has become common for many in the communications industry as the speed of change feels like it gets kicked up a notch every year.
"Companies that can continue to quickly adapt through the much-anticipated new normal phase, will continue to succeed," Thomas says.
7. Proving ROI is make-or-break.
In uncertain economic times—which will likely last for months into the new year at the very least—brands are looking for certainty. For PR and communications pros, that means being able to show results with robust and reliable measurement.
"Until we can put a dollar amount on brand awareness, especially within smaller companies, services such as these will be de-funded or eliminated altogether through 2021 while budgets recover from the pandemic," says Thomas. "There is an opportunity for these agencies to move toward becoming strategic partners that support everything from top-of-funnel demand generation to support for middle and bottom of the funnel in the buyers' journey."
8. Customer experience (CX) will be forever changed.
Tahir Ahmad, senior vice president and head of strategy for Leo Burnett in Toronto says that "CX will never be the same."
"Consumers want to reconnect with the world around them, and so businesses will need to look at their policies, procedures and physical spaces to provide a safe, convenient and modern customer experience," he says, pointing to all the innovation that has come from months of a global pandemic. Brands should expect to build on the innovations of the past few months as opposed to going back to what was in place before.
"This could include curb-side pick-up, appointment-based shopping, or outdoor dining pods," he says. "Banks could introduce mobile pre-ordering for cash withdraws from ATMs or branches, and auto dealers could bring test drives to their customers' homes. The sky is the limit."
9. New comms channels are here to stay.
The growing use of software like Microsoft Teams and Slack is a rising tide that can't be turned, according to Ryan Witherell, senior partner at Finn Partners.
"Savvy comms pros will find ways to keep developing uses for these platforms," he says. "Think about it. What's more personal—the traditional company-wide email from the CEO announcing the latest sustainability commitment or a Slack or a Microsoft Teams Q&A that generates a real and wide conversation?"
PR pros know the answer, Witherell says, "and in 2021, those of us who are on top of our games will keep applying what 2020 taught us the hard way to make things easier for our clients—especially when talking to their internal audiences."
10. Media relations programs must be more focused than ever.
It's never been a best practice to email your story ideas to every contact on your media list, but such tactics are going to be even more unacceptable in the future.
Mandy Moug, account director of the healthcare group at Merritt Group, shares how this reality plays into her strategy in the healthcare field. "While newsrooms have continued to shrink dramatically each year, healthcare remains hot," she says. "There are smaller pools of reporters who are hyper focused on a topic—whether that's vaccines, technology, COVID-19, or policy—and you must do your research to pitch the right person. No longer can you assume that just because a reporter 'covers healthcare' that they're interested in your story or that it will result in earned-media coverage."
She cites the business-journalism brand Business Insider as an example of how to think about changing beats and coverage areas:
"Business Insider's healthcare team has grown tremendously since the start of the pandemic, with each reporter covering a specific topic as noted above. Be sure to check their social media feeds for updates on their interests so your story is relevant to them. Additionally, as the pandemic continues to upend the healthcare industry, the hierarchy of influencers will also change. Remain aware of who is making an impact so that you can share your content with the right people."
11. 2021 marks a new era of accountability.
For all the talk around issues like DE&I in 2020, the coming year will be a time for action to speak louder than words.
"2020 showed us it's no longer enough for a brand to simply say what they stand for, or for the business of PR to concern itself only with how organizations are perceived," says Nick Griffiths, founder at Kingdom Collective. "Talk is cheap, after all, and the majority are tired of paying for it. We're going to see more brands having to move into affirmative action: using their voice, resources and any cultural clout they might have to weigh-in on issues of the day, social and political."
It's a reality that some brands will be more comfortable with at first than others but it's also an inescapable truth for every industry and the communicators that serve them. "This means stepping out of the comfort of the 'brand world' and into the watchful one of the consumer," Griffiths says. "A daunting task for many, no doubt, but fortune favors the brave!"
What are your predictions for 2021, PR Daily readers? Share your thoughts in the comments, please.
COMMENT
One Response to "11 predictions for 2021 from PR insiders"
Ronald N. Levy

says:

WHAT SOME MANAGEMENTS WILL ASK.

Are you suggesting we should have better community relations by stopping our pollution of the river? Seriously? Isn't good community relations what we pay YOU for?

I'm a prince, a member of the royal family, you WORK for us and YOU are trying to tell ME what to do?

Why should WE answer questions from the media? Isn't it true, as they say in the Constitution and on TV crime shows, that everyone has a right to remain silent?

WHAT MANAGEMENT NEEDS TO UNDERSTAND.

In the supermarket, if 100 million shoppers know that one brand of detergent donates heavily to anti-cancer research but the competing brand on that shelf doesn't, consumers have an extra reason to buy from the good guys. It's self-interest!

In the paint store, if one brand is from a company that fired an employee for
repeatedly making Tik Toks on company time, many shoppers may prefer a different brand. Better to quietly transfer the Tik Tokker, even for slightly higher pay, to a job more closely supervised! Sometimes the best way to get rid of a complaining employee is by promotion!

Reality is that millions more Americans might favor defunding police but not defunding activists even if violent because maybe police provoked the violence.

PR COUNSEL MANAGEMENT PAYS FOR BUT DOESN'T WANT.

Look at what each corporate officer–Senior VP and above–is doing for the PUBLIC in addition to doing his or her job. If the truth in some cases is "not much" or "damn near nothing," it may be better to change that than to hope no one finds out.

Try to never reply to an accusation by arguing what's "fair" for the company.
Argue for fairness to the PUBLIC because it's the public that will judge you.

Don't say "we like your proposal but cut it in half." If part of the proposal is to have a high priced doctor or home economist do a media road trip nationally, you CAN'T cut that in half. Either you do it or you don't.

WINNING IN WASHINGTON GUIDANCE THAT SUCCEEDS.

When you face a proposal for unduly restrictive regulation, don't try explaining economics via the media. Instead show the "Peril of the Alternative"–how the public will suffer, as by higher costs or lower supply, if the government does what the activists are demanding.

The "PR Principle of Primacy" is that in a contest, the side that makes a case to the masses first tends to be believed more, and the other side is believed less by a public that has already been conditioned to "know better."

The "Magnitude of Benefit Principle" is that in a contest, the side that credibly promises bigger promised benefits or sooner benefits tends to win. The top public consideration in deciding which side should win: "What's in this for us?"