3 communications lessons from viral 'Gorilla Glue' videos
A TikTok user recently captured headlines and dominated social media conversation for an unfortunate incident with the adhesive product. Here's what PR pros should glean from it.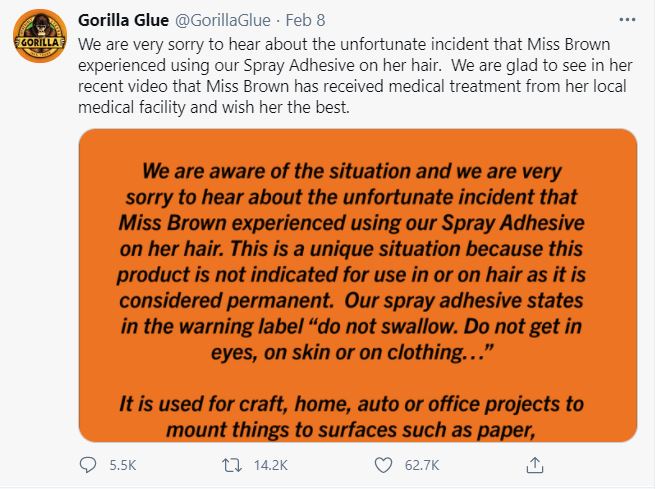 Editor's note: This article is a re-run as part of our countdown of top stories from the past year.
Gorilla Glue and hairstyling don't mix.
That's the difficult lesson that 40-year-old consumer Tessica Brown learned after applying the spray adhesive to her hairspray, attempting to use it as a substitute for her got2b Glued hairspray.
She shared her dilemma on TikTok, where it quickly went viral:
Brown's first video racked up more than 31.6 milliion views on TikTok and more than 3.8 million views on Instagram within a week—with additional reposts and videos from social media users and news media outlets garnering even more views.
A second video, also posted on Feb. 4, saw more than 11.2 million views on TikTok and more than 4 million views on Instagram:
"The story has taken on a life of its own, with multiple trending conversations on Twitter, reactions from major celebrities and a GoFundMe," Yahoo Life reported.
After struggling to get the adhesive out of her hair for more than a month, Brown sought treatment at her local emergency room, but said the treatment was too painful to continue. Plastic surgeon Dr. Michael Obeng stepped in, offering to complete the hours-long, $12,500 procedure for free—which TMZ filmed:
Tessica Brown Gets Gorilla Glue Out of Hair, Video of Surgery https://t.co/BN2iwvg3oq

— TMZ (@TMZ) February 11, 2021
🚨 The Gorilla Glue is finally out of Tessica Brown's hair 🚨 https://t.co/GCn3VqTu9A pic.twitter.com/ZVRDDloUTF

— philip lewis (@Phil_Lewis_) February 11, 2021
Dr. Michael Obeng, who performed the procedure, said all it took was a combination of medical grade adhesive remover, aloe vera, olive oil and acetone to remove it pic.twitter.com/vPeZ3Dj2mr

— philip lewis (@Phil_Lewis_) February 11, 2021
Here are three lessons you can take away from this viral incident:
1. Be prepared to quickly respond to crises and misinformation.
Gorilla Glue was thrust into the spotlight after Brown's videos went viral, issuing this statement on Feb. 8:
We are very sorry to hear about the unfortunate incident that Miss Brown experienced using our Spray Adhesive on her hair. We are glad to see in her recent video that Miss Brown has received medical treatment from her local medical facility and wish her the best. pic.twitter.com/SoCvwxdrGc

— Gorilla Glue (@GorillaGlue) February 8, 2021
Prior to its official statement, the company responded to several social media users posting screenshots of an Instagram account called "gorillaglueofficial," which was not affiliated with the Gorilla Glue.
This is not our account, please do not follow their advice.

— Gorilla Glue (@GorillaGlue) February 4, 2021
This is not our account, please do not follow their direction.

— Gorilla Glue (@GorillaGlue) February 4, 2021
Social media has dramatically shortened crisis response times, so communicators should be consistently monitoring brand mentions and emerging trends or news stories that could affect their organizations.
You should also have strategies for several crises prepared in advance, including plans for getting ahead of the narrative in the news and across social media platforms. This includes fighting against misinformation and disinformation about your brand, including parody or fake social media accounts impersonating your organization.
2. Consider joining the conversation as an expert.
If you or your executives have topical expertise related to a viral news story or trend, consider offering your insights or advice.
Traditionally, this required pitching to journalists to secure a quote in a featured article or given an interview spot on a news broadcast. However, social media platforms offer many opportunities for savvy experts to educate audiences—and expand their reach and brand in the process.
For example, dermatologist Dr. Dustin Portela offered his take on the incident. Portela's TikTok videos regularly grab between 20,000 and 200,000 views, but his tips for getting out Gorilla Glue garnered 1.3 million views:
Jumping into a trending conversation or story requires swift, but careful, thought. You don't want to come across as opportunistic or inappropriate, which could result in a crisis instead of a brand boost. Instead, consider ways you can inform or educate the growing audiences tuned into the viral story.
3. Seek empathy and understanding.
 Though many social media users responded to Brown's situation with laughter and derision, several social media users, celebrities and public figures emphasized that for many Black women, it's an ongoing struggle to create hairstyles that fit a certain beauty standard or workplace policy.
Sunny Hostin, co-host of ABC's "The View," tweeted that Black women "still battle the pervasive belief that our natural hair is unprofessional, unkempt, or in some way 'a statement'":
So many are being dismissive of #gorillagluegirl. Given the history of how black women are targeted and still battle the pervasive belief that our natural hair is unprofessional, unkempt, or in some way "a statement" pls show her some grace and understanding. https://t.co/t6k8JHYKfv

— Sunny Hostin (@sunny) February 6, 2021
Kenyette Tisha Barnes, legislative and policy director for the Georgia Alliance for Social Justice, shared the following on Facebook:
In her post, Barnes wrote:
It really opens deeper conversation about the level of manipulation black women go through just to have hair that's fits the beauty standard.

… The situation with the young lady who mistakenly use Gorilla Glue industrial strength glue spray isn't about comedy. It about the manifestation of Black women consistently being told that our hair is ugly and we need to go through extreme measures in order to make it presentable.
Most communicators know the risks associated with posting ridicule or jokes on social media platforms, but dismissing viral incidents without learning more about the situation and audience behaviors involved can also be a detriment to your organization and its reputation.
Especially as many people stay at and work from home through COVID-19, consumer and employee audiences seek empathetic communications and leadership more than ever. Start by listening to your audience(s), eliciting feedback, and challenging strategies, workplace policies and thinking that has become outdated or is not inclusive.
What lessons would you add to this list, PR Daily readers?
COMMENT