3 tips for a stronger return-to-work culture
More employees are saying "I quit" during the return-to-work transition. Here are three tips to spark a purpose-driven culture that keeps talent.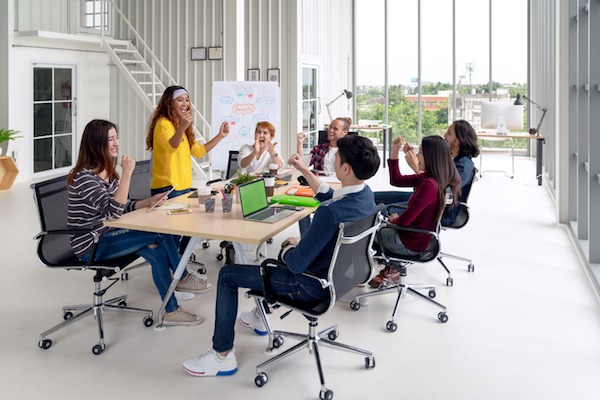 Employees are leaving their jobs at a surprising rate, even as the economy continues to recover.
Here are three ways communicators can help transform the "Great Resignation" into the "Great Retention" by sparking a more engaging, inspiring and even fun culture at their organizations:
1. Understand what needs work. You can't improve your culture if you don't know where the problems are. That's where the power of data comes in handy.
"Look at key engagement and performance indicators like productivity, employee satisfaction, attrition, intent-to-stay and team satisfaction," says Alex Masters-Goessling, senior director of CX communications and employee enablement at Electronic Arts (EA), who will be presenting at Ragan's Employee Communications and Culture Conference on July 29.
"Pay attention to what people say and understand why people leave," she adds. "Helpful tools to use include culture interviews, culture surveys, exit and stay interviews and daily engagement surveys, like happy or not bots."
She also recommends starting with a broad listening tour. "Ask a lot of questions, listen to learn—not refute or fix," Masters-Goessling says.
2. Strengthen the pillars of a purposeful culture. Culture models vary, but a popular framework is the one outlined by culture guru Josh Levine in his book, "Great Mondays: How to Design a Company Culture Employees Love."
It's also the one adopted by the EA team.
Levine breaks culture into six pillars: purpose (connecting daily work to the vision), values (beliefs about what's most important), behaviors (actions guided by values), recognition (applauding those who bring company values to live), rituals (repeated behaviors to establish community) and cues (reminders that keep people in touch with purpose).
"Building an intentional culture requires an understanding of these components so you can map out what you're doing to improve them," says Masters-Goessling.
Here's a quick snapshot of how her team is putting these principles to action, starting with EA's customer experience organization's own powerful statement of purpose, "We exist to help the world play":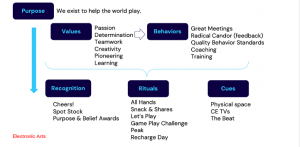 This roadmap and its results are among the many reasons EA consistently ends up on "best place to work" lists, including Glassdoor and Game Industry Guide.
3. Make culture everyone's job—and make it fun! Communicators can't bring culture to life alone. "If culture is just my job, it's going to be weak," says Masters-Goessling.
That's why the EA team sets the expectation from day one that everyone contributes to the company's culture.
"When employees first start, we introduce them to our six values of passion, determination, teamwork, creativity, pioneering and learning," Masters-Goessling shares. "Then we set the expectation with them that they own their own experience at EA and talk with them about their unique contribution to our culture."
The ongoing effort includes follow-ups asking employees how they're living EA values. "Our recognition program empowers everyone in our organization to give and receive recognition tied to our values," says Masters-Goessling.
EA's employee culture isn't just best-in-class—it's also fun.
For example, the company reinforces its cultural values across a variety of employee engagement efforts—from AMAs and Game Time with execs to employee shout-outs on Bonusly, a standalone employee recognition app that also integrates well with Slack.
"It's a Twitter-style feed where we'll mention the employee and tag a value," Masters-Goessling says, illustrating with this example: "+3 Thanks @brian for the great convo—I appreciate your #creativity."
Brian Pittman is the Dean of Ragan Training. To learn more about the #1 training library of over 810 videos for communicators, contact him at brianp@ragan.com.
COMMENT