5 lessons on activating celebrity superfans
Ice cream company Carvel created an uplifting moment and helped one of its best-known fans celebrate an important birthday.
For brands looking to grab bigger audiences, a celebrity partnership can often be the prefect play.
But what if a celebrity is already a fan?
That's the fortunate position Carvel found itself in with Kelly Ripa, co-host of the syndicated talk show "Live with Kelly and Ryan." Ripa has shared her love for the company's "Fudgie the Whale" cakes on air before, so the brand knew that it had an opportunity to score a big media hit with Ripa.
The team decided to surprise the host on-air for her birthday:
"Kelly Ripa is amongst our most famous Fudgie the Whale fans," says Marissa Sharpless, director of public relations, specialty brands at Focus Brands. "She actively shares about Carvel with much passion on her morning show and on social media, so we know she has a known tradition of celebrating no matter the occasion with Fudgie and Carvel. In planning for 2020, we knew this year featured a momentous birthday for her, and we had to find a way to play a part in the celebration."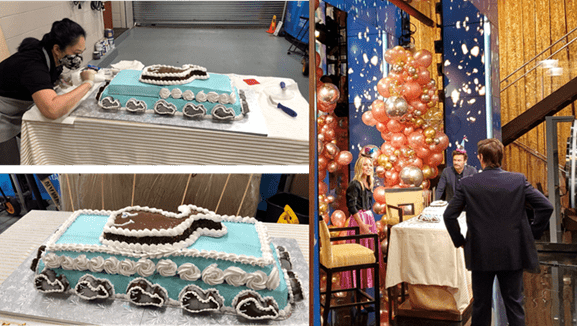 Here are some lessons the team is taking from this unique bit of earned media success:
2. Find authentic connection. 
To get the kind of reaction that makes waves, your relationship with a celebrity or influencer must be authentic. For Carvel, Ripa was the perfect fan to engage.
"To get a strong reaction, engagement must be authentic," Sharpless says. "When you have a brand icon that has been around for 40+ years and is regularly included in celebrations, fans have an emotional connection."
Sharpless adds that these kinds of special connections must be organic, so listening and media monitoring are crucial steps. "Be sure to seek out opportunities that foster authentic connections, and don't try to overtly push a brand message," she says. "Come to life in a way that the celebrity will appreciate and value. This isn't about you, it's about them."
2. Be targeted—and be fast.
Sharpless says that for these kinds of campaigns, it's crucial to listen to supporters and to move very quickly to take advantage of fleeting media opportunities.
"You must listen to your brand fans and reciprocate when shown the love," she says. "Focus on building relationships when the opportunities arise and create a 1:1 experience."
She stresses that success will only occur if you can make your pitch timely, short and sweet. In a cluttered media environment, agility and flexibility are paramount.
3. Amplify on social media in real-time.
You can get an even bigger audience by using your earned media success to launch other content efforts. This requires having a team that can work together seamlessly to identify opportunities.
"Our brand team and agency team operate as one, which allows us to be nimble and efficient," says Sharpless. "Both teams were in constant communication identifying placements across social and web for us to amplify. Seeing Kelly's real-time response and the sharing across social was amazing to see and so fun to engage with!"
4. Measure sentiment, as well as reach.
For Sharpless, the benefit of a brand activation with someone like Ripa is the enthusiasm that a celebrity and his or her followers then share on social media platforms.
"It is important to note that this effort was truly rooted in making a brand fan's birthday extra special," she explains. "Success for us was seeing the reaction to our specialty Fudgie cake delivery and knowing her birthday was complete,"
However, the team made sure to grab some hard numbers as well, measuring website traffic and social media channels and benchmarking them against year-over-year figures.
5. Audiences are craving positive stories.
Now, more than ever, a positive story can offer huge benefits for brand managers and their organizations.
Whether its Tesla offering followers a branded tequila or Arby's giving consumers a deep-fried turkey pillow, we could all use a bit more levity these days.
"We believe feel good stories always have a strong reach but have seen an uptick in feel good moments resonating even more as fans have increasingly shared how Carvel brings comfort and joy to their day," says Sharpless. "The current environment has made us all pause and evaluate what really matters."
It's a natural fit for an ice cream cake company to embrace celebration and positivity, but brand managers of all stripes should consider how they can create joy and affirmation for their audiences and fans.
"Carvel has a way of bringing out the kid in all of us, igniting childhood memories and creating new ones to last a lifetime," says Sharpless of her organization. "Those experiences of celebrating sweet moments and milestones—big and small—are even more so important now, and we hope the trend of feel-good moments resonating continues beyond the current environment."
So in that way, Carvel's moment with Kelly Ripa was also a bit of purpose-driven communications, making the campaign that much more authentic and meaningful for everyone involved.
COMMENT