Applebee's faces backlash from leaked exec email, Uber to partner with NYC cab companies and YouTube tops online destinations
Also: Mattress company Avocado opens wellness center store in Manhattan.
Hello, communicators:
Mattress company Avocado wants to offer more than a showroom to test its mattresses.
Its new Experience Center in Manhattan combines a mattress store, café and community space that offers yoga and meditation classes and live music.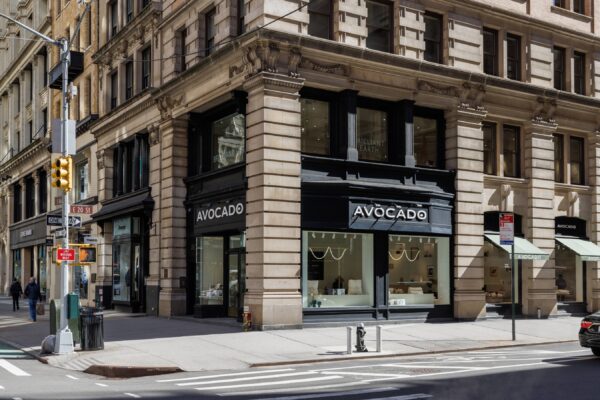 "We've developed a unique shopping experience that is unlike anything in our industry," says Avocado Vice President of Retail Brett Thornton. "Our new showroom gives customers a chance to experience all our lifestyle products, while we continue the tradition of our other locations: a pressure free retail space where we put community first."
Avocado's promotion is a step up from brands hosting events or building pop-up spaces to foster brand recognition and intrigue about their products. The brick-and-mortar multi-use space could signal a trend for brands going above and beyond to promote their products and services with related offerings and resources.
Here are today's other top stories:
Applebee's takes social media heat over exec's leaked email
An Applebee's franchise group executive's internal email about how rising gas prices and inflation could help lower average food service wages is receiving backlash on Twitter.
The email, purported to be from Wayne Pankratz, executive director of operations for American Franchise Capital (AFC), was originally uploaded to the r/antiwork Reddit page on March 23, per Fortune.
"Most of our employee base and potential employee base live paycheck to paycheck," Pankratz wrote fellow executives on March 6. "Any increase in gas prices cuts into their disposable income. As inflation continues to climb and gas prices continue to go up, that means more hours employees will need to work to maintain their current level of living."

He went on to say that those rising costs, and the fact that people have run out of government stimulus money and extended unemployment benefits, will work to the advantage of companies like AFC.
Customers took to Twitter to voice their disgust:
As one of the majority of Americans who live paycheck to paycheck
I get to choose where I my small amount of disposable income…

Tell Wayne Applebee's will not be getting any more of my money pic.twitter.com/pUlBvtRDga

— Nana Sue says Save democracy VOTE Blue in 22 (@SusanDFinSD) March 24, 2022
Anyone that knows me knows I'm obsessed with #Applebees. I've always claimed them as my favorite restaurant. I had my 21st birthday there (+ more events). I can't believe your leadership would be this callous. This out of touch with reality. Shame on you. @Applebees @NPR @CBSNews pic.twitter.com/oM7VW7aXZM

— Katie🌵 (@CactusEngineer) March 25, 2022
Applebee's told me that in order to succeed in their business, I would need to abandon my humanitarian and socialist views. This occurred after I had objected to setting up employees to get illegitimately fired.

Applebee's knows they are anti-worker. They don't want you to know.

— Salem Snow (@Salem4Congress) March 24, 2022
The Kansas City Star reports that AFC spokesman Scott Fischer attempted to distance the company from Pankratz' email:
"He doesn't have the authority to create policy for our company for the brand or anything. … Maybe he wrote it in the middle of the night. I don't know," Fischer said. "The main message here is that this in absolutely no way, shape, or form speaks to our policies or our culture, or anything like that with our brand."
What you should know: The growing anti-work movement online is developing an audience that is prepped to pounce on ill-considered corporate messages. Internal memos are easily finding their way into online forums—which then become nightmarish headlines in major media outlets.
Applebee's headaches are a reminder that any message that appears to crassly dismiss the hardships faced by workers will create a PR crisis for your organization.
---
MEASURED THOUGHTS
New research from Common Sense Media shows just how important watching online videos is to young people ages 8-18.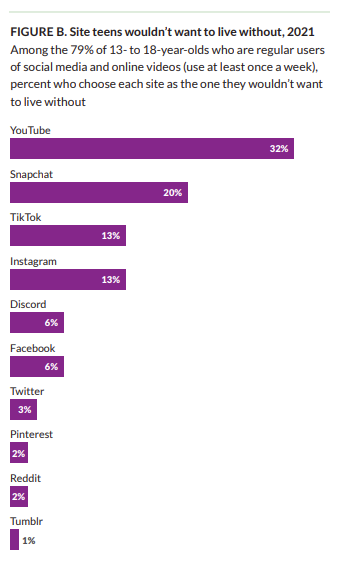 Common Sense Media's polling found that more than 6 in 10 tweens and teens watch online videos every day.
When asked which social media site they wouldn't want to live without, an overwhelming majority of 13- to 18-year-olds chose YouTube (32%), followed by Snapchat (20%) and TikTok (13%).
PR pros, it's important to consider these demographics when crafting your video messaging strategy, especially if you're trying to reach younger audiences.
Read more from the Common Sense Media report here.
---
TAKE OUR SURVEY
We want to hear from our community about how their thinking has changed on media relations and its value inside their organization. If you work in communications, please take our short survey to help us chart the value of media relations for 2022.
The survey will take less than 10 minutes to complete and participants will be entered in a drawing for a $100 credit toward a Ragan event. All individual responses will be kept confidential.
Results from the survey will be shared at PR Daily's Media Relations and Measurement Conference in New York City on May 11.
Uber to partner with yellow cab services in NYC
Rideshare company Uber announced this week it will end a years-long rivalry by partnering with two yellow taxi companies in New York City, enabling riders to choose between hailing a ride from Uber drivers or cab drivers in its app.
"On the one hand, Uber and yellow cab seem completely like water and oil," said Bruce Schaller, a former city transportation official. "On the other hand, when you go hail a cab or go to your smartphone to get an Uber, it will be the same experience as it was before. So it's kind of like a big change and the same thing all at once."

Starting later this spring, riders will be able to open the Uber app and choose a taxi. Uber will then refer the request to the two taxi technology companies, which will notify drivers to pick up the passengers. The fare will be based on Uber's pricing and policies, including surge pricing, which can significantly increase the cost at peak times.
"This is a real win for drivers — no longer do they have to worry about finding a fare during off peak times or getting a street hail back to Manhattan when in the outerboroughs," said Guy Peterson, director of business development for Uber, in a news release. "And this is a real win for riders who will now have access to thousands of yellow taxis in the Uber app."
Why it matters: Uber's messaging emphasizes the collaborative nature of the partnership. The press release speaks directly to the former conflict, with the headline "Once Rivals, Now Partners."
Peterson's statement is a nod to the company's efforts to make peace with cab drivers, who have complained of waning business since Uber came to big cities across the country. But the response of cab drivers shows Uber has more work to do to earn their trust. Working with cabbies as brand advocates could be one way to build goodwill among skeptical drivers, while maintaining positive brand reputation overall.
COMMENT