Checklist: How to conduct a social media audit
Make your social media channels work for you in 11 easy steps.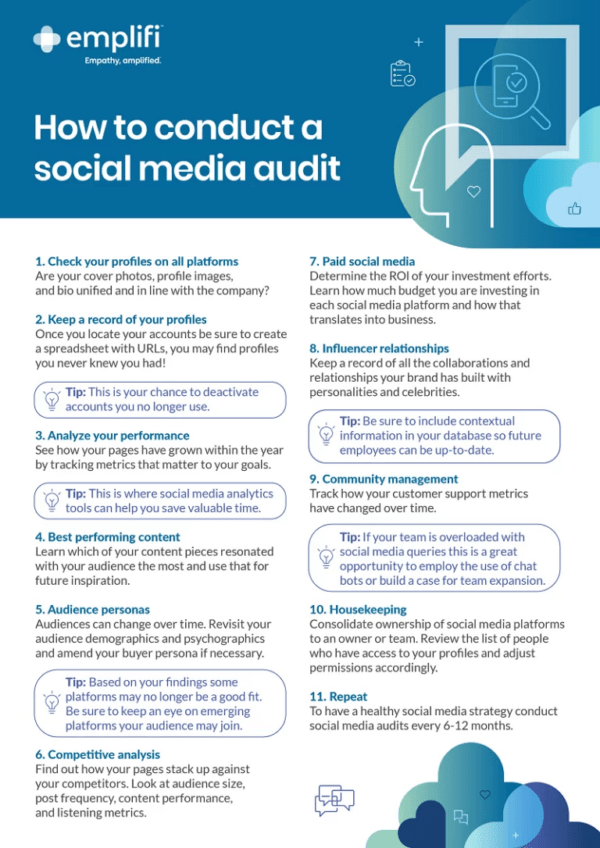 Social media messaging is key to a comprehensive brand marketing plan. But if you're sending out the same tweets week after week or sitting on platform accounts that simply don't get traffic anymore, you could be spending too much time on the wrong content—and not enough on others.
Enter the social media audit. It's important to evaluate the state of your organization's finances, business strategy and communications plan—and assessing your brand's social media presence every now and then can help keep your content fresh.
This social media audit checklist from Emplifi walks readers through an 11-step social media evaluation process.
The checklist's steps include:
1. Examining the appearance of all existing profiles. Brand consistency isn't just about what you post—it extends to the fonts you use, your brand colors and the general aesthetic appearance of your brand. Take a moment to ensure the profile and banner images of all your organization's social media channels are, if not the exact same, then at least uniform.
2. Keeping a record of brand profiles and platforms. Emplifi advises creating a running list of brand accounts using a spreadsheet. Microsoft Excel and Google Sheets work just fine for this purpose. As noted in the checklist, you can use this exercise as an opportunity to delete old brand profiles on social media platforms that aren't widely used anymore (hello, Myspace!)
3. Analyzing each profile's performance. Twitter, Instagram and Facebook (colloquially known as the "Big Three") all offer free analytics tools for examining how your brand account has grown over time. If you've got the budget, though, there are a bevy of social media analytics tools that will do this heavy lifting for you.
4. Noting which content is best received by your audience. While you're checking out each platform's analytics, take note of which posts do best. Do tweets with videos get the most shares and likes? Or perhaps Facebook's poll feature prompts a ton of engagement you wouldn't get otherwise. Take these observations into consideration when planning your social media strategy moving forward.
5. Checking in on your audience demographics. Who does your organization serve? If it's an older, less tech-savvy population, then spending valuable time curating your brand's Reddit account may not be the best move. Identifying where your audience spends their digital time can help you determine where to put your social media energy.
6. Completing a competitive analysis. Imitation is the best form of flattery, right? Well, kind of. It's worth checking out the social media channels of companies you're competing with. Emplifi suggests looking into competitors' audience size, post frequency, content performance and listening metrics.
7. Evaluating paid post performance. It's all about the ROI. Crunching the numbers on how much money you're investing into each social platform and comparing that to your analytics can reveal if you're spending too much—or too little—trying to get your content in front of certain demographics on each social channel.
8. Tracking influencer brand partnerships. Let's head back to that spreadsheet of brand accounts. You should also be keeping records of the influencers, celebrities and online personalities your company partners with. Emplifi advises keeping up-to-date contextual information about each brand partner to make onboarding future employees a little easier.
9. Assessing community management. If your brand uses social media to perform customer service, use your analytics tool of choice to track how support metrics have changed over time. Consider your strategy: Does tweeting directly at customers who voice complaints work? Or is it better to just direct message each person without a public-facing interaction?
10. Adjusting who on your team has access to social media accounts. Finally, treat your brand's digital accounts like the valuable resources they are. Restrict password access to only those who absolutely need it, and consider enabling two-factor authentication on brand accounts. Make changing log-in credentials a consistent habit, especially if your social media management team has turnover.
11. And repeat! These social media audit steps are most effective when completed regularly, so construct a list that works for you and your team and add it to your workflow.
For Emplifi's full social media audit checklist, view the original infographic here.
COMMENT