Delta's message to workers highlights new mask stance, Revolve Festival devolves into Coachella mayhem and 58% of global CEOs admit to 'greenwashing'
Also: A new Netflix documentary skewers the company culture of Abercrombie & Fitch.
Hello, communicators:
If you were young in the early 2000s, you likely had a shopping bag with a man's headless, shirtless torso displayed alluringly on the side. You know what we're talking about: Abercrombie & Fitch.
A new Netflix doc out this week details the clothing brand's triumphant peak and its downfall, spurred on by a class action racial discrimination suit and changing social attitudes on size inclusivity.
According to reporting by The Guardian, the documentary focuses on former CEO Mike Jeffries in the vein of other popular business docs like "The Dropout" or "WeCrashed."
It's yet another example of how people are looking at company culture — how businesses treat their employees, specifically — with a more critical eye to help them make a moral judgment about the company. And it's a reminder of the power of Netflix to amplify stories. For instance, Formula 1 saw huge audience gains thanks to its Netflix doc series "Drive to Survive." For Abercrombie, the Netflix effect could be just as potent.
Here are today's other top stories:
Delta's employee memo underpins the airline's external message on masks
In response to the Transportation Security Administration's new mask guidelines for airlines, Delta published an internal message to employees about its updated masking policies.
The memo explained the TSA's new guidelines, which came after a federal judge in Florida issued a ruling that overruled the previous travel mask mandate from the Centers for Disease Control and Prevention.
Delta will make masks optional for all employees and customers.
Given the unexpected nature of this announcement, please be aware that customers, airline employees and federal agency employees, such as TSA, may be receiving this information at different times. You may experience inconsistent enforcement during the next 24 hours as this news is more broadly communicated — remember to show understanding and patience with others who may not be aware enforcement is no longer required. Communications to customers and in-airport signage and announcements will be updated to share that masking is now optional — this may take a short period of time.
Why it matters: This is a good example of a company's internal communications team working with its external comms team to craft messaging that is suitable both for employees and the general public. Delta's message to employees also serves as a notification to customers about its reaction to the new TSA guidelines.
It's a reminder of the intrinsically linked nature of internal and external comms for businesses, and that COVID-19 communication should always start with employees first.
---
MEASURED THOUGHTS
A new survey conducted by The Harris Poll for Google Cloud found more than half of global executives admit to overstating their companies' sustainability efforts, or "greenwashing."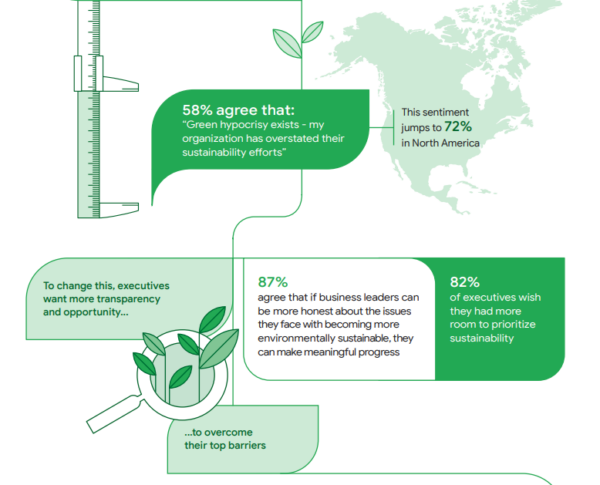 Greenwashing is even more prevalent in the U.S., Canada and Mexico, with 72% of North American execs admitting to the tactic.
Sixty-five percent of company execs want to advance corporate sustainability efforts but are unsure how to actually do it.
Executives want more transparency and opportunity to overcome their top barriers — 87% agree that if business leaders can be more honest about the issues they face with becoming more environmentally sustainable, they can make meaningful progress.

The majority (82%) of executives wish they had more room to prioritize sustainability.
It's a good reminder to PR pros that prioritizing sustainability efforts isn't just good for the earth, it's a popular and worthwhile addition to your organization's agenda.
Read more from the Harris Poll/Google Cloud report here.
---
ATTEND OUR MEDIA RELATIONS CONFERENCE
Join us in New York City on May 11 for a one-day, in-person conference all about media relations and measurement.
At PR Daily's Media Relations & Measurement Conference, you'll learn how to score the coverage your brand deserves and generate results—and then showcase those results to management. You'll also learn the latest measurement tools and methods for everything from internal comms and media relations to social media.
Each attendee will receive a Media Relations & Measurement Conference Certificate of Completion.
Register here before April 27 to receive a special attendance rate.
Influencers bash Revolve Fest as "difficult and unsafe"
One high-end clothing brand's star-studded luxury event last weekend really put the "hell" in Coachella.
According to reporting by NBC News, the drawbacks of Revolve's annual Coachella-adjacent festival prompted some attendees to compare it to the disastrous Fyre Festival.
From NBC News:
The only way to get into Revolve Festival was by taking the provided shuttles, which picked up guests at an empty parking lot about a mile and a half from the Merv Griffin Estate. In TikTok videos and Instagram stories posted throughout the weekend, influencers complained that the transportation was disorganized and ill-equipped for large crowds. Some said they waited for hours under the hot sun with no food or water.

"Influencers get a bad reputation for acting entitled. However, influencer status aside, many people were simply outside waiting in the heat for two or three hours without any water," said creator Averie Bishop, who said she was invited but ended up not attending after hours of waiting for the festival-provided shuttle.
What it means: When organizing an event — any event, really, but especially one that will be attended by people with massive influence and voice on social media — it's important to nail the basics. People will always have opinions about details like entertainment and décor, but failing to provide adequate food, water and shelter is a guaranteed way to land your organization in hot water.
As organizations increasingly bring back the in-person event marketing and brand activations, make sure to pay extra attention to logistics, and consider hiring a safety officer.
COMMENT