FedEx partners with HBCUs in workforce diversification, Americans want Olympic sponsors to stand up to China and the NFL denies racial discrimination
Also: Lay's teases Super Bowl commercial with Seth Rogen, NWS Twitter account prepares audience for winter storms and more.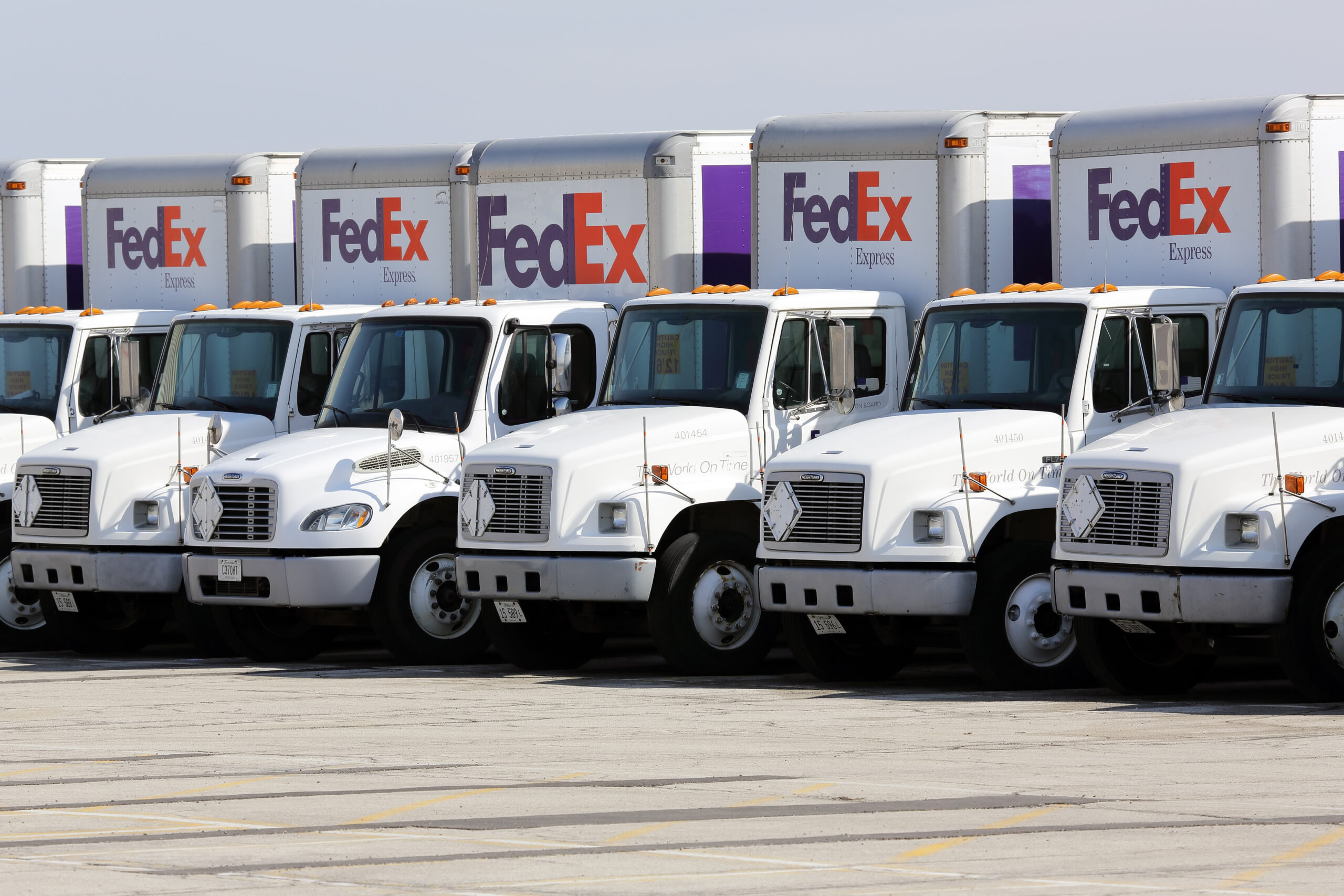 Hello, communicators:
"We're teasing commercials now? That's a thing?"
Yes, Seth Rogen. As Paul Rudd nonchalantly explains to his co-star in a 15-second preview for Lay's first Super Bowl ad in nearly 20 years, it's "like a movie trailer."
The video is the second of two "teaser" spots from Frito-Lay, the first of which shows a man who is ostensibly obsessed with Rogen admiring his shrine to the star—an assortment of unnerving drawings, photos and a bag of Lay's chips.
With many brands releasing complete—and even extended—versions of their ads before gameday, Frito-Lay's ad preview strategy could be considered conservative, or even coy. Watch this space—PR Daily will have a full rundown of Super Bowl LVI ad winners and losers following the big game.
Here are today's other top stories:
FedEx's HBCU Student Ambassador Program aims to develop diverse talent pipeline
FedEx announced Tuesday that it will partner with eight historically Black colleges and universities (HBCUs) this spring to provide students with experience in e-commerce, marketing communications, sales and other career areas through its Student Ambassador Program.
Student participants will begin attending virtual and hybrid meetings to learn about the company from FedEx executives, as well as participate in seminars focused on post-grad success in the workforce.
FedEx also hosted a conversation with Bubba Wallace, who is currently the sole Black NASCAR driver, and Denny Hamlin, a former NASCAR driver and part-owner of 23XI, Wallace's racing team.
"'The FedEx-HBCU Student Ambassador program will continue to strengthen our important relationships with HBCUs across the country,' said Judy Edge, corporate vice president of human resources at FedEx. 'We're preparing tomorrow's leaders, and the students we reach through this program will gain valuable practical experience that will help prepare them to enter the workforce. It will also help us to continue to bring diverse talent into our pipeline at FedEx.'"
Why it matters: Efforts to diversify corporate America are often misguided. FedEx's partnership with HBCUs empowers minority students to imagine themselves in roles that have long been held by white men and women. The use of Wallace and Hamlin—whose 23XI co-owner is none other than basketball legend Michael Jordan—gives the program legitimacy and solidifies the move as one based in good faith.
---
MEASURED THOUGHTS
New survey research from Morning Consult shows most Americans are in favor of companies using the upcoming Olympic Winter Games in Beijing as a platform to take a stand against human rights violations in China.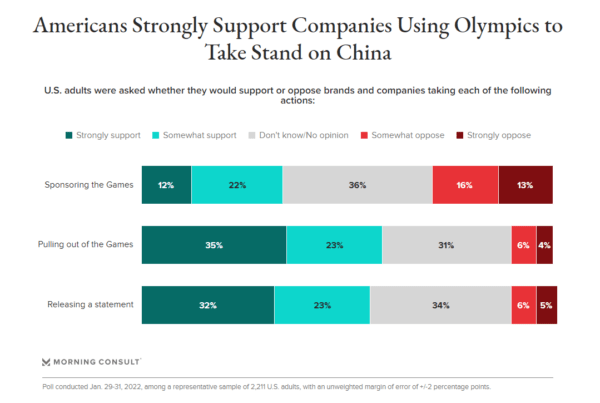 Fifty-eight percent of respondents said they would "strongly" or "somewhat" support companies that pull out of the Olympics entirely, while 55% said the same about organizations that released a statement recognizing the Chinese government's human rights record.
Many of the Games' longtime corporate sponsors have been quiet leading up to this year's Winter Olympics; Reuters reports that as of last week, just two spots had aired, neither of which mentioned the host country. This data is just another example of why organizations should heed consumers' ongoing desire for more business engagement on social issues.
Check out more from the Morning Consult survey here.
---
TAKE OUR SURVEY
We want to know about your career as a social media professional.
How big is your team? Are you valued at your organization?
If you're interested in helping benchmark the career path potential of social media professionals and shedding light on how social media is internally managed, viewed and evaluated, take our survey. The Social Media Career Survey is a follow-up to a 2020 report by the Institute for Public Relations, Ragan Communications and the University of Florida.
Whether you're in charge of company social media or involved in social media for a client, we welcome your participation.
Respondents will receive a full report on the findings, which will also be shared on PR Daily.   Responses will remain confidential.
---
SOCIAL BUZZ
Nearly half of all 50 U.S. states are set to face the wrath of Winter Storm Landon this week, with around 90 million people bracing for a combination of snow, ice and severe thunderstorms. Illinois Gov. JB Pritzker has issued a disaster declaration for the state, activating the Illinois National Guard as the storm nears.
The Twitter account for the Lincoln, Illinois branch of the National Weather Service (NWS) has been active with information about how to prepare for the potentially dangerous storm, as well as colorful graphics about how to shovel safely and how to report snowfall amounts:
Now is the time to prepare for our upcoming winter storm. Be sure to monitor the latest forecast for updates. #ilwx pic.twitter.com/Xx6m3DTs1r

— NWS Lincoln IL (@NWSLincolnIL) January 31, 2022
With hazardous travel conditions expected Wednesday and Thursday, if you must travel, make sure your car is equipped with the necessary gear to survive in the event you become stranded. #ILwx pic.twitter.com/t79AKZw20m

— NWS Lincoln IL (@NWSLincolnIL) January 31, 2022
A powerful winter storm is expected to bring significant snow to the area. We'd love any snow reports as you're able to take them! Here are some best practices for measuring snow. Snow is expected to begin late tonight, so if you have a board you should put it out today #ILwx pic.twitter.com/uvsgG0KM3f

— NWS Lincoln IL (@NWSLincolnIL) February 1, 2022
Snow will start off heavy and wet with high water content. This snow will be difficult to shovel and can strain the body, especially your heart. Be sure to take frequent breaks when out shoveling! #ilwx pic.twitter.com/uffBeV6Vdy

— NWS Lincoln IL (@NWSLincolnIL) February 1, 2022
With more than 20,000 account followers, NWS Lincoln IL has taken advantage of its sizable social media presence to communicate potentially life-saving information to its audience ahead of what could be an historic winter storm.
---
Announcing the PR Daily Leadership Network
PR Daily has launched the PR Daily Leadership Network, a unique membership group from Ragan Communications offering peer-to-peer advisory and team training along with a unique slate of resources and events to help public relations professionals break through the noise, increase their visibility and forge meaningful connections.
The Network provides daily insights and coverage on a range of topics including media relations, social media, measurement, Diversity, Equity & Inclusion, branding, thought leadership and crisis communications.
"The fast pace of change coupled with the demand on public relations professionals to protect and sometimes defend their company's reputation make it imperative for leaders to tap into the wisdom of other communicators and continue to learn and grow," says Diane Schwartz, CEO of Ragan Communications. "The PR Daily Leadership Network provides the answers but also encourages members to question the status quo and push for positive change."
Visit leadership.prdaily.com to learn more.
NFL, three teams deny allegations of workplace discrimination amid former coach's lawsuit
After Brian Flores, who is Black, was fired as head coach of the Miami Dolphins last month, he filed a proposed class action suit against the Dolphins, Denver Broncos, New York Giants and the league at large, alleging racial discrimination in his firing and in two previous hiring processes.
"Flores claims that he was informed by New England Patriots coach Bill Belichick that the New York Giants head coaching job had gone to someone else, three days before Flores was scheduled to interview for the position. He calls the Giants interview process a 'sham' through which he was 'humiliated.'

Flores also alleges that before getting the Dolphins job, he interviewed with the Denver Broncos — a meeting for which then-general manager John Elway was an hour late and appeared to be hungover.

Flores claims in the suit that he was only interviewed for that job because of the Rooney Rule, an NFL policy requiring teams to interview minority candidates for head coaching jobs; and that the Broncos never considered him a legitimate candidate for the job."
The Dolphins organization has "vehemently" denied the allegations, and statements from Denver and New York deny Flores' claims with the same vigor.
"The NFL and our clubs are deeply committed to ensuring equitable employment practices and continue to make progress in providing equitable opportunities throughout our organizations. Diversity is core to everything we do, and there are few issues on which our clubs and our internal leadership team spend more time. We will defend against these claims, which are without merit."
Why it matters: One of Flores' lawyers told the New York Times that his firm is investigating similar allegations from other coaches who could be part of the class-action lawsuit, so more information could soon come to light. The NFL's decision to stand behind the teams' hiring practices could be its downfall: If Flores' allegations are proved to be valid, the organization could have yet another shameful racial discrimination scar on their reputation.
COMMENT