Grubhub pushes back on 'frivolous' DC lawsuit, McDonald's teases return of Szechuan sauce and global institutional trust levels waver
Also: Camp Bow Wow wants you to think carefully about what to name your new pup.
Hello, communicators:
Pet care franchise Camp Bow Wow wants dog owners to choose names for their pups carefully, to avoid confusing their four-legged friends.
In honor of National Puppy Day, the brand released its list of the top 10 dog names in 2022, with a note to be thoughtful about what owners name their dogs.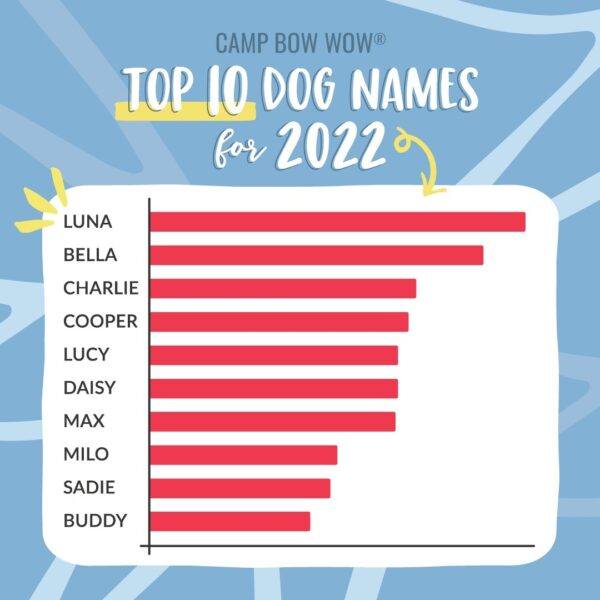 According to Camp Bow Wow's Animal Health and Behavioral Expert Erin Askeland, MSc, CPDT-KA, CBCC-KA, a dog's name can have a significant effect on their life.

"Your dog's name will be used for training purposes, so it's important to choose carefully," said Askeland. "Short, two-syllable names are helpful for getting your dog's attention, while names that sound like commonly used words or cues could confuse your pup. For example, 'Shay' is cute, but it may sound like 'stay' to a dog."
The effort is a reminder that educating your audience while offering some light entertainment can be a winning combination. And you can't go wrong with puppy names.
Here are today's other top stories:
Grubhub denies breaking the law, promises aggressive defense
District of Columbia Attorney General Karl Racine announced this week he will sue the food delivery company for "deceptive trade practices" that include listing restaurants without their permission and hiking menu item prices within the Grubhub app.
"Grubhub misled District residents and took advantage of local restaurants to boost its own profits, even as District consumers and small businesses struggled during the COVID-19 pandemic," said Racine in a statement. "Grubhub charged hidden fees and used bait-and-switch advertising tactics — which are illegal."
In a statement provided to The Verge, Katie Norris, corporate comms director at Grubhub, denied the allegations that Grubhub has misrepresented its fees.
"During the past year, we've sought to engage in a constructive dialogue with the DC attorney general's office to help them understand our business and to see if there were any areas for improvement," Norris said in the statement. "We are disappointed they have moved forward with this lawsuit because our practices have always complied with DC law, and in any event, many of the practices at issue have been discontinued. We will aggressively defend our business in court and look forward to continuing to serve DC restaurants and diners."
And David Tovar, SVP of comms and government relations at Grubhub, responded on Twitter to AG Racine's lawsuit:
Here's Grubhub's response to this frivolous lawsuit. pic.twitter.com/FAnpY5eVRN

— David Tovar (@dwtovar) March 21, 2022
Why it matters: As the responses to Tovar's tweet suggest, many Grubhub users see some truth behind the lawsuit. When your customer-facing business practices come under fire in a court of law, it can embolden other disgruntled consumers to speak up. Twitter, while not always a reliable source of legitimate opinion, can act as a sort of free customer pulse survey. Once you know your audience isn't happy with the company, it's time to put those crisis comms strategies to the test.
---
MEASURED THOUGHTS
New research from Morning Consult shows that the level of trust in institutions continues to waver worldwide, with 44% of U.S. poll respondents saying they don't trust religious leaders, the news media, local governments or the health care system.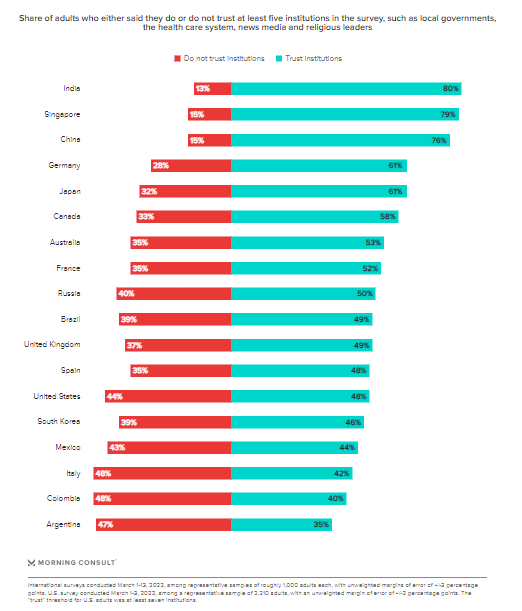 And it's not just the U.S. that is facing a trust crisis. Institutional distrust is similarly high in Italy, Colombia, Argentina and Mexico, the survey found.
The lack of confidence in authority figures is a problem because it "creates the environment in which misinformation can flow," said Dr. Brian Castrucci, president and chief executive of the de Beaumont Foundation, a public health nonprofit.
This data echoes the findings of Edelman's 2021 Trust Barometer and serves as a reminder to communicators that earning your audience's trust is an ongoing, layered process –and trust has never been harder to earn.
View more from the Morning Consult report here.
---
TAKE OUR SURVEY
We want to know about your career as a social media professional.
How big is your team? Do you feel valued at your organization?
If you're interested in helping benchmark the career path potential of social media professionals and shedding light on how the discipline is internally managed, viewed and evaluated, take our survey. The Social Media Career Survey is a follow-up to a 2020 report by the Institute for Public Relations, Ragan Communications and the University of Florida.
Whether you're in charge of company social media or involved in management for a client, we welcome your participation.
Respondents will receive a full report on the findings, which will also be shared on PR Daily.   Responses will remain confidential.
McDonald's teases the return of fan-favorite Szechuan sauce
McDonald's announced last weekend it will bring back its cult-favorite Szechuan sauce with a creative press release designed to look like a text exchange: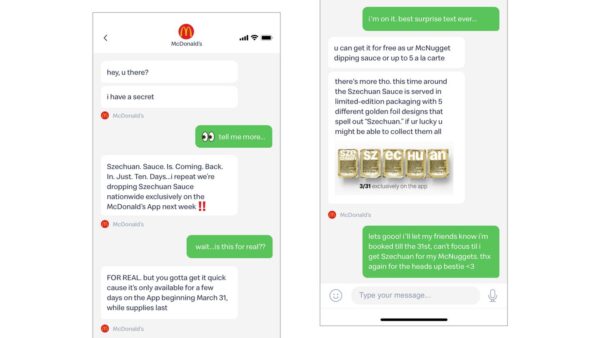 This is not the first time the fast-food chain has brought back its Szechuan sauce to build brand buzz.
hi from Szechuan Sauce, say it back pic.twitter.com/JkEUM36Oi9

— McDonald's (@McDonalds) March 21, 2022
In 2018, Jola Oliver, McDonald's director of global social media intelligence, explained how the company uses social media monitoring to determine when to push events like the return of Szechuan sauce:
As the lifestyles webzine Simplemost reported last year, McDonald's Szechuan sauce briefly appeared on menus in 1998, as a promotion tied to Disney's "Mulan." Last year an episode of the Adult Swim animated show "Rick and Morty" called for a return of the sauce of yesteryear.

"So we did, and had a huge activation," Oliver says. "Just staying relevant and creating that conversation was fun, and consumers asked for more. And it was a big deal and a fun event for us."
What you should know: While social media monitoring is nothing new, it's important to make sure your team is using it in the right way. The practice can unearth valuable insights that lead to years-long messaging strategies. Check all social platforms for your brand's name and use social listening tools to keep your ear to the ground, so to speak, for how the conversation about your organization is changing.
COMMENT