How PAN Communications maximizes thought leadership
Get top-level guidance on making the most of this powerful yet misunderstood PR tactic.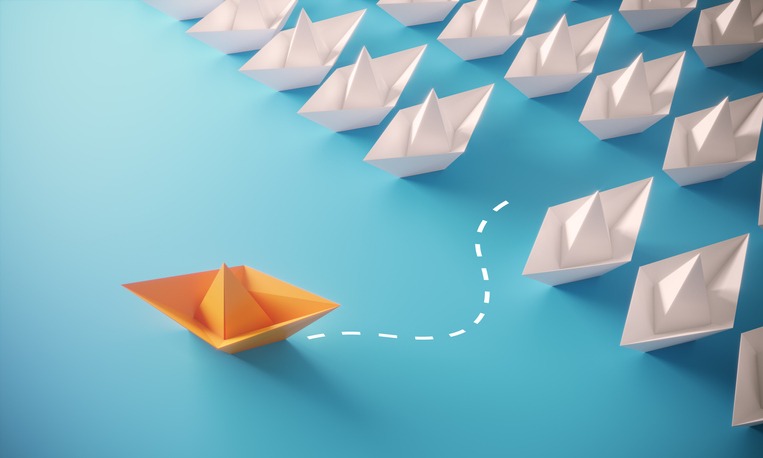 "Thought leadership" is one of those buzzwords with a high propensity for making eyes roll or glaze over.
But, when done right—when it's underpinned by a smart strategy—thought leadership can be a potent way to boost your company's industry sway, standing and visibility.
Kristina Lazarakis, a director at PAN Communications, recently shared insights on thought leadership with Ragan's Crisis Leadership Network.
PAN Communications, which has 160+ employees with offices in Boston, San Francisco, New York, Orlando and London, is a heavy hitter in the executive thought leadership game, which Lazarakis describes as: "insights and guidance provided to your target audiences on issues that matter most to them."
She elaborates: "On paper, successful thought leadership seems relatively straightforward: have an interesting point of view and stick with it." Of course, things don't always go to plan, with strategies often "running up against not only client expectations but the formulas that govern our most frequently used channels," Lazarakis says.
So, is thought leadership worth all the effort and energy? Lazarakis says the tactic's value proposition boils down to reputation. She shares, "By providing insights, it elevates both executive visibility and corporate brand visibility."
As for the benefit of pursuing thought leadership, it offers execs or budding leaders an opportunity to become prized resources for journalists, and, potentially, chances to speak at high-level events. All of which can lead to more opportunities that can "manifest in new customers, partners, employees, mentors or mentees," according to Lazarakis.
What true thought leadership looks like
Thought leadership comes in many forms, whether through interviews with reporters, quotes in publication, speaking on panels and pursuing public speaking engagements, or via bylined articles and op-eds. There's a big opportunity to bolster thought leadership on social media, too—especially on LinkedIn.
However, there's a big distinction between someone who organically earns influence, authority and credibility and somebody's who's just there to sell stuff.
According to Lazarakis, a spokesperson:
Discusses competitive features and differentiation.
Focuses on product/technology benefits.
Shares details on what's currently happening in the world/company.
Meanwhile, a thought leader:
Discusses industry evolution based on competitive landscape.
Focuses on how technology innovation impacts business strategy.
Shares thoughts on how the world/the industry should be in the future.
She also shared three pillars of thought leadership: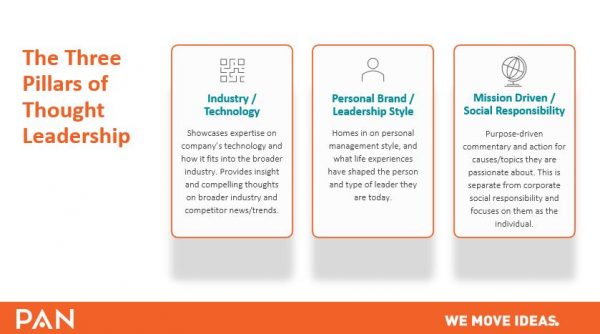 Ultimately, it all hinges on authenticity and amplifying the right voices in a compelling, strategic manner. Lazarakis shares: "Partner with clients to determine where thought leadership is coming from. Do they have an outspoken CEO? A historically high-performing brand blog? Thought leadership is impossible without identity."
Best practices and approach
Lazarakis says PAN takes a multifaceted approach to maximize thought leadership initiatives, which includes considering:
Research: Who are your competitors? Who does your executive admire? Start by researching what others are saying, including where and how they are saying it.
Identify whitespace: What isn't being talked about that should be? What gap can your executive fill in the market?
Craft a point of view: Ensure that messages are unique—and ultimately speak to audience needs and interests.
Create a narrative framework: This guarantees thematic consistency that can be adapted to each channel. Start with a singular message, and develop topics that support the point of view.
Build a channel mix: Analyze the best ways to distribute and amplify new and existing content across social media channels, owned properties, paid/syndication and earned media.
Develop themes and campaigns: Develop event- and trend-driven themes and campaigns to leverage for content pieces.
Use, repurpose and reuse. To extend a piece of content's life, take these five steps: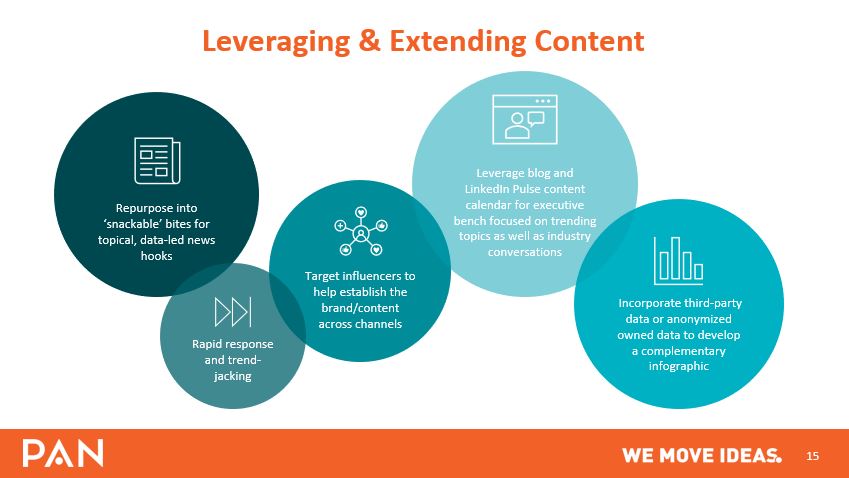 Finally, as your campaign progress, be sure to measure, refine and optimize as you go. Be sure to consistently check in with your execs, too, to see where their passions and preferences lie. Lazarakis:
"Don't be afraid to experiment or push the boundaries. This is where taking a page out of the media team's book is crucial—more often than not, our clients have plenty of thoughts on what's happening in the industry. The most compelling narratives are born when an SME [subject matter experts] has a strong reaction to what's happening, but we have to be the ones to ask so we can apply our knowledge of the appropriate channels."
Lazarakis closes with this thought:
"Thought leadership is a powerful tool in our arsenal—it reinforces not only the brand identity but helps carve out a niche for clients to own compared to key competitors."
She adds:
"When we have our feet under us, with a strong foundation of messages and themes, we can optimize the unique POVs of our clients, and ensure their words are working for them."
For more guidance on thought leadership and an abundance of other essential topics for communicators, join Ragan's Crisis Leadership Network today.
COMMENT