McDonald's connects DE&I to executive bonuses, 8.1M have downloaded Clubhouse, and lawsuit alleges Facebook inflated 'Potential Reach' metric to make money
Also: Microsoft adds levity to Twitter engagement, Popeyes trolls McDonald's recent PR and marketing stunt, Tokyo 2020 Olympics' new chief focuses on COVID-19 comms, and more.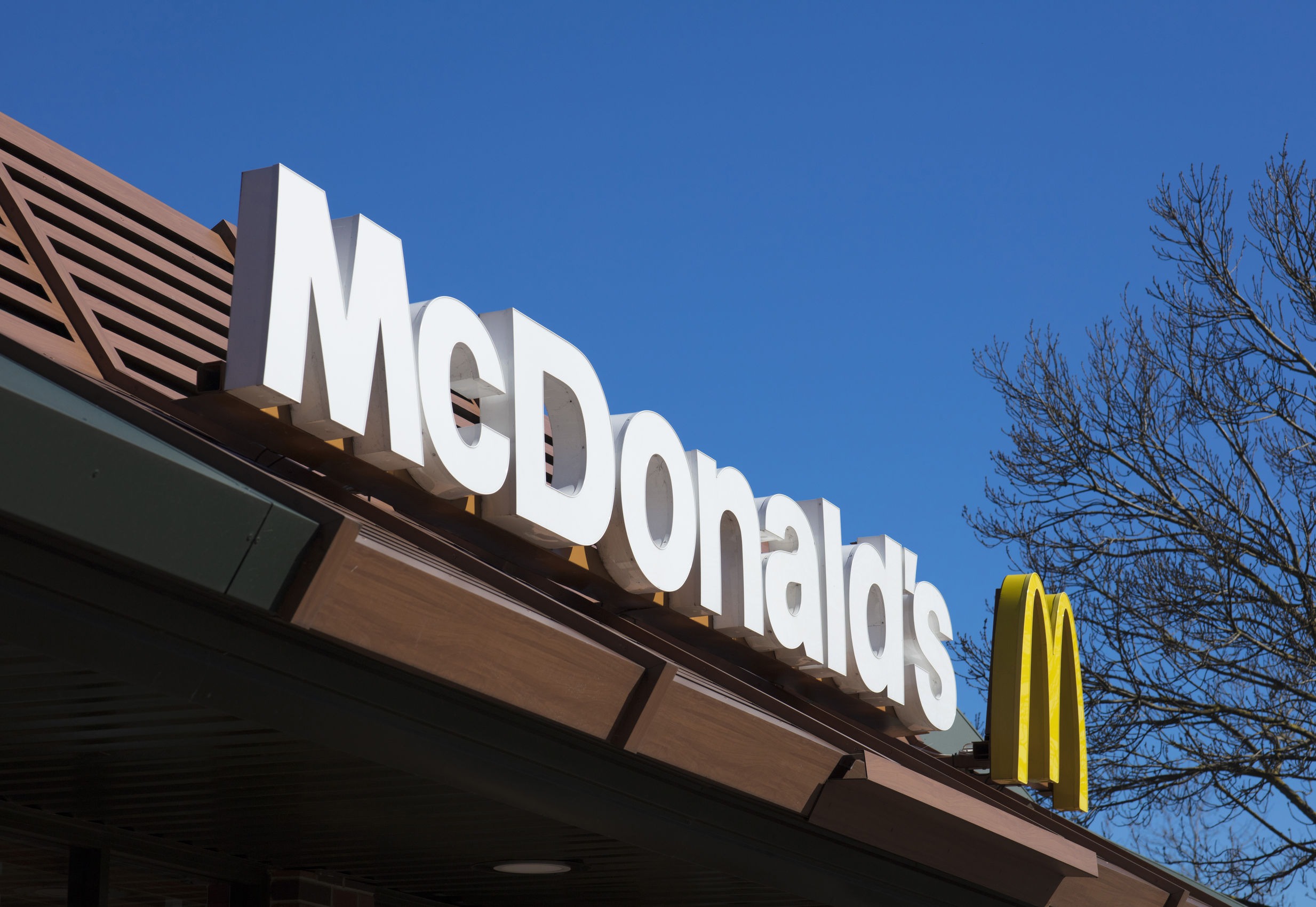 Hello, communicators:
Microsoft's social media team has been tweeting short, humorous quips in between product and partnership announcements, DE&I initiatives and more:
Hi.

— Microsoft (@Microsoft) February 17, 2021
.@Xbox was late to the meeting today.

— Microsoft (@Microsoft) February 18, 2021
*unmutes mic*

*waits 10 seconds to say something*

*decides not to say anything*

*mutes mic*

— Microsoft (@Microsoft) February 18, 2021
The tweets can serve as inspiration for community and brand managers looking to increase engagement along with delighting social media followers. If it's a fit for your brand's voice, consider inserting moments of levity within your social media posts. It can be a play on the work-from-home lifestyle or a simple salutation, but it opens the door for conversation—and might also increase your community.
Here are today's top stories:
McDonald's ties DE&I efforts to executive bonuses
The fast food chain announced that it aims to increase the number of "historically underrepresented groups" in leadership roles that are senior director-level and above to 35% by 2025. It also commited to ensure that women hold 45% of these leadership positions by 2025.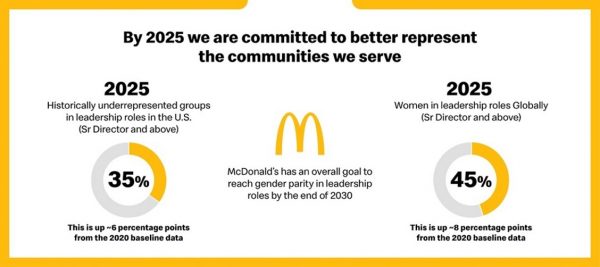 McDonald's also announced that it's holding executives accountable for these commitments, by tying bonuses to DE&I initiatives.
Under the new rules, CEO Chris Kempczinski stands to lose 15% of his approximately $2.25 million annual bonus if he fails to meet goals to increase the portion of women and Blacks, Hispanics, Asians and other minorities in senior leadership roles.
Kempczinski wrote in a LinkedIn post:
Let me be clear: Our DEI journey does not–and cannot–exist independently. It is deeply rooted in the values that make McDonald's the thriving, vibrant brand it is today. Our values underpin our success and are at the very heart of our Accelerating the Arches business strategy and how we operate across all three legs of the stool.
Why it's important: McDonald's news release is titled, "Allyship through accountability," which emphasizes the cruciality of meeting the DE&I goals your organization sets. Without corporate accountability, it can be easy to list commitments that aren't tied to your organization or its values. Doing so won't help your brand strengthen its reputation and increase trust with your audience. Instead, take an honest look at where your organization is with DE&I, and create a plan that is viable, but also challenges your organization to be better.
---
TACTICALLY SPEAKING
Popeyes is trolling McDonald's recent PR and marketing stunt that offers fans the opportunity to be a part of its special chicken sandwich "drop."
Popeyes tweeted a list of URLs that are misspellings of McDonald's CHKNDrop.com and offered a free chicken sandwich to the first 10,000 consumers who found the page:
Lokoing for a chicken dorp? We gt yall. Splel the stie wrnog to get a free chicken sndwihc. pic.twitter.com/KswgrAPh9D

— Popeyes Chicken (@PopeyesChicken) February 18, 2021
---
CRISIS LEADERSHIP NETWORK
Looking for more insight on how to address the current global crisis and lead your organization into a strong recovery?
Join Ragan's Crisis Leadership Network to connect and brainstorm with peers, get the latest intelligence and research, and start to strategize for the future of your organization.
Learn more about this exclusive membership here.
---
MEASURED THOUGHTS
App Annie revealed that 8.1 million people have downloaded the Clubhouse app by Feb. 16—up from more than 3.5 million global downloads by Feb. 1: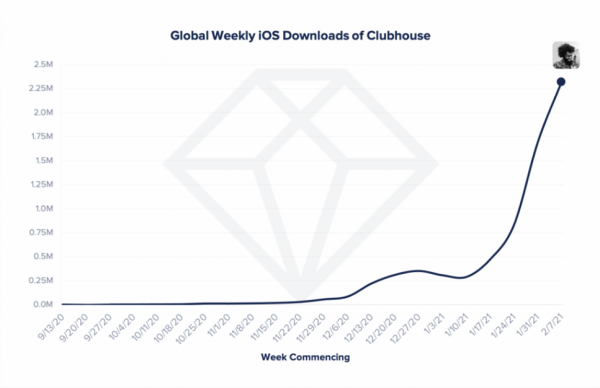 Clubhouse's explosion popularity highlights the continuing trend of audio and video content as people seek to connect virtually during the COVID-19 crisis.
Capitalizing on this growth, Facebook is reportedly beginning to build an audio chat product, aimed at rivaling Clubhouse. Facebook is not the only company taking advantage of this craze as Quilt, an audio social app focusing on wellness and community, just announced a $3.5 million seed round. Globally, apps such as Dizhua, Tiya and Yalla are attracting users in countries including China, the US and Egypt and Saudi Arabia and Turkey, with 174,000, 6 million and 34.5 million global downloads, respectively.
You can read the entire report here.
Tokyo Olympics' new chief to 'brace' herself for COVID communications
Politician and former Olympian Seiko Hashimoto was recently named the new chief executive for the Tokyo 2020 Olympic Games, after its previous chief, Yoshiro Mori, resigned following backlash for his sexist remarks during a press conference.
Hashimoto said her focus was on COVID-19 procedures and communications before the summer event—which many have criticized for continuing.
Speaking after her appointment just under five months before the Tokyo Games are due to open, the former Olympic track cyclist and speed skater said addressing the coronavirus threat was the most important task she faced, and she vowed to hold a "safe and secure" Games.
"Now I'm here to return what I owe as an athlete," Hashimoto, who had been serving as Olympics minister, told the organising committee's executive board. "As I'm taking on such a grave responsibility … I feel I need to brace myself."
Why it matters: The Tokyo 2020 Olympics team has a mountain to climb within its crisis communications to ensure that both athletes and fans feel safe enough to participate in this year's event, and her recent address is a good example of directly addressing the issue at hand. When crafting COVID-19 responses for your leaders, make sure they recognize the severity of the pandemic and include empathetic statements as well as exude confidence in your strategy for the future.
---
DOWNLOAD EXCLUSIVE RESEARCH
Where communications fits in an organization is a crucial element of positioning communicators to champion important campaigns, protect reputation and branding, drive key messages and influence top-level strategies.
Are your PR and internal communications teams in sync, or do you place communications and marketing together? How does your organization view its communications function—and are you working on breaking down silos for collaborated, concentrated efforts?
Take a look at how several communicators fit within their organizational workflows with our exclusive case study.
Especially as organizations adjust to remote, dispersed and hybrid workplaces during COVID-19 and prepare for the future of work, considering where your communications team sits within your organization's flow charts can affect leadership efforts and help you successfully execute campaigns and initiatives.
---
TACTICALLY SPEAKING
A recent lawsuit alleges that Facebook knew its all-imporant "Potential Reach" metric was inflated, but refused to fix the problem because it would cut revenue from advertising partners.
The social media network is racking up negative articles such as Gizmodo's "Facebook knowingly profited off junk ad efficacy estimates, lawsuit claims" and Financial Times' "Facebook: Presented without comment," along with growing criticism and conversation online.
The suit says "Potential Reach" is misleading because it describes itself as a measurement of "people" when it is at best a measurement of accounts. It says Facebook deliberately didn't remove duplicate or fake accounts from that metric. The lawsuit also claims that in early 2018 a Facebook analysis found removing duplicate accounts from the reach creature would cause a 10% drop in the figures.
A product manager working on "Potential Reach" allegedly proposed changing the metric so it would no longer include the words "people" or "Reach" and make clearer that it was based on accounts. But the lawsuit says Facebook's metrics leadership team rejected them "because the 'revenue impact' for Facebook would be 'significant.'"
Facebook's communicators are striking out against the lawsuit's claims, issuing terse statements.
CNBC reported:
"These allegations are without merit and we will defend ourselves vigorously," a Facebook spokesperson said via email in response to the new allegations in the lawsuit.
The lawsuit is another crisis during an already troubled time for Facebook, which is also facing criticism for blocking news for its users in Australia and more. However, the lawsuit can also serve as an important reminder to not get too invested in any one metric. Instead, ensure your measurement strategies and reports are couched with context and additional data that showcases authentic audience sentiment and action.
---
WHAT YOU SAID
We asked where your PR team sits within your organization, and nearly 59% of you said you work on mixed teams with both communicators and marketers. Roughly 35% of you are separate from your marketing colleagues, but you're collaborating. However, nearly 6% of you are working within separate and siloed departments:
Where does your organization's PR pros sit in relation to your marketing colleagues?

Weigh in below and we'll share in tomorrow's #DailyScoop!

— PR Daily (@PRDaily) February 18, 2021
ARPR reported that more than 80% of marketers say silos prevent them from gaining a comprehensive view of efforts and audiences:
More than 80% of marketers report that silos prevent them from having a comprehensive, cross-channel view of campaigns and customers. We've got the answers to solve this problem. https://t.co/MUfVD3DtDO

— ARPR (@AR__PR) February 18, 2021
Is there question you'd like to see asked? Please let us know under the #DailyScoop hashtag!
---
SOUNDING BOARD
Does your organization have an internal style guide?
Does your organization have an internal style guide to inform your press releases, memos and more?

Weigh in below, and we'll share your feedback in Monday's #DailyScoop.

— PR Daily (@PRDaily) February 19, 2021
Weigh in below or on Twitter, and we'll share your insights in Monday's roundup.
COMMENT