Thousands of brands' ads found on sites with COVID-19 misinformation, Facebook labels UK climate change posts, and job listing language leads to museum's leadership change
Also: Gimlet's 'Reply All' podcast co-host steps back amid backlash, Aquarium of the Pacific makes a splash on TikTok, McDonald's delights with chicken sandwich 'drop', and more.
Hello, communicators:
The Aquarium of the Pacific racked up views on TikTok and Twitter recently with its interview of Magellanic penguin Admiral Fancy Pants for Fashion Week:
Penguins are far from the only animals getting love on the aquarium's social media feeds. The organization grabbed more than 2.6 million views on a TikTok of otter Ollie receiving a special cookie for Valentine's Day:
Aquarium of the Pacific is also offering personalized videos through Cameo featuring its penguins and its otters. The videos cost $75 each and are a clever way to boost revenue during COVID-19, while also strengthening brand awareness and engagement.
Here are today's top stories:
Indianapolis Museum of Art chief resigns over job posting
Charles L. Venable, president of the Indianapolis Museum of Art at Newfields, stepped down following backlash over a job listing that called for a director who would "animate the permanent collection galleries in innovative ways that attract a broader and more diverse audience while maintaining the Museum's traditional, core, white art audience."
A group of 85 Newfields employees and members of the board of governors released a public letter on Tuesday calling for Venable's resignation. More than 1,900 artists, local arts leaders and former employees of the museum also issued an open letter over the weekend calling for his removal. They asked the museum's major funders to pause financial support until reforms, including a more diverse board and curatorial staff, could be implemented.
In its statement, the Newfields Board of Trustees and Board of Governors wrote:
We are sorry. We have made mistakes. We have let you down.

We are ashamed of Newfields' leadership and of ourselves. We have ignored, excluded, and disappointed members of our community and staff. We pledge to do better.

… As we guide the organization through this crucial process, we will listen to and partner with members of the community. Newfields is yours and we pledge to make the necessary changes to ensure we can regain your trust and respect. We commit to being held accountable, as we hold the institution accountable, to ensure that Newfields is diverse, equitable, accessible and inclusive.
The museum promised to share a "detailed action plan, with specific deadlines" in the next 30 days that addresses its commitment to form a city-wide community advisory committee; expand its exhibitions and programming to be more diverse and inclusive; train its staff, volunteers and board members to be anti-racist; and review its leadership and culture.
Why it's important: Yesterday's excuses won't cut it when responding to DE&I crises. If your organization won't take an honest, hard look at its current actions, sincerely apologize and commit to meaningful actions and change, don't expect the crisis communications and reputation building efforts to find much success.
---
SOCIAL BUZZ
Facebook announced it's "expanding and improving" the social media platform's Climate Science Information Center, which "connects people on Facebook with science-based news, approachable information and actionable resources from the world's leading climate change organizations."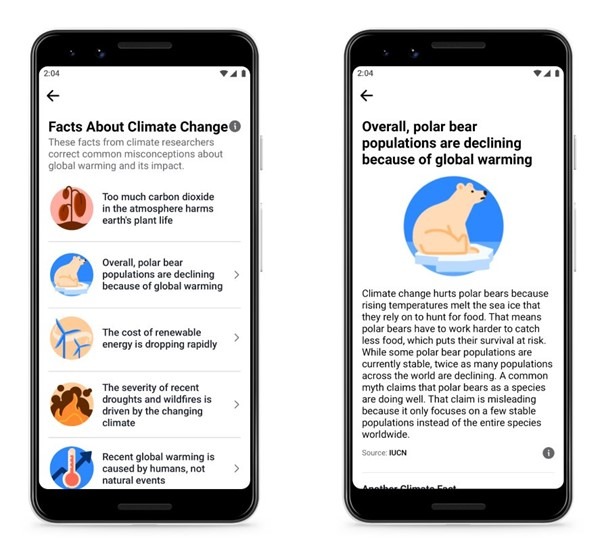 Facebook will also direct users to the informational hub when they search for climate-related terms and are adding labels to "some posts on climate in the U.K." that also direct users to the resource. The labels will come to other countries "soon," Facebook said in its news release.
The announcement was met with mixed reactions as Facebook is facing backlash from its decision to pull news content from Australian outlets from its platform.
The social networking company on Wednesday said that people and publishers in Australia will no longer be able to share or see any news from local or international outlets. The decision appears to be the most restrictive move Facebook has ever taken against content publishers.

The company's action comes after months of tension with the Australian government, which has proposed legislation that would force tech platforms to pay news publishers for content.
---
CRISIS LEADERSHIP NETWORK
Looking for more insight on how to address the current global crisis and lead your organization into a strong recovery?
Join Ragan's Crisis Leadership Network to connect and brainstorm with peers, get the latest intelligence and research and start to strategize for the future of your organization.
Learn more about this exclusive membership here.
---
MEASURED THOUGHTS
NewsGuard announced that a recent "analysis of programmatic advertising data" found that more than 4,000 brands had advertisements placed on websites carrying COVID-19 misinformation and myths—and more than 2,300 of those brands inadvertently advertised on more than one of those websites.
Companies directly involved in the global vaccination effort were among those our analysis found funding COVID-19 misinformation websites. The analysis found 105 healthcare insurers and providers—including Stanford Health Care, Emory Healthcare, Northwell Health, RWJ Barnabas, Oscar Health Insurance, United Healthcare, Beaumont Health, the University of Pittsburgh Medical Center, New York Presbyterian and the Mayo Clinic—had advertised on websites publishing falsehoods about the pandemic. The sites included domains such as WorldTruth.TV, which has claimed that the COVID-19 vaccine will contain a tracking microchip; TheGateWayPundit.com, which has claimed that Dr. Anthony Fauci stands to "make billions" from a COVID-19 vaccine and that face masks are dangerous; and IntelliHub.com, which claimed that that the vaccine will alter patients' DNA.

Pfizer, which currently offers a vaccine, and Merck, which recently discontinued its vaccine development efforts, were also on the list of advertisers placing ads on COVID-19 misinformation websites, such as NOQReport.com, which among other falsehoods has claimed that the pandemic was planned by Bill Gates and other billionaires, and theepochtimes.com, which has claimed that the virus was manufactured by humans.
NewsGuard reported that in most cases, the advertisements were unintentional, "placed by algorithms on programmatic ad-buying platforms like Google's DV360." However, the report reveals a growing problem for both advertising platforms and brand managers as they seek to both fight against misinformation and protect their brand reputation.
You can read the entire report here.
Gimlet's 'Reply All' podcast host steps back after backlash
"Reply All," the most popular podcast of Spotify-acquired Gimlet Media, faced what Vulture called "its own reckoning" following the release of the second episode in a miniseries called "The Test Kitchen," which uncovers the DE&I fallout that Bon Appétit faced last year. That crisis led to the resignation of Bon Appétit's former editor in chief, Adam Rapoport, as well as three journalists of color leaving the publication's popular YouTube series.
The show's co-host, P.J. Vogt, tweeted a statement in which he announced he was stepping back and said he found his past actions "humiliating":
— PJ Vogt (@PJVogt) February 18, 2021
Sruthi Pinnamaneni, senior reporter for "Reply All," also tweeted a statement expressing "great regret":
— Sruthi Pinnamaneni (@sruthiri) February 18, 2021
These developments come after a former staffer, Eric Eddings, published a Twitter thread accusing Pinnamaneni and Vogt specifically of contributing to a "toxic dynamic at Gimlet" that was "near identical" to the Bon Appetit culture depicted in the miniseries. "The BA staffers' stories deserve to be told, but to me it's damaging to have that reporting and storytelling come from two people who have actively and AGGRESSIVELY worked against multiple efforts to diversify Gimlet's staff & content," Eddings wrote.

The thread went on to lay out a series of allegations against Pinnamaneni and Vogt, depicting them as having actively worked against efforts to diversify the company's staff and content that were primarily linked to an early workplace campaign to form a union. That union push took place shortly before Spotify's acquisition of the company in early 2019.
Why it matters: While with making meaningful DE&I commitments—along with a strategy that outlines how you will achieve these goals—evaluate your own organization's workforce culture and behaviors. If your employees and leaders are acting in ways that don't match the mission you present externally, it can quickly undermine your efforts.
---
DOWNLOAD EXCLUSIVE RESEARCH
Where communications fits in an organization is a crucial element of positioning communicators to champion important campaigns, protect reputation and branding, drive key messages and influence top-level strategies.
Are your PR and internal communications teams in sync, or do you place communications and marketing together? How does your organization view its communications function—and are you working on breaking down silos for collaborated, concentrated efforts?
Take a look at how several communicators fit within their organizational workflows with our exclusive case study.
Especially as organizations adjust to remote, dispersed and hybrid workplaces during COVID-19 and prepare for the future of work, considering where your communications team sits within your organization's flow charts can affect leadership efforts and help you successfully execute campaigns and inititiaves.
---
TACTICALLY SPEAKING
McDonald's is giving consumers "access to an early taste" of its new Crispy Chicken sandwich through a "limited-edition capsule." It includes the sandwich on Feb. 23, a day before it arrives on McDonald's menu, along with a 7-inch vinyl carrying an audio track from producer Tay Keith, which McDonald's is using in its advertising, and a limited-edition hoodie.
Interested fans can visit CHKNDrop.com at noon Eastern time today and "lock in your drop" for $5: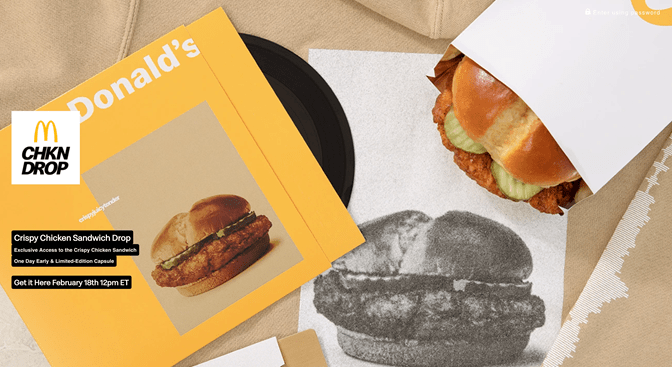 "We know fans can't wait for our new Crispy Chicken Sandwich to hit restaurants, so we're celebrating them and this moment with a drop like no other," said David Tovar, McDonald's vice president of U.S. communications, in a company press release.
McDonald's latest entry into the fast-food competition known as the "chicken sandwich wars" is one of many new menu announcements. Burger King recently announced that it's replacing its chicken sandwich with a hand-breaded version, according to CNN Business.
Chick-fil-A debuted a new Grilled Spicy Chicken Deluxe Sandwich at restaurants nationwide on Jan. 22. Boston Market also has a new Nashville Hot Crispy Chicken Sandwich, its first crispy chicken sandwich. In early February, McDonald's brought back its Spicy Chicken McNuggets for a limited time.
However, McDonald's PR and marketing stunt stands out, playing on fans' desire for collectible and limited-edition merchandise. The effort also leans into consumers' "FOMO," or "fear of missing out" on the newest trends and experiences.
---
WHAT YOU SAID
We asked for the worst thing you could say to a PR pro, and dear readers, you had much to say.
PR and marketing pro Heather Haywood said the dreaded verb "spin" is tough to hear:
"How can we spin this?" pic.twitter.com/KYVewMudKu

— Heather Haywood, APR (@HeatherAHaywood) February 17, 2021
Jaclyn Ruelle, managing director of cultural impact and brand communications for The Martin Agency, shared a request that many of you loathe:
Anything with the word "guarantee," and then we will "make it go viral"

— jaclyn ruelle (@jaxbailru) February 18, 2021
PR pro Brant Rawls-McQuillan said asking for free PR can also bring on the alarm bells:
Can you just do this bit at no charge? 🙄

— Brant Rawls-McQuillan (@BrantRawls) February 17, 2021
Is there question you'd like to see asked? Please let us know under the #DailyScoop hashtag!
---
SOUNDING BOARD
Where does your organization's PR pros sit in relation to your marketing colleagues?
Where does your organization's PR pros sit in relation to your marketing colleagues?

Weigh in below and we'll share in tomorrow's #DailyScoop!

— PR Daily (@PRDaily) February 18, 2021
Weigh in below or on Twitter, and we'll share your insights in tomorrow's roundup.
COMMENT