Hormel buys Planters for $3.35B, Facebook working on Clubhouse clone, and Lucasfilm drops Gina Carano
Also: NAACP encourages organizations to extend Black history past February, McDonald's brings back a fan favorite, most leaders don't contribute to a positive work environment, and more.
Hello, communicators:
The NAACP is focusing its efforts on extending organizations' efforts for Black History Month, with a campaign carrying the hashtag #28DaysAintEnough:
While highlighting our past achievements and benefactions is vital, charting a course #forward for present and future generations to make history offers a unique opportunity. #28DaysAintEnough

Not when there is so much more history to be made!

Visit https://t.co/gOI710hGe9 pic.twitter.com/pZYKUfL99B

— NAACP (@NAACP) February 1, 2021
As you consider how you're approaching Black History Month and your overall DE&I initiatives, ask yourself how you can continue your efforts for long-term success.
Here are today's top stories:
Hormel purchases Planters for $3.35B
Hormel Foods announced its acquisition of Kraft Heinz's nut business, which includes "most products sold under the Planters brand," including Cheez Balls, Corn Nuts, Nut-rition products and more.
Hormel Foods acquires Planters – the largest acquisition in the company's history: https://t.co/yZr5y0zucF pic.twitter.com/exgNLmcgwY

— Hormel Foods (@HormelFoods) February 11, 2021
In a jargon-filled press release, Hormel's chairman, president and chief executive, Jim Snee, said:
The Planters® brand enhances our portfolio built for individual and social snacking occasions, and perfectly complements our snacking brands such as Hormel Gatherings®, Columbus®, Justin's®, SKIPPY®, Herdez® and Wholly®. This acquisition also meaningfully broadens our scope for future acquisitions in the snacking space.

Our competencies in brand stewardship, revenue growth management, e-commerce, innovation and consumer insights will be key to driving growth for the Planters® brand and for our customers. We also expect significant synergies as we integrate this business into our One Supply Chain and Project Orion system.
Why it's important: It's an interesting acquisition that highlights the trending consumer behavior of snacking as people work from and stay at home. PepsiCo reported an annual profit in 2020 due to snack and soda sales, and Mondelēz International even published a 2020 State of Snacking report, in which it called the behavior "already rapidly increasing" before the COVID-19 crisis.
You don't need to purchase a snack brand to embrace shifting consumer behavior, however. Instead, elicit feedback from your customers and employees, and look for emerging trends that could potentially align with your offerings. Brainstorm ways to better position your brand to consumers' current and future needs.
---
TACTICALLY SPEAKING
McDonald's is bringing back Hi-C Orange drink nearly four years after it removed the iconic beverage from its soda fountains. The fast food chain said "its return was prompted by boisterous fans on social media that have 'passionately asked for us to bring it back over the years,'" CNN Business reported.
McDonald's social media team has been touting the news with jokes about the internal decision-making process:
Y'ALL WE DID IT. Hi-C Orange is coming back 💥 pic.twitter.com/wIaUa6vzPZ

— McDonald's (@McDonalds) February 10, 2021
take notes pic.twitter.com/rRusVedpVX

— McDonald's (@McDonalds) February 10, 2021
👀 this tracker to see when Hi-C Orange will be available near you → https://t.co/LEmwg82NkG

— McDonald's (@McDonalds) February 10, 2021
The move emphasizes the importance of listening to your consumers and what they want, but also not taking your brand or communications too seriously, especially when seeking light-hearted moments to engage your brand ambassadors.
---
MEASURED THOUGHTS
McKinsey & Company's recent report, "Psychological safety and the critical role of leadership development," revealed that leadership styles greatly affect employee experience—and there is room for improvement.
Forty-one percent of team leaders "infrequently display supportive, consultative and challenging leadership behaviors," which contributes to a work environment McKinsey calls the "apathy zone," where employees are "reluctant to ask others for help, and are not motivated to offer imporvements or suggestions for the team's work."
By not showing concern and support for employees (supportive leadership) or soliciting employees' input, especially on issues that affect them (consultative leadership), employees can quickly become disingengaged—and only 27% report a positive team climate under these type of leaders.
In comparison, 26% of leaders exemplify these styles which challenge, support and seek consultation with employees, creating a workplace environment McKinsey calls "the learning zone." Under this direction, 72% of employees report a positive team climate.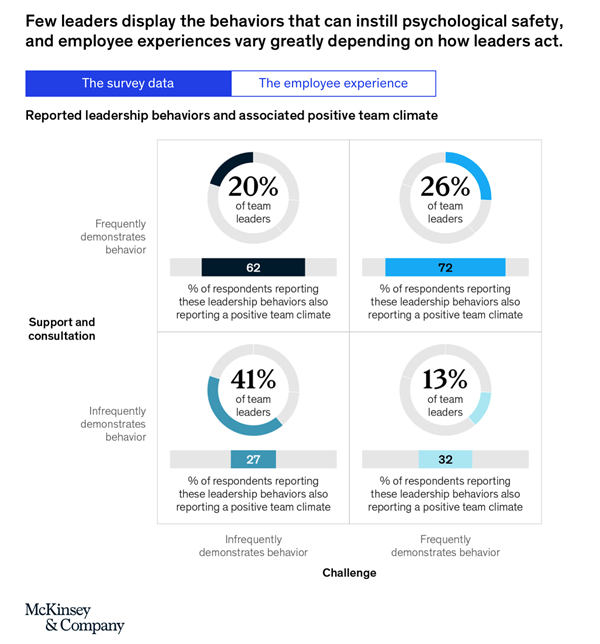 Image courtesy of McKinsey & Company.
Having a positive and thriving workplace culture can also help your employees navigate organizational changes as well as crises, including how workplaces have shifted in response to COVID-19.
McKinsey wrote:
[C]reating a positive team climate can pay additional dividends during a time of disruption. Our research finds that a positive team climate has a stronger effect on psychological safety in teams that experienced a greater degree of change in working remotely than in those that experienced less change during the COVID-19 pandemic. Yet just 43 percent of all respondents report a positive climate within their team.
You can read the entire report here.
---
CRISIS LEADERSHIP NETWORK
Looking for more insight on how to address the current global crisis and lead your organization into a strong recovery?
Join Ragan's Crisis Leadership Network to connect and brainstorm with peers, get the latest intelligence and research and start to strategize for the future of your organization.
Learn more about this exclusive membership here.
Lucasfilm and United Talent Agency cut ties with Gina Carano
 The Disney-owned studio and talent agency quickly ended their relationships with Gina Carano, an actress and former mixed martial arts fighter appearing in "The Mandalorian" on Disney+. The moves came after backlash over Carano's social media posts.
Los Angeles Times' Tracy Brown wrote:
Carano has frequently drawn ire for her social media statements. Her name was trending earlier Wednesday after she shared an Instagram post that suggested being a conservative today is comparable to being Jewish during the Holocaust. That post has since been deleted.
Though the news is trending on Twitter and in headlines, both Lucasfilms and UTA have given short statements to reporters, and have not addressed their decisions with a press release, social media or company blog post.
 The Hollywood Reporter's Ryan Parker and Aaron Couch wrote:
"Gina Carano is not currently employed by Lucasfilm and there are no plans for her to be in the future," a Lucasfilm spokesperson said in a statement. "Nevertheless, her social media posts denigrating people based on their cultural and religious identities are abhorrent and unacceptable."
Carano has also been dropped as a client by UTA, an agency spokesperson confirms.
Why it matters: Whether it's an employee or an influencer partner, organizations must carefully watch social media conversations and content to uncover potentially brand- and reputation-destroying behaviors. Establishing social media policies can help your employees know what they should and shouldn't post online, but communicators should carefully vet potential partners before joining forces. When cutting ties, do so quickly and emphasize your organization's values.
---
TAKE OUR SURVEY
The start of a new year brings more opportunities for communicators across roles, organizations and industries to develop effective strategies and efforts that can strengthen their brands amid continuing crises, including the COVID-19 pandemic.
Ragan's Communications Leadership Council has created The 2021 Communications Benchmark Survey, and wants to know your challenges, successes and needs as you navigate the rapidly shifting communications landscape and respond to unprecedented crises as well as new opportunities.
Please share your insights with us. As a thank you for your time and insights, you'll receive an Executive Summary of the report, packed with proprietary research that can help you better shape communications strategies in 2021. You'll also be entered to win one of five $100 Visa gift cards.
---
SOCIAL BUZZ
Facebook is reportedly working on an audio-chat feature to compete with Clubhouse, a social media app with rapidly expanding popularity.
Facebook executives have ordered employees to create a similar product, said the people, who were not authorized to speak publicly. The product is in its earliest stages of development, they said, and the project's code name could change.

"We've been connecting people through audio and video technologies for many years and are always exploring new ways to improve that experience for people," Emilie Haskell, a Facebook spokeswoman, said.
Communicators should watch for additional news, but also consider ways to produce audio content. Though a podcast might not fit with your campaigns and communications goals, don't immediately dismiss the potential for audio-based content, because the demand for the format is on the rise.
---
WHAT YOU SAID
We asked if your organization's workforce will remain remote after COVID-19, and nearly 63% of you said you're embracing a hybrid workplace, while 20% will go back to the office when it's safe to return, and 17% will remain remote.
Will your organization's workforce remain remote, even after it's safe to return to the office?

Weigh in below and we'll share your answers in tomorrow's #DailyScoop.

— PR Daily (@PRDaily) February 10, 2021
Is there question you'd like to see asked? Please let us know under the #DailyScoop hashtag!
---
SOUNDING BOARD
Do you participate in "holidays" such as National Pizza Day on social media?
Do you participate in "holidays" such as National Pizza Day on social media?

Weigh in below and tell us how you integrate this into your digital communications strategies, and we'll share in tomorrow's #DailyScoop.

— PR Daily (@PRDaily) February 11, 2021
Weigh in below and on Twitter under the hashtag #DailyScoop, and we'll share in tomorrow's roundup.
COMMENT