Netflix is 'indispensable,' period tracker app goes anonymous and the threat of misinformation
Also: Reactions to Disney's new show, "Baymax!"
Hello, communicators:
Twitter users are reacting to Disney's new show, "Baymax!" about how the show depicts periods and LGBTQ+ characters.
"The series, which is a spinoff based on the beloved inflatable robot hero from the 2014 animated film Big Hero 6, sees the robot turn into a 'personal healthcare companion' who goes around San Fransokyo assisting those who need help," the Independent reports.
The robot retrieves period products for a young girl and for a transgender man.
Some users reacted negatively:
EXCLUSIVE: I've obtained leaked video from Disney's upcoming show "Baymax," which promotes the transgender flag and the idea that men can have periods to children as young as two years old.

It's all part of Disney's plan to re-engineer the discourse around kids and sexuality. pic.twitter.com/y1ATnKCEce

— Christopher F. Rufo ⚔️ (@realchrisrufo) June 28, 2022
Ugh. Baymax is such a fun and innocent character. This just epitomizes the entire tenor of this propaganda – exposing children to normalize fringe sexuality issues. https://t.co/TE2jizU6TF

— Justin Hart (@justin_hart) June 29, 2022
While others applauded Disney for the inclusion of diverse stories:
huge shoutout to this transmasc character helping baymax buy pads in the new baymax series 🥺 i love them pic.twitter.com/K0Qr6K1lkj

— plus size otd ✿ (@plussizeotd) June 29, 2022
…including a Disney animator:
('Baymax!' spoilers) it's finally here!! Honored to have been able to animate this moment from episode 4 of #Baymax which is out today, go check it out! And Happy Pride everyone 🏳️‍🌈🌈💖 #animator #disneyanimation pic.twitter.com/41GMchrVcu

— Jonah Sidhom (@JonahSidhom) June 29, 2022
The production giant has faced criticism in the past few years about its handling of diverse storylines — the positive response to "Baymax!" shows some audiences are appreciate of the move to include a wider range of characters. But others think the company has gone too far.
Here are today's other top stories:
Despite price hikes, Netflix still No. 1 most "indispensable" streaming service
Despite research showing that audiences think Netflix has the worst value out of all major streaming services, the company is still No. 1 among the most "indispensable" streamers.
In a new report from Whip Media, 31% of respondents said they would choose Netflix if pressed to select just one streaming service to use. The next-closest streamer is HBO Max, with 19%.
However, Netflix's reputation has faltered since last year. The number of users who said they were likely to continue using Netflix fell by 12 percentage points as compared to 2021.
Netflix's move to hike prices earlier this year — with the Standard two-stream plan rising 11% to $15.49/month in the U.S. — was the main reason customers said they canceled their subscription: 69% of former Netflix customers said the price increases led them to drop the service, per the Whip Media survey.
Why it matters: The survey is proof that though Netflix has faced reputational issues — including layoffs and internal tumult — it's been able to fall back on its legacy as one of the oldest, most popular streaming services out there. People default to brands they trust, and though Netflix has had problems with disgruntled consumers in the past few years, it's clear that the trust the company has built up over its tenure is what's getting it through this period of instability.
---
MEASURED THOUGHTS
New research from Integral Ad Science names trust issues as the top concerns about the impact of misinformation on company reputation.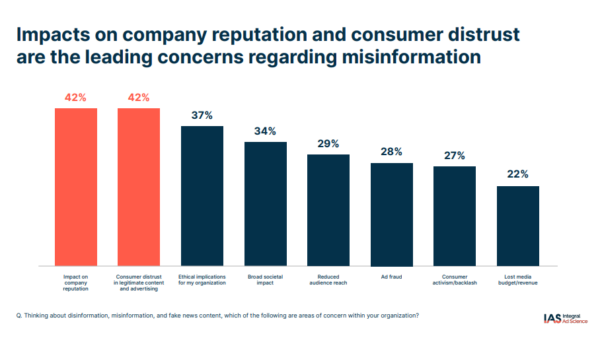 Forty-two percent of advertisers surveyed said "impact on company reputation" and "consumer distrust in legitimate content and advertising" were their top concerns about misinformation.
This was followed by "ethical implications for my organization" (37%) and "broad societal impact" (34%).
The research also found that media experts believe social platforms, mobile and audio media are the most likely to experience misinformation incidents.
It's a good reminder to PR pros that tracking misinformation about your organization should be a priority — untrue posts and statements about your company can seriously damage your reputation.
Period tracker app company Flo announces anonymous mode
Period tracker app Flo announced a new feature this week that will allow its users to use the app completely anonymously. A press release from the company positioned the move as a response to the recent overturning of the landmark Roe v. Wade case.
NPR reports that many women are calling on others to delete their period tracking apps as a way to remain safe in states that have criminalized abortion.
From NPR:
The choice to keep period trackers or delete them depends on an individual's circumstances. However, those in states where abortion is criminalized may want to take extra precautions advises Andrea Ford, a health research fellow at the University of Edinburgh.

"If I lived in a state where abortion was actively being criminalized, I would not use a period tracker — that's for sure," Ford previously told NPR.
Flo's press release aims to assure users that through Anonymous Mode, their data will not be tied to their name or identifying information. "This new feature deidentifies data on a deeper level by removing personal email, name and technical identifiers," the release explains. "In the event that Flo receives an official request to identify a user by name or email, Anonymous Mode will prevent Flo from being able to connect data to an individual, meaning Flo would not be able to satisfy the request."
"Now, more than ever, women deserve to access, track, and gain insight into their personal health information without fearing for their safety," says Rachel McConnell, director of user experience, in the release. "By offering Anonymous Mode, we're granting another layer of security for our users so they can continue to gain valuable health insights about their bodies without anxiety or concern."
Why it matters: Flo's news release is an excellent example of a comprehensive release. The release explains who the new feature is for, what the new feature does, when it will go into effectand why the company is moving forward with the new privacy measure. It also includes several quotes from Flo executives and makes clear that the move is a response to the risks that women face in states that have criminalized abortions.
COMMENT
One Response to "Netflix is 'indispensable,' period tracker app goes anonymous and the threat of misinformation"
DS

says:

You should see what the Clue app did in the wake of Roe v. Wade.
Their announcement was very well written and informative.
They're based in the EU so they're held to different data security standards and not required to comply with any state subpoenas. They also drew attention to the independent data anonymity policies they've always had.