New CNN CEO changes the game, WaPo reporters get into it on Twitter and what PR pros struggle with the most
Also: Heineken releases new campaign intent on getting workers to log off.
Hello, communicators:
Beer brand Heineken wants you to log off. Right now.
The company's newest campaign centers around the launch of a high-tech bottle opener that "immediately shuts all work applications when a bottle of Heineken is opened with it," dubbed "The Closer."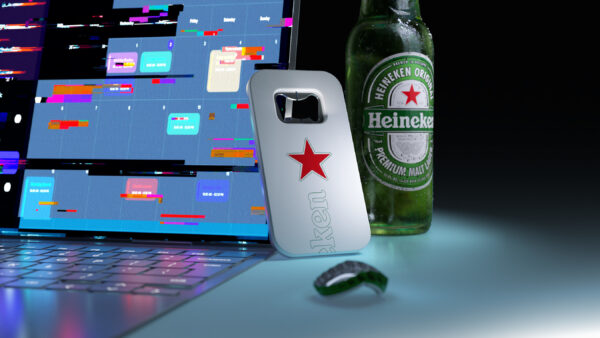 "As a brand, we have always stood for creating moments of shared connections with others," said Bram Westenbrink, Global Head Heineken® Brand at HEINEKEN. "With the once-rigid boundaries between work and personal time rapidly deteriorating following the COVID-19 pandemic, we want to spark a much-needed conversation about the importance of resisting the societal pressures to be in a constant state of busy work and encourage workers around the world to reprioritize social and leisure time with the people who matter most."
Who wouldn't want to be forced to stop working at the end of a busy day? Heineken's campaign taps into the growing conversation around work-life balance and is a good reminder to PR pros that your brand can weigh in on these topics as well — even if the way to do so is a little, well, ridiculous.
Here are today's other top stories:
Under new leadership, CNN moves away from "alarming" news distribution style
CNN's new chief executive is switching things up at the cable news outlet.
The New York Times reports one of the most notable changes brought about by new CEO Chris Licht will be a much more judicious use of the "breaking news" banner, which the outlet employed liberally over the last few years.
"So far, the Licht Doctrine is a change from the [former president and CEO Jeff Zucker] days: less hype, more nuance and a redoubled effort to reach viewers of all stripes," the Times reports.
From the Times:
According to a new entry in the CNN standards guide, obtained by The New York Times, a story must qualify as "'stop what you are doing and watch' news" to secure the "Breaking News" label. Even then, the guide says, the label should only appear onscreen for one hour, unless there is an unfolding live story like a school shooting, major hurricane or death of a world leader.

"Its impact has become lost on the audience," Mr. Licht wrote in his memo [to employees], adding that CNN should be "focused on informing, not alarming our viewers."
Licht also plans to revamp CNN's main morning show, "New Day," to be more conversational and inviting. He also wants to disrupt the current Sunday night programming and dial back on on-air partisanship while also booking more conservative guests.
What it means: CNN's new internal guidance doesn't just have implications for its journalists.  PR pros should be aware and in tune with the outlet's editorial direction and goals in order to keep their media relations strategies relevant. It's a good reminder to stay on top of major changes at the outlets that you're regularly pitching.
---
MEASURED THOUGHTS
A new report from Muck Rack shows PR pros are continuing to struggle with connecting with journalists.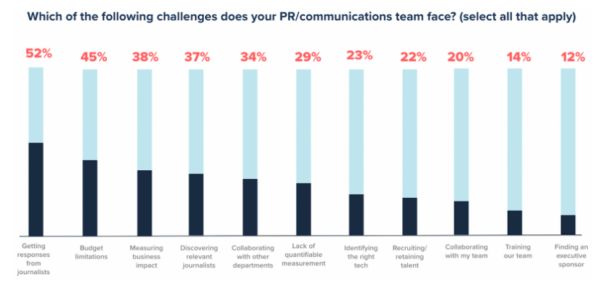 Fifty-two percent of PR pros surveyed by Muck Rack named getting responses from journos as their biggest challenge, followed by budget limitations (45%), measurement of business impact (38%) and discovering relevant journalists (37%).
Is your PR team having trouble in these areas? Check out these recent tips from the PR Daily Team:
Read more from the Muck Rack report here.
Washington Post editor's admonishment goes public amid reporters' Twitter messiness
After several Washington Post reporters got into a public spat on Twitter over one journalist's decision to retweet a sexist joke, Executive Editor Sally Buzbee urged staff to "treat each other with respect and kindness" in an internal memo that quickly went public.
NYT media reporter Ben Mullin obtained and posted a copy of the email on Twitter:
In the wake of the recent social media dustups involving WaPo journalists, Executive Editor Sally Buzbee sends a memo to journalists admonishing them to treat each other with respect and kindness: pic.twitter.com/nRd5h0kLLD

— Ben Mullin (@BenMullin) June 5, 2022
"The Washington Post is committed to an inclusive and respectful environment free of harassment, discrimination or bias of any sort," Buzbee wrote in the Sunday morning memo. "When issues arise, please raise them with leadership or human resources and we will address them promptly and firmly."
Mullin noted in a follow-up tweet that the Post has not publicly released its social media guidelines.
Why it matters: The messiness that followed the original transgression caused much more of a stir than the sexist tweet itself, ballooning into an argument about workplace conduct, social media policies and collegial behavioral standards. It's a good reminder to PR pros that while social media can be a valuable tool for your brand, if used incorrectly, it can also cast a shadow on your organization's reputation.
COMMENT