No Fixed Address, Children's Health, Megaworld Foundation among the winners at Nonprofit PR Awards
Nonprofit communicators didn't let a pandemic stall their efforts to raise money, increase awareness and capture media attention in PR Daily's most recent awards program.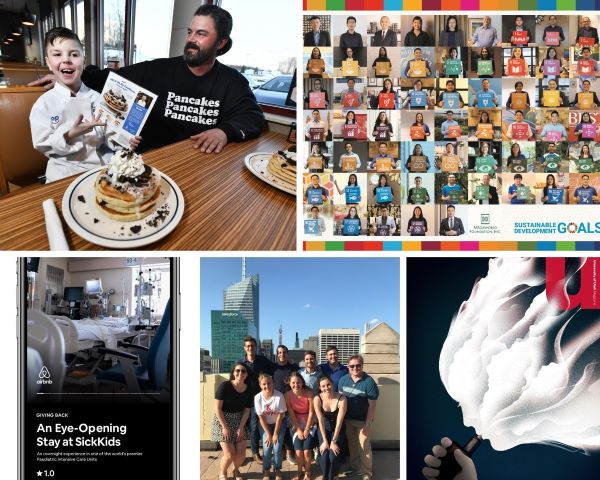 From creating a COVID-19 command center to serving clients on the frontlines of the pandemic, this year's PR Daily Nonprofit PR award winners found ways to reach their goals.
More than 20 organizations were lauded as the best of the best.
No Fixed Address Inc., took home three awards, including the Grand Prize for Nonprofit PR Campaign of the Year. The agency, along with SickKids Airbnb, increased donations to build a new hospital by nearly 30%. The team created a three-hour experience, transforming an unused conference room into a replica of the hospital's pediatric intensive care unit (PICU). It featured live reenactments of SickKids doctors, nurses and voice recordings from families.
Sally Crocker, Nonprofit Communications Professional of the Year Grand Prize winner, brought more than 30 years of experience as the sole communicator at the University of North Texas Health Science Center School of Public Health. As coronavirus spread, she produced and published 10 articles on the pandemic and two dean's e-newsletters in less than a month beginning in March, resulting in news coverage for the university. LinkedIn asked her to serve as a commenter on the virus from a business perspective.
Also on the frontlines of the pandemic was Nonprofit Agency of the Year Grand Prize winner Momentum Communications Group, which doubled its client roster in the last 14 months. By supported clients on the frontlines of COVID-19, it delivered real-world outcomes like producing grants, increasing volunteerism and increased awareness. Their efforts earned nearly 2 billion impressions.
The team effort at Better Business Bureau serving the Heart of Texas didn't go unnoticed, earning them a Grand Prize. The Nonprofit Team of the Year consists of a CMO, PR coordinator and five regional directors spread across the state. Their efforts as a group, producing media segments and responding to the media, as well as noteworthy individual achievements resulted in impressive results.
Multiple winners
Children's Health, Children's Miracle Network Hospitals, and Megaworld Foundation, Inc., all won multiple awards—two each.
Children's Health's strategy in response to Google's new algorithm won in the Blogs/Articles category. That strategy also prompted a website redesign, winning it top honors in the Website category.
Children's Miracle Network Hospitals won first prize in the Community-Nonprofit partnership for raising nearly $500,000 by teaming up with IHOP for a campaign around National Pancake Day. It also won first place in Event PR and Marketing for building a mock home that Re/MAX agents could visit at their annual convention.
Real estate developer Megaworld Foundation won Best Digital Publication for a coffee table book it created to celebrate its 20th anniversary, and Best Video for the video it created to raise employee awareness of the United Nations' Sustainable development goals.
Other organizations shined in this year's program. Overlake Medical Center & Clinics facilities in Kirkland Washington, was the winner of the Crisis Communications for good reason. The first cases of COVID-19 happened at its hospital in February when few knew how serious the pandemic would become. That did not stop the clinic from instantly activating its crisis communications team, who held daily team briefings to inform messaging for internal and external audiences.
Here is a complete list of all winners where you will find more detailed write-ups on their successes.
COMMENT
One Response to "No Fixed Address, Children's Health, Megaworld Foundation among the winners at Nonprofit PR Awards"
Ronald N. Levy

says:

Not shown here are two of the biggest winners: (1) the public, and (2) PR firms and executives whose winnings are not only the awards named but the flow of accounts and job offers that come to winners because understandably, managements have a preference for hiring winners.

The public wins because when accounts do well by doing good, it encourages other accounts to also do good.

The PR firms and individuals who are winners have the pleasure of not only recognition for past successes but also more opportunity for future successes thanks partly to the increased inclination of managements to go along with what past winners recommend for the future. It's like patients being more willing to take the medicines and follow the regimens of doctors made famous by their achievements.

Doctors call it compliance, PR people call it less obstinacy. By either name, more willingness to approve recommendations often means more benefit for those who do the approving and more future success for PR people who are free to turn good ideas into good results.

A lesson from all this is that those who try for the awards do better, for themselves and for their organizations, than those who don't.