Pinterest bans climate misinformation, Google's DeepMind addresses its sexual misconduct process and Americans question safety of self-driving cars
Also: A Substack comms pro takes heat for her swipe at Twitter employees in her message about open roles at the organization.
Hello, communicators:
Substack's VP of comms faced backlash this week after tweeting that Twitter employees should think twice before applying to the jobs with Substack:
Substack is hiring!

If you're a Twitter employee who's considering resigning because you're worried about Elon Musk pushing for less regulated speech… please do not come work here.

— Lulu Cheng Meservey (@lulumeservey) April 5, 2022
Lulu Cheng Meservey's tweet prompted criticism of the take — and of Substack as a whole.
So you don't want to block hate speech? Cool. I'm sure that's gonna work out great.

— Sean Kent (@seankent) April 5, 2022
So Twitter employees who are anti-bullying anti-harassment anti-Russian-misinfo-bots need not apply to Substack? Got it.

Wait, isn't your company supposed to be the home of people who can communicate eloquently? Do better @lulumeservey —I'm saying that as an Elon fan too.

— Eric Feigl-Ding (@DrEricDing) April 6, 2022
As a communications professional, what kind of message does this send? You could just advertise your openings without insulting people, who do not see the situation in the same way that you do. This isn't in the spirit of debate that you're stating you support.

— Summer Brennan (@summerbrennan) April 5, 2022
While tying your job hiring posts to topical news can increase the reach of your message, the results aren't always favorable. It's OK to be unapologetic in the defense of your organization's values, but oversimplifying current events to fit your narrative will backfire.
Here are today's other top stories:
Pinterest to ban climate misinformation
Social media platform Pinterest announced this morning it will ban and work to remove content containing climate misinformation — including user content and paid advertisements.
"Our new policy makes Pinterest the only major digital platform to have clearly defined guidelines against false or misleading climate change information, including conspiracy theories, across content and ads," the news release reads.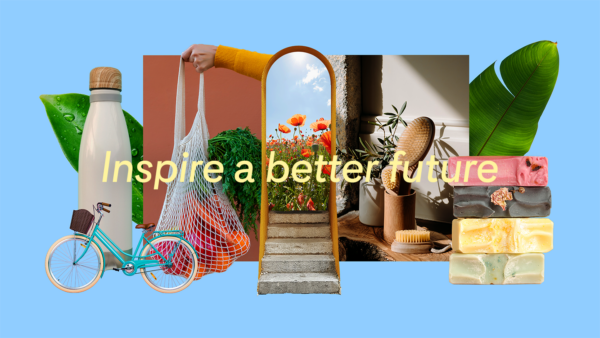 The company's updated community guidelines include specific guidance on what constitutes climate change content and misinformation.
Additionally, Pinterest announced a new program for Pinterest creators — a content series about eco-friendly practices like "thrifting tips, upcycling clothes and minimizing food waste."
Pinterest's news release also includes quotes from leaders at a climate advocacy group and a responsible advertising coalition.
Why it matters: Pinterest's eco-friendly campaign is tied to Earth Day, which falls on April 22. The move shows the company is serious about its commitments to environmental issues, and the input from outside voices legitimizes Pinterest's efforts. It's an example of taking both policy action and promoting content that aligns with a company's value statements.
---
MEASURED THOUGHTS
New research from Morning Consult shows most American adults think autonomous vehicles are less safe than traditional vehicles.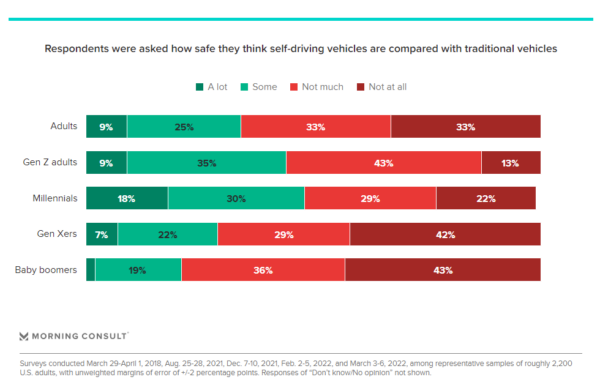 Sixty-six percent of poll respondents said they think self-driving vehicles are "not at all" or "not much" safer than traditional ones.
Additionally, the share of Americans who do think self-driving cars are safer than traditional vehicles has dropped over the past few years.
Morning Consult's Lisa Whalen writes:
Accidents involving self-driving vehicles have an enormous impact on consumer perceptions of, and buzz around, autonomous technology, keeping trust levels low. Only 9% of U.S. adults trust self-driving technology "a lot," and 43% of baby boomers don't trust it at all. While millennials are the most trusting generation (18% say they trust autonomous vehicles a lot), there is ample room to win more trust with this segment. As more autonomous vehicle testing is deployed across the country with successful results, trust levels should gradually improve.
It's a reminder to PR pros that negative media coverage can quickly erode trust in a product or service — and trust is much harder to win back once it is lost.
Read more from Morning Consult here.
---
TAKE OUR SURVEY
We want to hear from our community about how their thinking has changed on media relations and its value inside their organization. If you work in communications, please take our short survey to help us chart the value of media relations for 2022.
The survey will take less than 10 minutes to complete and participants will be entered in a drawing for a $100 credit toward a Ragan event. All individual responses will be kept confidential.
Results from the survey will be shared at PR Daily's Media Relations and Measurement Conference in New York City on May 11.
Google's DeepMind responds to sexual misconduct allegations
Artificial intelligence company DeepMind says it prioritizes employee safety and recognizes that its internal sexual misconduct investigation process is "difficult," but did not address allegations that it intentionally delayed the process.
DeepMind provided this statement to The Verge:
"DeepMind takes all allegations of workplace misconduct extremely seriously and we place our employees' safety at the core of any actions we take," [DeepMind's interim head of comms Laura Anderson] said. "The allegations were investigated thoroughly, and the individual who was investigated for misconduct was dismissed without any severance payments… We're sorry that our former employee experienced what they did and we recognise that they found the process difficult."
A former DeepMind employee (known as "Julia") posted an open letter to Medium this week, alleging that the company didn't respond quickly enough to her complaint about a coworker who sent her "numerous sexual propositions and inappropriate messages, including some that described past sexual violence against women and threats of self-harm."
Julia got in contact with the company's HR and grievance team as early as August 2019 to outline her interactions with the senior researcher, and she raised a formal complaint in December 2019. The researcher in question reportedly wasn't dismissed until October 2020. He faced no suspension and was even given a company award while HR was processing Julia's complaint, leaving Julia fearing for her — and her other female colleagues' — safety.
What it means: Rather than denying any wrongdoing during the complaint process, DeepMind's statement simply sidesteps the issue. The company used its statement to apologize to Julia regarding the harassment she experienced — but offers no meaningful mea culpa about the investigation process which delayed action for months.
It's a good reminder to PR pros that not addressing allegations head-on can have the opposite intended effect, bringing more attention to the crisis at hand and prompting more questions from observers.
COMMENT