PR pros honor Black contributions to the industry for Black History Month
In an event hosted by the Diversity Action Alliance and the Museum for PR, leaders from across the U.S. share their experience as Black PR pros and their hopes for the future.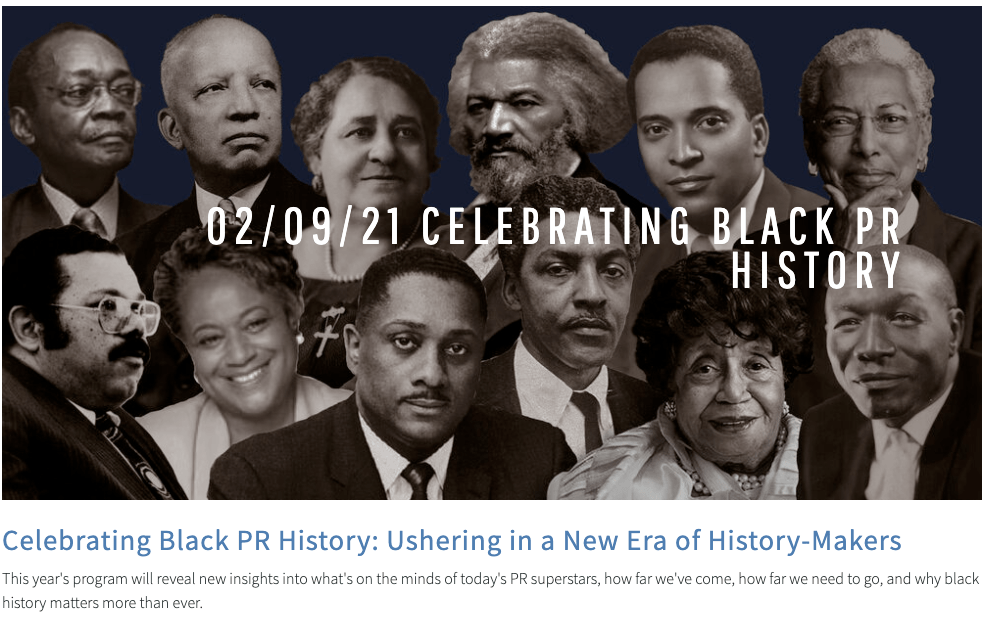 While February is the month we annually honor the contributions of African Americans, it has never been enough to only acknowledge Black history for 28 days a year.
The original goal of Black History Month, which began as "Negro Achievement Week" in 1926, was never meant to "eulogize" African American achievement but rather establish the role of Black Americans in the greater fabric of history. Carter G. Woodson, the "father of Black History" who created Negro Achievement Week," acknowledged that Black people celebrated the week, but hoped for the year.
That was the message Tuesday evening from Denise Hill, associate professor at Elon University, one of the speakers at the "Celebrating Black PR History" event presented by the Museum for PR and the Diversity Action Alliance. (Ragan Communications is a media sponsor.)
The evening was an opportunity for Black industry leaders to reflect on their journeys, lessons and experiences and share dreams and tips for accelerating progress on racial equality in the industry going forward.
The night began with remarks from Charlene Wheeless, senior advisor for equity and justice at APCO Worldwide, who offered strong words from her own experience in the PR profession.
At the beginning of her career in 1987, she described herself putting on a "suit of armor" when she left for work each day to protect herself from micro- and macro-aggressions she faced in the workplace. She expressed sympathy for those who might be feeling excluded in today's workplace: "I know that feeling," she said. "I don't think I am alone."
Career success doesn't necessarily negate that feeling of exclusion, she said. When people point out that she has succeeded, ascended to the C-suite, and ask what she could possibly know about feeling like she doesn't belong, she says she knows "everything."
It's a reminder that the work of inclusion and equality doesn't stop just because a leader or two emerges from underrepresented groups—and for allies in organizations to continue to support their colleagues, even once they reach leadership levels.
"Just because you made it to the top doesn't mean you feel safe there," Wheeless said.
Her advice for Black PR pros looking for their place in the industry? "We learn to cope. We learn to be resilient. We learn to persevere."
Mentorship
The evening culminated in a panel led by moderator Rochelle Ford, dean of communications at Elon University, and panelists Sabrina Browne, account director Burson Cohn & Wolfe; Troy Blackwell Jr., Biden/Harris 2020; Candace Steele-Flippin, CCO for Acuity Brands; Damon Jones, CCO for Procter & Gamble; and others.
Ford asked the panelists to share what has helped keep them in the industry and inspires them to invest in their career each day.
"I'm an agent of change," said Browne. "For me, Black History Month is a time to reflect, a time to be held accountable and a time to be courageous."
Steele-Flippin acknowledged mentors who helped her along the way, and continue to give her support even today. Blackwell agreed that mentors have been instrumental in his growth as a communicator.
Ford offered a helpful distinction on the subject of mentorship, identifying three different kinds of helpers in a professional setting. Mentors are those who walk alongside you in a career, giving you support and guidance along the way. Sponsors are people who "open doors for you" (though Ford notes that you have to be prepared to walk through the door that they open.) The third type of helper is the "coach" who helps you improve specific skills, like writing or pitching.
It's important to have all three kinds of helpers to find ultimate success, Ford said.
Having an impact
For Damon Jones with Procter & Gamble, his journey in the PR industry has been about realizing the impact he could have with his ability to connect people. Finding supportive communities who helped him learn how to have a positive influence as an industry leader and within his own organization has been instrumental for his development and success.
"I get up every morning knowing that the work I do can have an impact on the people that I care about," he said, noting that P&G's role as one of the biggest advertisers in the U.S. has helped him have great impact with campaigns, such as "My Black is Beautiful."
The challenges still exist
Ford asked the panelists if there are challenges that Black professionals used to face in the PR office that no longer exist and Steele-Flippin was crystal clear: "It's all still there."
Her advice? Walk into those situations as your authentic self. "There are laws to help," she acknowledged, "but as long as bias exists, we are vulnerable." Despite the challenges, she said she is an optimist. "Knowledge helps you know how to navigate a situation."
Work to build consensus and bring people together to push for equality and justice in the workplace, she remined the audience.
"Bring allies to the table," she said. "It's not only going to be people that look like you that help to get the work done."
What has changed, Browne argued, is that racial injustice in America—perhaps around the world—has reached a tipping point. Every brand must think about how they can join the conversation strategically and to have a long-term impact.
Jones agreed, putting into context the work that has been done for many companies in the last several months on DE&I. "We cannot solve any problem until first we acknowledge that it exists," he said. "For many companies, we have to admit that we have been complicit in institutional racism. Once you acknowledge Its existence, you can talk about responsibility to address it."
Steele-Flippin agreed that the conversation that companies have been having since May of 2020 is finally a discussion about the real problems in America—and she has been heartened by how communicators across industries have responded.
"Communicators have been right there, leading from the front," she said, pushing organizations and the country to go farther. "That's why I love this profession so much."
COMMENT