Report: How to streamline your online onboarding efforts
New data from Paychex sheds light on how best to welcome new workers into your midst during this turbulent era of workplace transformation and increased employee expectations.
If your online onboarding process is anything less than compelling and seamless, you could be in for post-COVID productivity collapse.
Paychex surveyed nearly 900 working Americans, including employees and managers, to learn more about their experiences with remote onboarding. The insights offer takeaways on which welcome-wagon tactics are working right now—and what gaps employers are missing to engage new talent.
Overall, 87% of employees and managers consider their company's remote onboarding successful, while one in 10 employees are dissatisfied with their remote skills training.
Forty percent of managers and employees agree the biggest downside to remote skill training is the lack of personal connection.
Employees say remote onboarding makes it harder for teams to integrate with office culture (48%), and 44% say it's more difficult to ask questions.
Video recordings and mentor matching are both rated as equally effective (55%), but just 13% of employees had the opportunity to participate in mentor matching for remote training.
The data seems sanguine about how well companies and workers have been largely successful in navigating the past year's dramatic shift toward remote work. However, training methods such as "mentor matching" remain woefully underutilized. Remote onboarding also presents challenges in terms of establishing healthy boundaries and expectations from the get-go. Turns out, it's not easy to make a good first impression via Zoom.
Paychex explains:
"Making a good first impression can be just as important as laying the groundwork for workplace success and establishing boundaries and expectations. The onboarding process gives employers an opportunity to do all of these things, which is why it's crucial to avoid key missteps, like failing to address employee needs and differences or expecting charts and graphs to carry the weight of communication. These mistakes can set employees and their teams up for failure, and the virtual onboarding can make getting things right even more difficult."
There are plenty of pros and cons to remote onboarding. Paychex's study lists the top benefits as flexibility and the ability to make onboarding "individually paced." The biggest drawbacks named are "technical issues" and difficulty integrated with "office culture."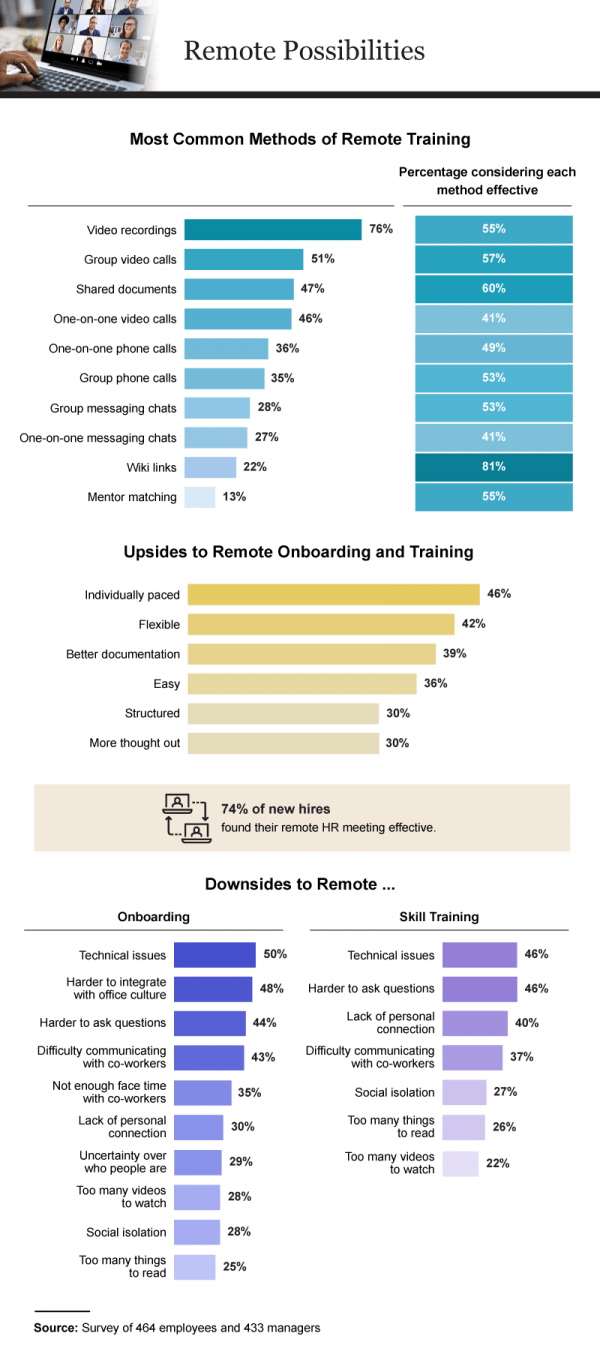 Of course, every workforce and workplace is unique. That's why it's essential to gather feedback from workers on how you can improve your virtual offerings.
Paychex says:
"In remote training, the most common methods of remote learning may not always be the most effective. Employees reported using video recordings (76%), group video calls (51%), shared documents (47%), and one-on-one video calls (46%) the most frequently in their training. When asked what they considered the most effective, employees identified wiki links (81%), shared documents (60%), and group video calls (55%) among their top three choices."
It's also wise to play to your employees' strengths and not force managers into situations where they're likely to fail or flounder. According to Paychex:
"As we found, the methods of training managers found the most challenging were also the most common styles of remote skill training and onboarding. Video recordings (28%), group video calls (25%), shared documents (23%), and one-on-one video calls (22%) were the most likely to be identified as challenging," adding: "When asked what the most effective method of remote learning was, managers indicated video recordings (61%), one-on-one video calls (39%), shared documents (32%), and group video calls (29%) were the most successful."
There's no such thing as a perfect onboarding or training experience. But much of this boils down to setting realistic expectations and consistently monitoring morale as you move forward. As another recent Paychex study found, disconnects between managers, leaders and employees can be a ticking time bomb for engagement efforts.
"While 49% of managers said their relationships since COVID-19 have improved and just 15% said they'd gotten worse, we found just 18% of employees felt their relationships have improved, and 28% felt they've worsened."
One thing's for sure: If your new employees get a sour vibe right off the bat—and if your virtual trainings are terrible—workers might not stick around for long.
COMMENT