Report: Social media managers lack clear path to senior leadership roles
The career trajectory of the social media manager—their top challenges, desires and interests—are all explored in this new report from the Institute for Public Relations, Ragan Communications and the University of Florida.
Social media has become an essential tool for business success—but the men and women behind major brand accounts still aren't getting the love and resources they deserve.
More than half (57%) of social media managers say they will be leaving their current role within two years, according to a new survey from the Institute for Public Relations, Ragan Communications and the University of Florida. Of those planning a departure, pros were split on whether to eschew social media work altogether.
It's clear that social media managers are not valued enough, according to one of the report's authors, Marcia DiStaso, associate professor and chair of the PR department at the University of Florida.
"I think that our finding that 30% of respondents do not have their social media performance evaluated hits on the aspect that in some places, pushing out content is the focus," DiStaso says. "Until the role becomes more data-driven and strategic it will remain very tactical."
Tina McCorkindale, the report's other author and CEO for the Institute of Public Relations, agrees.
"I still think some relegate the social media role to merely a channel rather than being part of the company strategy," she says. "We saw a mix of this in our study. Clearly, as indicated in our survey, social media is valued in many organizations, but for some that wasn't the case."
To remedy this deficit, the report argues that leaders must identify the career path for the social media pro–especially to offer a pathway to senior leadership.
"This survey points to both the critical role of social media in storytelling and reputation management and the lack of a clear career path for many social media managers," says Diane Schwartz, CEO, Ragan Communications. "We're hopeful that this research will help organizations address this dichotomy."
Not enough resources
Despite the importance of social media for the bottom line in many organizations—particularly as digital media has seen a dramatic rise—many social media managers are still coping as a lonely team of one.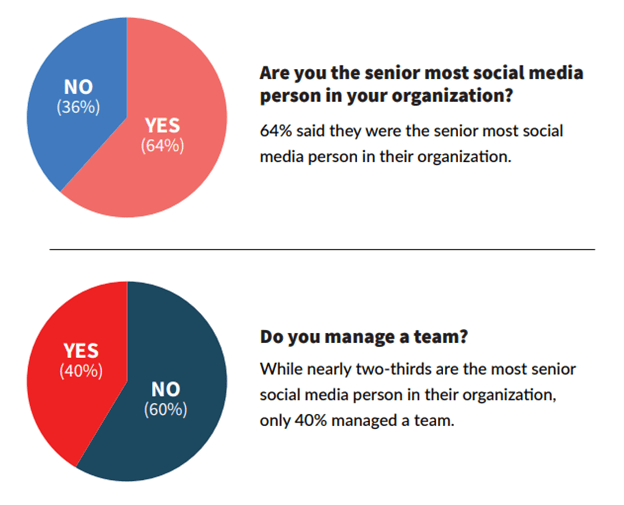 The role is more likely to sit with the communications and PR department, but marketing still has a big claim to the function within many organizations. Half of respondents (51%) said the role sits with the communications/PR department. Only 4% said it was a standalone function.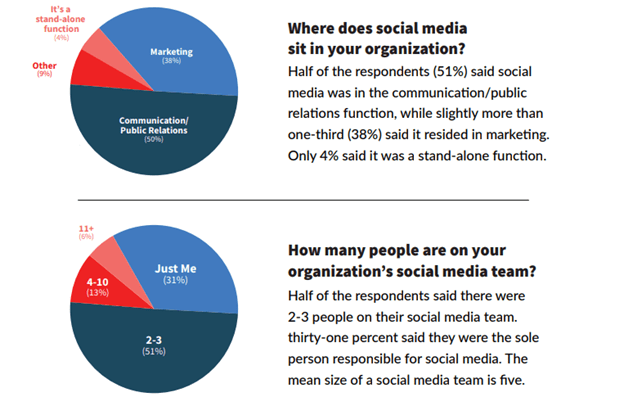 If you do have a social media person, what are the chances there is a social media budget? Many organizations still see social media as a "free" extra rather than an essential communications channel with dedicated resources.
More than a quarter of social media managers do not have a budget. Another 34% have a budget under $10,000 a year.

However, most anticipate more resources coming their way soon. Only 3% said they anticipate a smaller social media budget in the future.
Despite the lack of resources, social media managers are responsible for a wide variety of channels. Twitter and Facebook were the most popular platforms cited, but others included LinkedIn, Snapchat, YouTube and more: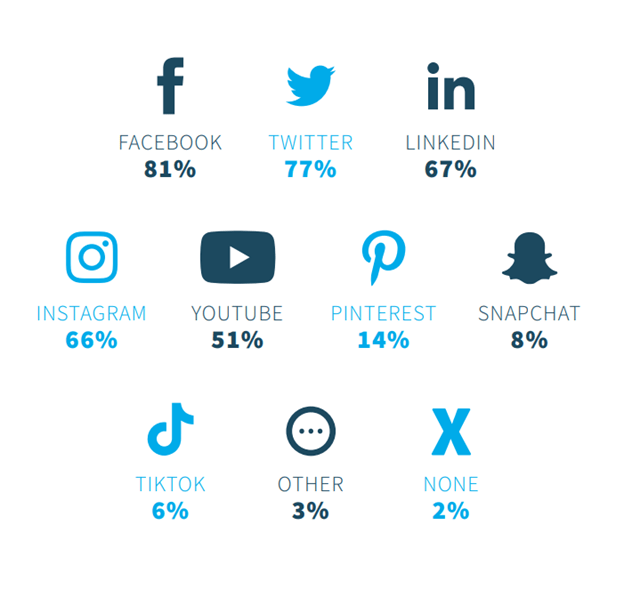 Career trajectory
What do social media managers want from their employers, and what are their career goals?
Social media managers are ambitious, according to the report. Seventy percent of social media managers want a promotion, but only 40% saw that as a possibility in their current roles.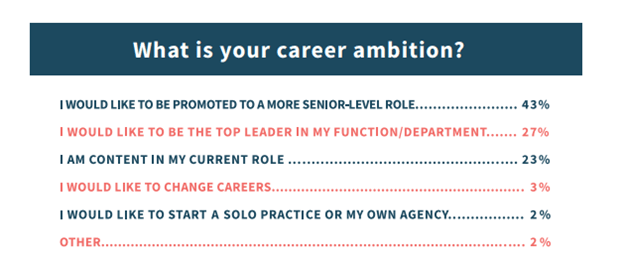 Social media managers are also savvy strategists, often involved in important discussions about external messaging and campaigning. On social media strategy, 76% reported being always involved, and 68% said they were always included in talks about department/function strategy.

However, there isn't a clear social media career path in most organizations. It's crucial to identify this progression, DiStaso argues, as it will help companies retain top talent.
"While trends can be identified across the industry as we did in this study, companies need to also identify internal career ladders," she says. "This is especially important since we found a high number of people are considering leaving their positions."
One major sticking point is the lack of proper evaluation of the social media function at most organizations. Without proper measurement, it's hard for pros to argue for raises or promotions.

Employee burnout
Why are so many social media managers contemplating leaving their current employer? (More than half anticipate leaving their current job in less than two years.)
"Burnout is definitely an issue for social media managers," says McCorkindale, "and for more than half, they don't see a path to promotion within their organizations. Nearly half of the respondents said they work more than others in their department, and in some cases, they are the only ones managing social media."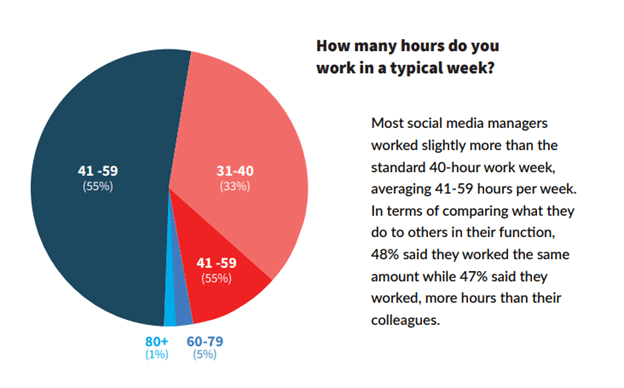 That means a job where the pro can feel required to be "on" 24 hours a day—coupled with the lack of evaluation and promotion, that's a recipe for horrendous employee morale.
To keep these talented employees, organizations should take these actions:
Ensure that social media is evaluated and used in employee reviews.
Invest in a team so that no single employee is managing social media channels 24 hours a day.
Identify the path to senior leadership for your social media pros.
Offer incentives that reward social media success.
You can read the full report here.
COMMENT