Saks Fifth Avenue separates e-commerce and in-store business, LinkedIn to stop tracking iOS users, and Twitter tests 'undo send' feature
Also: Suitsupply's 'new normal' ads receive criticism and buzz, Lay's Vietnam offers subtitles for viewers eating while streaming, the Minnesota Vikings talk about mental health, and more.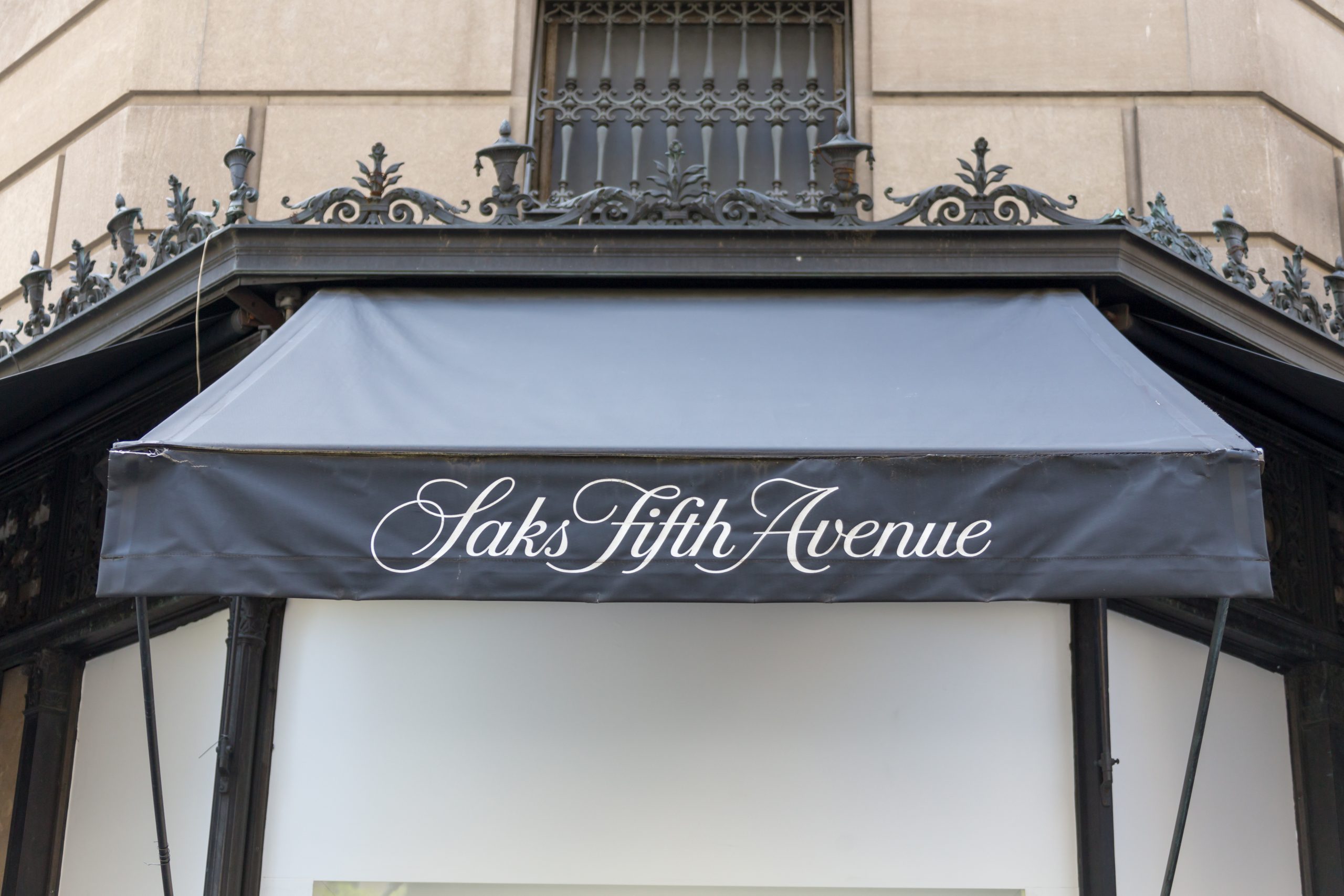 Hello, communicators:
Amsterdam-based clothing retailer Suitsupply is making waves with its saucy new social media campaign, dubbed "The New Normal.
Unlike the typical use of that phrase, which implies remote workplaces, social distancing and COVID-19 safety measures, Suitsupply told its Instagram users to "get ready to get closer" with images featuring models—some in underwear and others in its suits—lying on top of one another, aggressively swapping saliva:
View this post on Instagram
According to a Suitsupply spokeswoman, the campaign is a kick-off to the coming spring season. Indeed, Suitsupply is one of a host of brands looking to a more optimistic season of consumer spending as vaccines roll out. The push will run on Suitsupply's website, social media platforms and in-store displays. It was created internally, she says.
Though the strategy is racking up conversations and media coverage, many consumers are criticizing the, er, tasteless campaign. We'd recommend not taking a similar tack, but instead, focusing on images that show mask-wearing, social distancing and other COVID-19 safety measures.
Here are today's other top stories:
Saks Fifth Avenue owner to separate e-commerce and in-store business
The retail chain's owner is spinning off Saks' e-commerce offering into a separate business, raising $500 million to further invest in online sales and digital campaigns. Though the businesses will be separate, consumers can still purchase items through the retailer's website and pick up their orders in store.
The Wall Street Journal reported:
"By separating the dot-com business, we can show investors its value," HBC Chief Executive Officer Richard Baker said in an interview. "Investors don't want to put their money in bricks-and-mortar retailers right now."
Marc Metrick, previously the CEO of the combined Saks businesses, will serve as CEO of the online entity, which will add a marketplace component to its retail business. Saks veteran Larry Bruce has been appointed president of the stores business.
"When online retailing started over 20 years ago, department stores weren't able to jump on board," Mr. Metrick said. "They had to make choices. They needed to make investments in their stores. As luxury shopping takes off online, we are not going to miss that opportunity again."
Why it's important: As consumer behaviors continue to shift during COVID-19, communicators and brand managers should prepare long-term strategies for the future. The rise of online and social media shopping, along with digital-first content, is a trend that's here to stay. Don't miss out on it by being the last to hop on the wagon.
---
TACTICALLY SPEAKING
Lay's Vietnam team and its creative agency, Happiness Saigon, created a solution to a common problem when binging streaming services and digital content: When your're munching on chips, you often can't hear the words.
Enter: Lay's Crispy Subtitles. The Google Chrome extension uses sound recognition and artificial intelligence to turn on subtitles for YouTube, in your video player's default language. The team harnessed 178 hours of people consuming crunchy snacks to create the tool:
---
SOCIAL BUZZ
App researcher Jane Manchun Wong tweeted a feature that Twitter is testing, which would enable users to "unsend" a tweet within a certain amount of time.
Twitter is working on "Undo Send" timer for tweets pic.twitter.com/nS0kuijPK0

— Jane Manchun Wong (@wongmjane) March 5, 2021
"Undo send" has been a rumored part of a paid Twitter subscription tier after it was first mentioned in a user survey last year. It might not be the "edit button" that Twitter users have been requesting forever (and which will probably never happen), but it would still offer users the ability to quickly stop a tweet from posting if they spot a last second typo or Bad Take.
---
CRISIS LEADERSHIP NETWORK
Looking for more insight on how to address the current global crisis and lead your organization into a strong recovery?
Join Ragan's Crisis Leadership Network to connect and brainstorm with peers, get the latest intelligence and research, and start to strategize for the future of your organization.
Learn more about this exclusive membership here.
---
MEASURED THOUGHTS
Bloomberg recently published an article titled, "Tell your boss the four-day week is coming soon," revealing that job listings on ZipRecruiter mentioning the shorter work week have tripled in the past three years: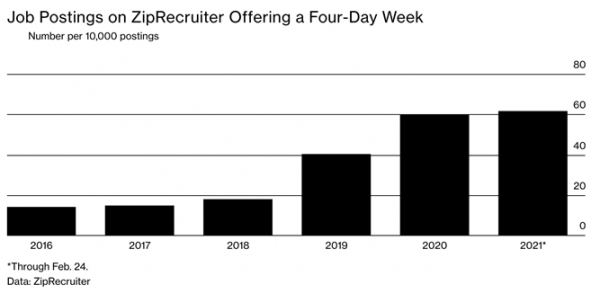 Bloomberg also pointed to a University of Reading study that reported nearly two-thirds of organizations embracing the four-day work week have boosted productivity. Other executives and leaders have reported higher employee satisfaction.
The report underlines another change coming for an already shifting workplace, so communicators should incorporate these ideas and questions into their brainstorming sessions about what the future of work looks like for them—including remote teams and digital workplaces.
You can read the entire article here.
LinkedIn to stop tracking iOS users
The social media platform announced that it's halting the practice of gathering Identifer for Advertising (IDFA) data, which are used to target advertisements and paid content. LinkedIn's move comes ahead of Apple's changes to its IDFA data policies, which will require apps to ask consumers' permission to track them on apps and websites.
In a blog post, LinkedIn's Kamakshi Sivaramakrishnan wrote:
Although this change affects the LinkedIn Audience Network (LAN), Conversion Tracking and Matched Audiences, we expect limited impact to your campaign performance, and don't foresee major changes required for your campaign set-up.
While we will regularly reevaluate our collection of IDFA, we are committed to privacy-by-design principles that deliver value to our customers and provide a trusted experience for our members. Our plan is to leverage our first-party data to help marketers reach buyer groups, which are critical for success in B2B marketing, so they can achieve better value for their campaigns across all LinkedIn placements.
Why it matters: LinkedIn's announcement follows Google's move to stop tracking consumers across their website use. Though both companies issued statements on overcoming audience targeting and delivering tailored promotions to key consumers, marketing and social media pros should see the writing on the wall. If you're not already building firsthand relationships with your target consumers and gathering your own data to better tailor and deliver campaigns and promotions, start now.
---
TACTICALLY SPEAKING
The National Football League's Minnesota Vikings are "getting real" about mental health and well-being with a content series that addresses the "stigma surrounding invisible disabilities."
In a press release, the team wrote:
Let's normalize the conversation.
… The "Getting Open" series will kick off Tuesday, introducing the first of multiple features. From players sharing personal experiences, to professional insight, organizational initiatives and foundation work, these stories—along with full-length audio interviews—will provide an intimate perspective on this tremendously important, yet often overlooked, topic.
Whether you choose to create content surrounding mental health and emotional wellbeing, consider ways you can increase and incorporate both conversations and solutions to support both for your employees. Doing so is becoming an increasingly important necessity for organizations seeking to increase employee engagement and retain top talent as workforces remain largely remote. Consumers are also scrutinizing organization's attitudes and actions toward employees.
---
CONFERENCE ALERT
Social media and digital content is helping organizations across industries reach consumer and employee audiences looking to connect during COVID-19. The digital media landscape—and people's behaviors—are rapidly shifting, and yesterday's strategies won't stand out to those searching for brands to take a stand and promote DE&I initiatives, measure their efforts, produce valuable content, and more.
Learn how to break out online at Ragan's Social Media & Digital Communications Virtual Conference on Tuesday, March 16.
Learn powerful insights from speakers at Dropbox, Chip and Joanna Gain's Magnolia, BET Networks, the Cleveland Cavaliers, AARP, Ketchum, LinkedIn, Oklahoma Aquarium, NAACP, Canon Europe, The Martin Agency and more.
Attendees will learn how to produce compelling social media posts and digital content across TikTok, Twitter, YouTube, Instagram, Facebook, Clubhouse and intranet channels—and glean inspiration on incorporating digital media strategies such as SEO, email marketing, paid ads and employee ambassadorship to make your efforts soar.
---
WHAT YOU SAID
We asked if you're working on ways to overcome "Zoom fatigue." Nearly 73% of you are seeking to solve this challenge, while 9% of you are focusing on this for your employees:
Are you brainstorming ways to overcome "Zoom fatigue?"

Weigh in below and share how you're breaking through to grab attention. We'll share in tomorrow's #DailyScoop.

— PR Daily (@PRDaily) March 4, 2021
Is there a question you'd like to ask our community of PR pros? Please let us know under the #DailyScoop hashtag!
---
SOUNDING BOARD
Do you use the Oxford comma in your PR copy?
Do you use the Oxford comma in your PR copy?

Weigh in below and reply with your thoughts, and we'll dish in Monday's #DailyScoop.

— PR Daily (@PRDaily) March 5, 2021
Weigh in below, or share your insights on Twitter under the hashtag #DailyScoop. We'll share your thoughts in Monday's roundup.
COMMENT
One Response to "Saks Fifth Avenue separates e-commerce and in-store business, LinkedIn to stop tracking iOS users, and Twitter tests 'undo send' feature"
Ronald N. Levy

says:

If $500 million is a LOT more than needed to "invest in online sales and digital campaigns," may over $400 million of the money go to senior executives before the bankruptcy of another retailer?

Interesting is not just who may be "the last to hop on the wagon," but whether some promoters who raise $500 million may be among the first to hop on the gravy train.