Spotify announces platform policies to combat misinformation, a record number of scams hit social media in 2021 and Meta's civil rights chief shares company progress
Also: Captain Morgan gives away high-tech punch bowl, FAA reaches 5G expansion agreement with Verizon and AT&T and more.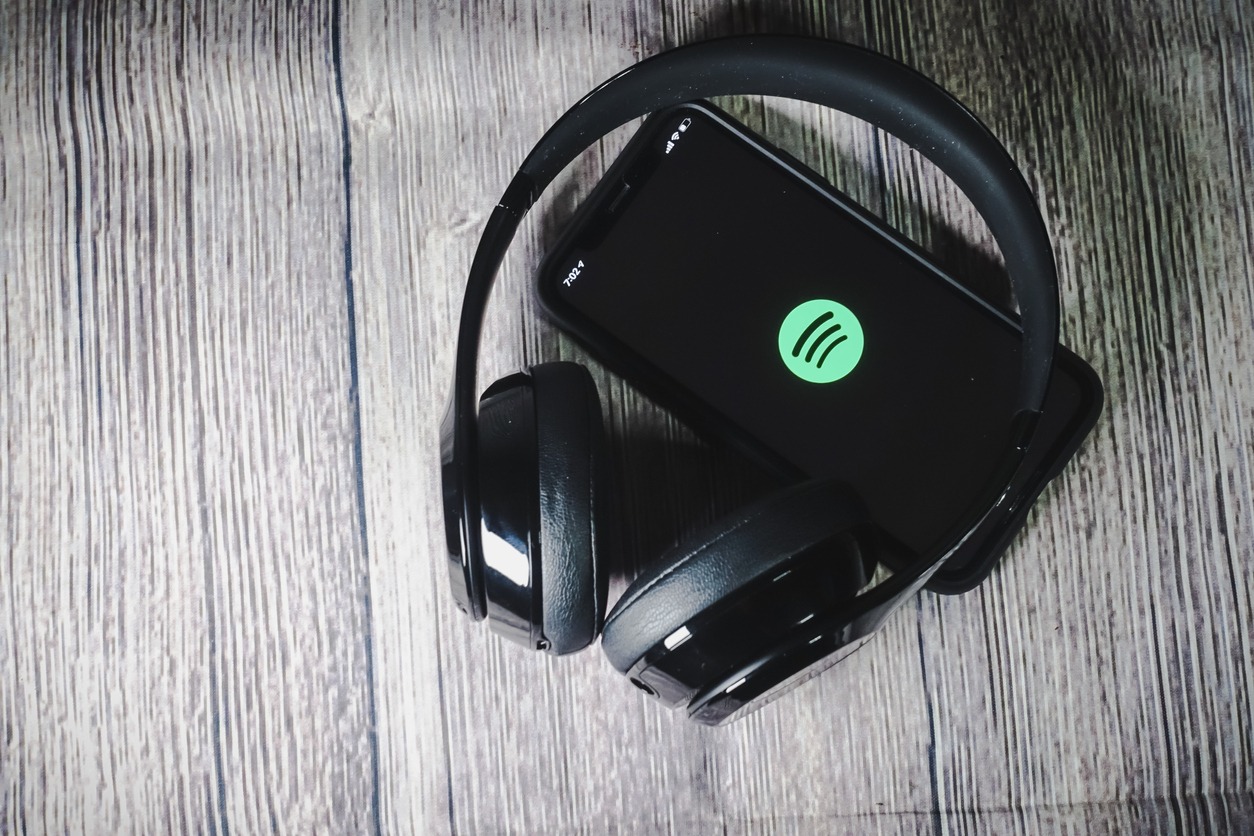 Hello, communicators:
Captain Morgan announced it will be the first spiced rum sponsor of the Super Bowl by introducing a sweepstakes to give away a branded punch bowl equipped with Bluetooth speakers, subwoofers, "stadium-inspired" lights and a digital display keeping score of the big game. Captain Morgan unveiled the gadget on "Jimmy Kimmel Live" with the help of NFL alum Victor Cruz and Matty Benedetto, founder of "Unnecessary Inventions."
"As the first-ever Official Spiced Rum Sponsor of the NFL, we knew we had to do something big – literally and figuratively – to celebrate the most exciting and highly-anticipated sporting event of the year," Captain Morgan VP Sam Salameh said in a press release. "We're taking the at-home Super Bowl experience to the next level. The Captain Morgan Super Bowl Punch Bowl does just that in a fun and over-the-top way, combining just the right amount of spice and applied science to boost any Super Bowl celebration."
Captain Morgan's entry into the realm of silly, ostentatious Super Bowl advertisements starts quite literally with a punch, poking fun at grandiose Super Bowl stunts by calling out the unnecessary spectacle of the giveaway. It's a reminder that the influencers you bring onto a campaign should complement the tone and voice of that campaign seamlessly.
Here are today's top stories:
Spotify CEO unveils platform policies to combat COVID-19 misinformation
Spotify CEO Daniel Ek has published an open letter on the company's website addressing the platform's rules and policies toward content that mentions COVID-19. In the letter, Ek says the company is publishing its platform rules for the first time, "developed by our internal team in concert with a number of outside experts and are updated regularly to reflect the changing safety landscape."
Additionally, Ek says Spotify also will add a content advisory to any podcast episode that includes a discussion about COVID-19, and directs listeners to a separate COVID-19 resource hub that contains "data-driven facts, up-to-date information as shared by scientists, physicians, academics and public health authorities around the world, as well as links to trusted sources" to combat misinformation. He also says the company will test strategies for highlighting those platform rules in its creator and publisher tools to help creators understand their accountability to listeners.
"Based on the feedback over the last several weeks, it's become clear to me that we have an obligation to do more to provide balance and access to widely-accepted information from the medical and scientific communities guiding us through this unprecedented time. These issues are incredibly complex. We've heard you – especially those from the medical and scientific communities.

I trust our policies, the research and expertise that inform their development, and our aspiration to apply them in a way that allows for broad debate and discussion, within the lines. We take this seriously and will continue to partner with experts and invest heavily in our platform functionality and product capabilities for the benefit of creators and listeners alike. That doesn't mean that we always get it right, but we are committed to learning, growing and evolving."
Why it matters:
Ek's letter arrives less than a week after musicians Neil Young, Joni Mitchell and others pulled their catalogs off the platform to protest the spread of COVID-19 misinformation on Spotify's "Joe Rogan Experience" podcast, but the letter doesn't mention the outcry from musicians specifically. His admission that internal platform policies have long existed suggests that sharing them with external audiences sooner could have saved the streaming service some trouble.
Spotify's other commitments mirror the actions of several other social media platforms' responses to COVID-19 misinformation over the past 22 months (providing warning labels, directing to a resource hub), serving as a reminder that your messaging appears stronger when linked to longer landing pages, documentation and resources.
Ek's acknowledgement of the negative feedback the platform has received for ignoring the medical community also demonstrates how a crisis can often be mitigated by listening to your expert critics from the outset and inviting them to consult on your policies. Offering your own research is only as accurate and convincing as the data itself, the methods through which that data is collected and the experts who have been consulted.
---
MEASURED THOUGHTS
A new report published by the Federal Trade Commission (FTC) found that over 95,000 people reported about $770 million in losses to fraud initiated on social media in 2021—up from $258 million in 2020—accounting for about 25% of all losses to fraud last year. While reports are up for every age group, the study found that people 18 to 29 were more than twice as likely as older adults to report losing money to these scams in 2021.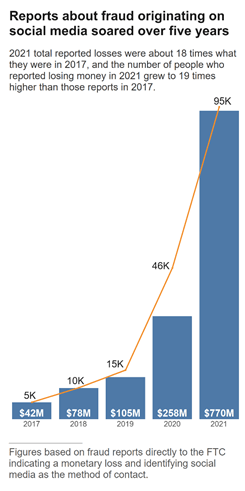 "For scammers, there's a lot to like about social media," the FTC wrote. "It's a low-cost way to reach billions of people from anywhere in the world. It's easy to manufacture a fake persona, or scammers can hack into an existing profile to get "friends" to con. There's the ability to fine-tune their approach by studying the personal details people share on social media. In fact, scammers could easily use the tools available to advertisers on social media platforms to systematically target people with bogus ads based on personal details such as their age, interests, or past purchases."
These findings make a case for social media and marketing teams being included in cybersecurity training as part of your crisis communications plans.
Check out the full report here.
---
TAKE OUR SURVEY
We want to know about your career as a social media professional.
How big is your team? Are you valued at your organization?
If you're interested in helping benchmark the career path potential of social media professionals and shedding light on how social media is internally managed, viewed and evaluated, take our survey. The Social Media Career Survey is a follow-up to a 2020 report by the Institute for Public Relations, Ragan Communications and the University of Florida.
Whether you're in charge of company social media or involved in social media for a client, we welcome your participation.
Respondents will receive a full report on the findings, which will also be shared on PR Daily. Responses will remain confidential.
---
TACTICALLY SPEAKING
The Federal Aviation Administration (FAA) says it reached an agreement with Verizon and AT&T that will allow the telecom carriers to expand 5G service without disrupting the landing process for aircrafts. It marks an end to a months-long back and forth between the companies and the FAA, which warned that the C-band frequencies in the wider 5G rollout would cause instruments that airports use to measure the altitude of planes, known as altimeters, to malfunction.
The F.A.A. said in a statement that it "appreciates the strong communication" and collaboration from the wireless companies, which it said had provided more precise data about the location of wireless transmitters and had aided in a deeper analysis of how 5G signals interact with sensitive aircraft instruments.

"The F.A.A. used this data to determine that it is possible to safely and more precisely map the size and shape of the areas around airports where 5G signals are mitigated, shrinking the areas where wireless operators are deferring their antenna activations," the agency said. "This will enable the wireless providers to safely turn on more towers as they deploy new 5G service in major markets across the United States."
The FAA's statement emphasizes that communication is at the heart of any collaboration or partnership, and that reaching across the aisle often requires communicating with your partners the nuances and specifications they require to feel confident. It also emphasizes how data can be deployed to take down the temperature of a tense partnership by informing key recommendations or next steps in your messaging without the need for placing blame or involving other stakeholders.
---
Announcing the PR Daily Leadership Network
PR Daily has launched the PR Daily Leadership Network, a unique membership group from Ragan Communications offering peer-to-peer advisory and team training along with a unique slate of resources and events to help public relations professionals break through the noise, increase their visibility and forge meaningful connections.
The Network provides daily insights and coverage on a range of topics including: media relations, social media, measurement, Diversity, Equity & Inclusion, branding, thought leadership and crisis communications.
"The fast pace of change coupled with the demand on public relations professionals to protect and sometimes defend their company's reputation make it imperative for leaders to tap into the wisdom of other communicators and continue to learn and grow," says Diane Schwartz, CEO of Ragan Communications. "The PR Daily Leadership Network provides the answers but also encourages members to question the status quo and push for positive change."
Visit leadership.prdaily.com to learn more.
Meta's civil rights chief shares progress after one year
Meta civil rights chief Roy L. Austin Jr. spoke to Axios about his first year at Meta, the company formerly known as Facebook. The civil rights attorney was brought into the company to lead a new team following the completion of a civil rights audit that found the company's products had a disproportionately negative impact on marginalized groups and communities.
Austin explained that his team spent its first year creating visibility for its work within the company and implementing dozens of recommendations from the audit, including sending a letter to the Los Angeles Police Department asking it to stop making face Facebook profiles to surveil the public, planning a race measurement project to determine how Meta's products affect users differently depending on their race and other efforts to incorporate civil rights considerations from the earliest stages of product design.
"At first I wasn't interested," Austin told Axios. "But what hit me was a company that touches 3.5 billion people, and I felt like if I could turn the knob just a little bit toward justice with a company with that kind of reach, that that would really be an amazing opportunity."

Austin defended the size of his small team, claiming he successfully lobbied for a team of nine after initially being offered a team of four and stressing that the size allowed it to focus on building relationships:

"A professor I once worked with said, 'How do you eat an elephant? One bite at a time,'" Austin said. "There isn't anyone in the company who doesn't think that their team should be bigger," Austin said. "But I don't want to say that that's limiting my ability to have the impact that I hope to have."

Austin also outlined how his work intersects with other hot-button issues facing Meta such as political bias and content moderation:

"We're living in a time and a society where there are people who propagate obvious falsehoods," Austin said. "My position is, when those falsehoods injure historically and systemically marginalized communities, that they don't belong." Likewise, he says, when it comes to COVID-19. "Again, I want the truth. Vaccines work. Vaccines save lives. That is the truth. In my mind there is not a second thing to that."
What it means:
The day this conversation was published, a coalition of civil rights groups filed a brief in federal appeals court arguing that Meta's advertising products still have a discriminatory impact on marginalized communities despite the company's pledge to stop racial profiling in its ad products.
When taking the timing into consideration, this interview emphasizes how your executives can still be deployed to offer thought leadership even if your company isn't getting everything right. To the contrary, showing vulnerability and transparency about the work still to be done sends a message to stakeholders that your leaders learn from their company's mistakes. Having those leaders represent themselves, and speak candidly in their own voice, also goes a long way toward humanizing their work by grounding the complexities of big challenges in the judgment and feelings of real people.
COMMENT