Neil Young leaves Spotify to protest Joe Rogan podcast, Twitter shares data on content removal, and Boeing explains profit losses
Also: McDonald's adds fan 'meal hacks' to menu, Adobe releases first deepfake detection protocols, and more.
Hello, communicators:
Fast food connoisseurs have long shared their own "menu hacks" by fusing together separate items into new and surprising creations. On Jan. 31, McDonald's will acknowledge these creations when the company officially adds several fan-favorite meal hacks to its menu.
These include the Hash Brown McMuffin, a nuggets and cheeseburger hybrid dubbed "The Crunchy Double," the fish and cheeseburger hybrid "Surf + Turf" and the beef, chicken and fish monster known as the "Land, Air & Sea."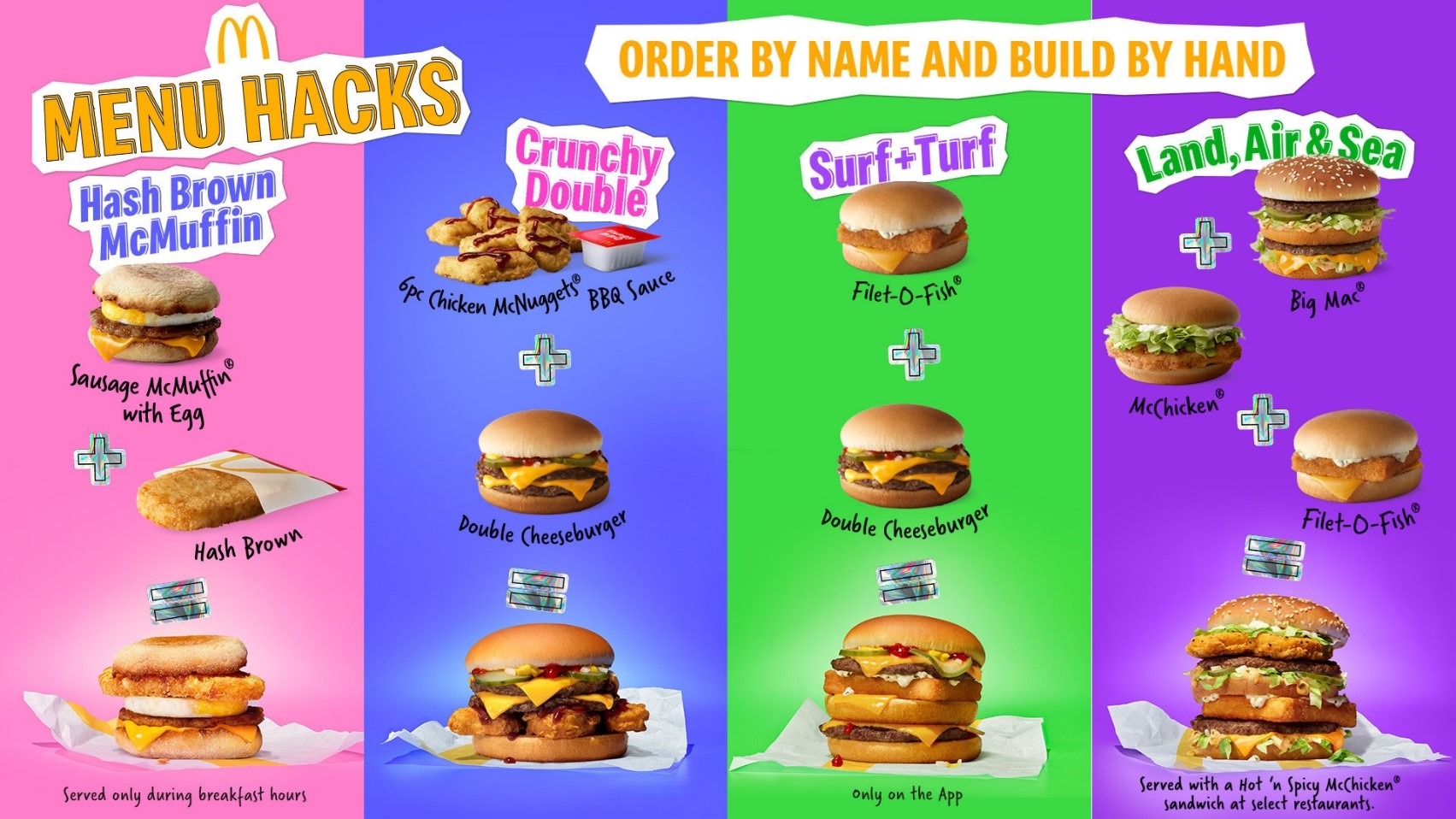 "From Hip-Hop icons to Christmas queens, everyone has a unique go-to McDonald's order, including our everyday customers. This campaign shows that it has never been 'our menu'—the menu belongs to our fans," McDonald's VP of U.S. Marketing, Brand Content and Engagement  Jennifer Healan, said in a press release. "We're excited to celebrate them in a bigger way than ever before by putting their delicious hacks—as seen on social media—on our menus. I personally can't wait for our fans to try my favorite hack, the Hash Brown McMuffin. IYKYK."
McDonald's latest campaign demonstrates how a brand can tap into—and amplify—pre-existing fan subculture while paying homage to its previous campaigns.
Here are today's top stories:
Spotify responds to Neil Young's catalog removal request
Spotify says it is in the process of removing musician Neil Young's catalog from its platform after the artist published an open letter demanding Spotify remove Joe Rogan's podcast from its platform, or he would pull his music from the service. Young objects to the company's continued support of "The Joe Rogan Experience," its most profitable podcast, which he  says is spreading misinformation about COVID-19 vaccines.
Spotify says it regrets the loss of Young's music—and defended its record on addressing COVID-19 misinformation on its platform.
The Hollywood Reporter writes:
"We want all the world's music and audio content to be available to Spotify users. With that comes great responsibility in balancing both safety for listeners and freedom for creators. We have detailed content policies in place and we've removed over 20,000 podcast episodes related to COVID since the start of the pandemic. We regret Neil's decision to remove his music from Spotify, but hope to welcome him back soon," the [Spotify] spokesperson told THR.
Young says Spotify accounts for 60% of his global streaming revenue, but confirmed the financial loss was worth it for him to take a stand.
THR continued:
"I truly want to thank the many, many people who have reached out to me thanking me for taking this position — people who are health professionals on the front lines, people who have lost loved ones to COVID or who are worried for their own children and families. I have never felt so much love coming from so many," Young wrote in Wednesday's letter. "I sincerely hope that other artists and record companies will move off the Spotify platform and stop supporting Spotify's deadly misinformation about COVID."
Those who agreed with Young took their anger to social media as #CancelSpotify began trending:
Can you imagine picking Joe Rogan over Neil Young for anything? Btw, you're supposed to be a MUSIC service. Talk about selling out. #cancelspotify

— Gregory Horowitz (@GregoryHorowit5) January 26, 2022
Just cancelled my premium subscription with @Spotify. I can't give my money to a platform the enables the broadcast of Covid disinformation in the United States. Thanks to the great @Neilyoung for making me aware that Spotify enabled this – I wouldn't have known. #CancelSpotify

— Concerned, Remaining Optimistic (@_ResearcherGirl) January 25, 2022
It is done. I look forward to supporting a music service that values artists over jackasses like Joe Rogan. Thanks to #NeilYoung for showing the way. #cancelspotify pic.twitter.com/6a7VXDVm66

— It's James and the Awful Truth (@TweetFiction) January 27, 2022
It was long overdue. To be honest, I should have done it the moment they gave that dangerous idiot Rogan that sort of $ and platform.

Better late than never. #cancelspotify pic.twitter.com/MIQkjiH7Ce

— Neville (@1FightingIrish) January 27, 2022
Why it matters:
Spotify's statement evokes responsibility and detailed content policies, but does not acknowledge requests from the medical community to develop a more robust COVID-19 misinformation policy. This is a reminder that any statement defending policies or guidelines provides an opportunity to link to the policies themselves or restate them in detail to show your work.
Communicating how your policies are consistently upheld among all your partners can minimize accusations of selective enforcement or favoritism that invites further controversy.
---
MEASURED THOUGHTS
A new transparency report released by Twitter said that the social media platform removed a record 4.7 million tweets that violated its content policies. "Of the Tweets removed, 68% received fewer than 100 impressions prior to removal, with an additional 24% receiving between 100 and 1,000 impressions," the company wrote. "In total, impressions on these violative Tweets accounted for less than 0.1% of all impressions for all Tweets during that time period."
"Broadly, Twitter continues to see an overall downward trend in the number of violating accounts which is likely due to changing behaviors of these actors coupled with continued improvements of our defenses in this area," the post continues. "As the Open Internet continues to be under threat around the world, we will continue our advocacy and build on our work to increase meaningful transparency and accountability in the industry—with the Twitter Transparency Center as our single source of truth in this space."
Check out the full report here.
---
TAKE OUR SURVEY
We want to know about your career as a social media professional.
How big is your team? Are you valued at your organization?
If you're interested in helping benchmark the career path potential of social media professionals and shedding light on how social media is internally managed, viewed and evaluated, take our survey. The 2022 Social Media Career survey is a follow-up to a 2020 report by the Institute for Public Relations, Ragan Communications and the University of Florida.
Whether you're in charge of company social media or involved in social media for a client, we welcome your participation.
Respondents will receive a full report on the findings, which will also be shared on PR Daily.   Responses will remain confidential.
---
TECH TALK
A group of tech companies led by Adobe, known as the Coalition for Content Provenance and Authenticity (C2PA), announced it has replaced the first version of its technical specifications for combatting deepfakes by creating media that cannot be manipulated. "Deepfakes" refer to images and videos that are created using artificial intelligence to replace an existing image or video of someone speaking with the words and ideas of other people.
The group of participating tech companies includes Microsoft, Intel, and the BBC among other organizations.
"As the C2PA pursues the implementation of open digital provenance standards, broad adoption, prototyping and communication from coalition members and other external stakeholders will be critical to establish a system of verifiable integrity on the internet," says Leonard Rosenthol, chair of the C2PA technical working group and senior principal scientist, Adobe.
This statement about C2PA's unprecedented effort to eliminate deepfakes demonstrates how creating a consistent, standard framework for communication between stakeholders with shared goals is at the heart of any effective strategy to combat misinformation.
Announcing the PR Daily Leadership Network
PR Daily is launching the PR Daily Leadership Network, a unique membership group from Ragan Communications offering peer-to-peer advisory and team training along with a unique slate of resources and events to help public relations professionals break through the noise, increase their visibility and forge meaningful connections.
The Network provides daily insights and coverage on a range of topics including media relations, social media, measurement, Diversity, Equity & Inclusion, branding, thought leadership and crisis communications.
"The fast pace of change coupled with the demand on public relations professionals to protect and sometimes defend their company's reputation make it imperative for leaders to tap into the wisdom of other communicators and continue to learn and grow," says Diane Schwartz, CEO of Ragan Communications. "The PR Daily Leadership Network provides the answers but also encourages members to question the status quo and push for positive change."
Visit leadership.prdaily.com to learn more.
Boeing explains revenue losses
Boeing said that its $4.3 billion loss in revenue last year was caused by delays manufacturing and delivering its 787 Dreamliner Jet.
"On the 787 program, we're progressing through a comprehensive effort to ensure every airplane in our production system conforms to our exacting specifications," David Calhoun, Boeing's chief executive, said in a statement announcing the financial results, including a $4.3 billion loss for the year, the third annual loss in a row. "While this continues to impact our near-term results, it is the right approach to building stability and predictability as demand returns for the long term. "Across the enterprise, we remain focused on safety and quality as we deliver for our customers and invest in our people and in our sustainable future."
What it means:
 After another rough year caused by Dreamliner production delays, Boeing's statement demonstrates how a brand's investor relations messaging can provide an opportunity to reframe a crisis as an opportunity.
Though this statement emphasizes a path of predictability going forward it lacks a discernable timeline for resuming a normal production schedule. When you do fail to offer a timeline, it's often wise to at least ensure you will deliver an updated response as soon as you can. This lets stakeholders know that your company is holding itself accountable to communicating with them, even when it has no new information to share.
COMMENT