AT&T, Verizon delay 5G over FAA concerns, top places to promote a podcast, and IBM's IT services becomes Kyndryl
Also: Dove Chocolates awards grants to female entrepreneurs through Instagram, the NBA launches Twitter Spaces live audio rooms to celebrate 75th anniversary, and more.
Hello, communicators:
Dove Chocolates' new program will award $10,000 grants to three female small business owners that submit a 30-second business pitch video on Instagram. Dove says that its #DOVEInstaGrants program was inspired by the brand's longstanding partnership with international humanitarian agency Care and "built on the mutual desire to empower women in West African cocoa-growing communities to build their own small businesses and define their financial voice," according to a press release.
To help raise awareness for the campaign, Dove partnered with financial influencers Tori Dunlap (@Herfirst100k) and Carmen Perez (@makerealcents). Dunlap and Perez will work with DOVE Brand Director Leslie Philipsen to judge the entries and select the finalists.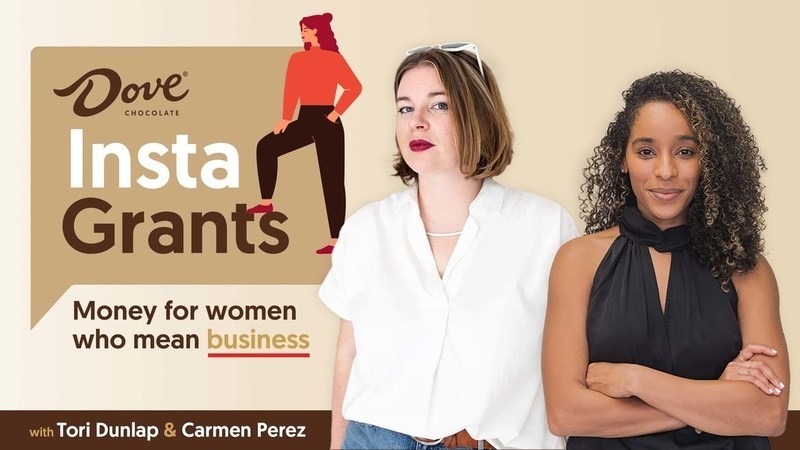 "As part of a company that actively supports women, as seen through Mars' Full Potential Platform, and as a long-term partner of CARE, #DOVEInstaGrants embodies our mission to help support and elevate women in business," Philipsen said in the press release. "The goal of #DOVEInstaGrants is to offer women a sense of community and support with a platform to express their smart business ideas—whether they're just getting started or are more established."
By highlighting an industry-specific example of female cocoa farmers as the inspiration for its #DOVEInstaGrants campaign, Mars illustrates how a contest or campaign can bring awareness to hidden projects or stories.
Here are today's top news items for PR pros:
AT&T and Verizon announce 5G delay after FAA warning
The Federal Aviation Agency issued a warning that AT&T and Verizon's planned rollout of their wider 5G networks could cause interference with aircraft safety systems. In response, both telecom companies said that they would delay the rollout of their expansion from December 5th until at least January 5th. The planned expansion would drastically improve 5G capabilities across the country.
AT&T said Thursday that it is working with the FAA and FCC to better understand the aviation industry's concerns. "It is critical that these discussions be informed by the science and the data," the company said in a statement provided to The Verge. "That is the only path to enabling experts and engineers to assess whether any legitimate co-existence issues exist."

Those concerns came to a head this week when the FAA released a "special information bulletin" about potential interference issues with safety equipment that relies on radio altimeters. While the agency said that there have been no documented incidents of "harmful interference" in other countries to date, it nonetheless warned aircraft operators that they "should be prepared for the possibility that interference from 5G transmitters and other technology could cause certain safety equipment to malfunction, requiring them to take mitigating action that could affect flight operations."

The major wireless trade group, the CTIA, said last week that companies should be able to use C-band 5G "without causing harmful interference to aviation equipment," Reuters reported. The group pointed to the many successful C-band deployments in other countries as evidence. "Any delay in activating this spectrum risks America's competitiveness," the group wrote.
Why it matters:
The ability of cell phones to disrupt airplane equipment has long been a sticky point for consumers who have struggled to understand how the systems conflict. AT&T's measured response to the FAA's concerns shows how your messaging can calm the waters without criticizing your detractors by emphasizing the importance of reliable expert data.
---
MEASURED THOUGHTS
A recent study from Muck Rack found that 76% of podcasters cross-post their episodes, or clips from their shows, on blogs or websites. When it comes to social media platforms, 68% said that Twitter was the most popular place to promote their podcasts, while 63% cross-post on Facebook and 57% promote on Instagram.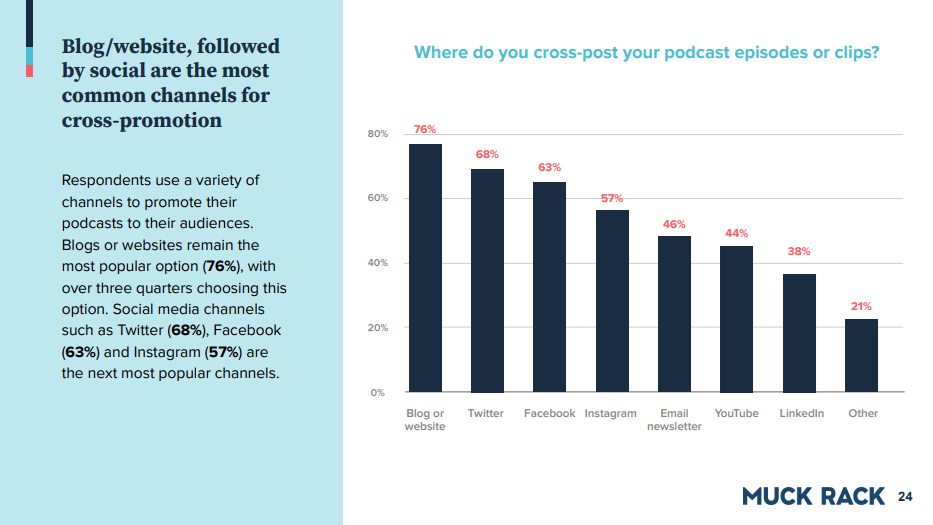 While many assume that email newsletters, YouTube and LinkedIn are the most popular places to cross-promote a company podcast, the numbers suggest other channels deserve a closer look. Consider posting each episode on a landing page that lives on your company website, then linking to the landing page on company or executive Twitter accounts.
---
Announcing the PR Daily Leadership Network
PR Daily is launching the PR Daily Leadership Network, a unique membership group from Ragan Communications offering peer-to-peer advisory and team training along with a unique slate of resources and events to help public relations professionals break through the noise, increase their visibility and forge meaningful connections.
The Network provides daily insights and coverage on a range of topics including media relations, social media, measurement, Diversity, Equity & Inclusion, branding, thought leadership and crisis communications.
"The fast pace of change coupled with the demand on public relations professionals to protect and sometimes defend their company's reputation make it imperative for leaders to tap into the wisdom of other communicators and continue to learn and grow," says Diane Schwartz, CEO of Ragan Communications. "The PR Daily Leadership Network provides the answers but also encourages members to question the status quo and push for positive change."
Visit leadership.prdaily.com to learn more.
---
SOCIAL BUZZ
The National Basketball Association (NBA) is extending its partnership with Twitter to include 40 scheduled Twitter Spaces conversations themed around tentpole moments and marquee events, including the NBA All-Star game, the NBA finals and Christmas. The chats will feature players and NBA legends reflecting on the league's history commemorating its 75th anniversary. The events will also include sponsorship and brand opportunities.
According to its press release:
"We are excited to continue to partner with Twitter to connect the NBA Twitter community to our game and content as we celebrate our 75th Anniversary Season," said Jennifer Chun, NBA Senior Vice President and Head of Content Partnerships.  "We look forward to building on our innovations with Twitter by bringing live, interactive audio content to Twitter Spaces and driving NBA fans on Twitter to engage with NBA live game telecasts and direct-to-consumer offerings."
The NBA's investment in Twitter's live audio feature counters any assumptions that the medium is a fad and emphasizes the power that live audio has to highlight significant past brand milestones and engage brand advocates in real-time conversations about new developments as they occur.
---
TAKE OUR SURVEY
The HarrisX – Ragan CEO/Communicators Competencies Survey is looking for chief communications officers, senior vice presidents and top comms officers to take our first-of-its-kind poll. The survey seeks your feedback on what you consider to be the most important skills and attributes communicators must master—and we're asking your CEO as well.
The findings—and comparisons of CEO views vs. those of communicators—will be announced during Ragan's Communications Week Nov. 15-19 and in a special report this winter.
Can you spare a few minutes to help us chart the future of the communications role?
IBM explains spin off of new company Kyndryl Holdings
IBM has completed the spin off its $19 billion IT services business into a new company, Kyndryl Holdings Inc., which says it aims to help companies modernize and manage their IT infrastructure. The restructuring makes the most profitable sector of IBM's business an independent operation from the legacy technology brand.
The Wall Street Journal reports:
[Kyndryl] Chief Executive Martin Schroeter said Kyndryl expects to show revenue growth in 2025, now that customers are less likely to see it as tied to IBM technology. "The spin now allows a whole new set of customers who felt as though…we were just there to sell the IBM technologies to now open up a new set of discussions," Mr. Schroeter said.
Schroeter expanded on this messaging in a press release:
"We are thrilled that Kyndryl is today an independent company—with 90,000 of the best and brightest professionals, a strong balance sheet and a path to growth," said Martin Schroeter, Kyndryl's chairman and chief executive officer. "There is a large and growing need for digital transformation services, and our unrivaled global expertise in creating, managing and modernizing mission-critical information systems positions us well in a market that will expand to more than $500 billion by 2024. We look forward to the path ahead, with a flatter and faster company that is at the heart of progress for our customers and for the world."
IBM CEO Arvind Krishna also weighed in on what this spinoff meant for IBM as a whole, suggesting that change has always been part of the company's DNA and that focusing on artificial intelligence and cloud systems will put the company on path to growth.
According to his LinkedIn post:
IBM has always believed in the fundamental promise of technology—that when we apply innovation to real-world problems, we drive progress, for both business and society. And as the nature of those problems has changed over time, so too has IBM, repeatedly reinventing itself to overcome whatever obstacles stand in the way of that progress.

Though we've introduced many foundational technologies, IBM has never been defined solely by its products or services. Rather, IBM's most enduring characteristic is our ability to change to deliver value to our clients, while remaining true to the core values that guide us. Our goal is to break down today's most common barriers to innovation: closed systems, proprietary technologies, untrustworthy AI, and insufficient security.
What it means:
As IBM's CEO, Krishna's words reemphasize the company's values and purpose. As the Kyndryl CEO, Schroeter's words go deeper into the language of IT systems management and demonstrate a distinct industry expertise for the newly-minted company. By tying the intentions behind IBM's spinoff of Kyndryl back to the needs of clients and customers, Schroeter and Krishna demonstrate alignment and consistency in their messages that emphasizes IBM's restructure as a strategic acknowledgement of the industry's changing needs.
These statements show the power of consistent language in executive communications when addressing change. Be willing to hammer home important keywords while still encouraging the unique voice of each leader to offer distinct expertise.
COMMENT