Spotify's Dustee Jenkins: 'Always let them know you're there'
The top communicator for the music streaming giant shares lessons from her work across a global company that has changed the game for digital media.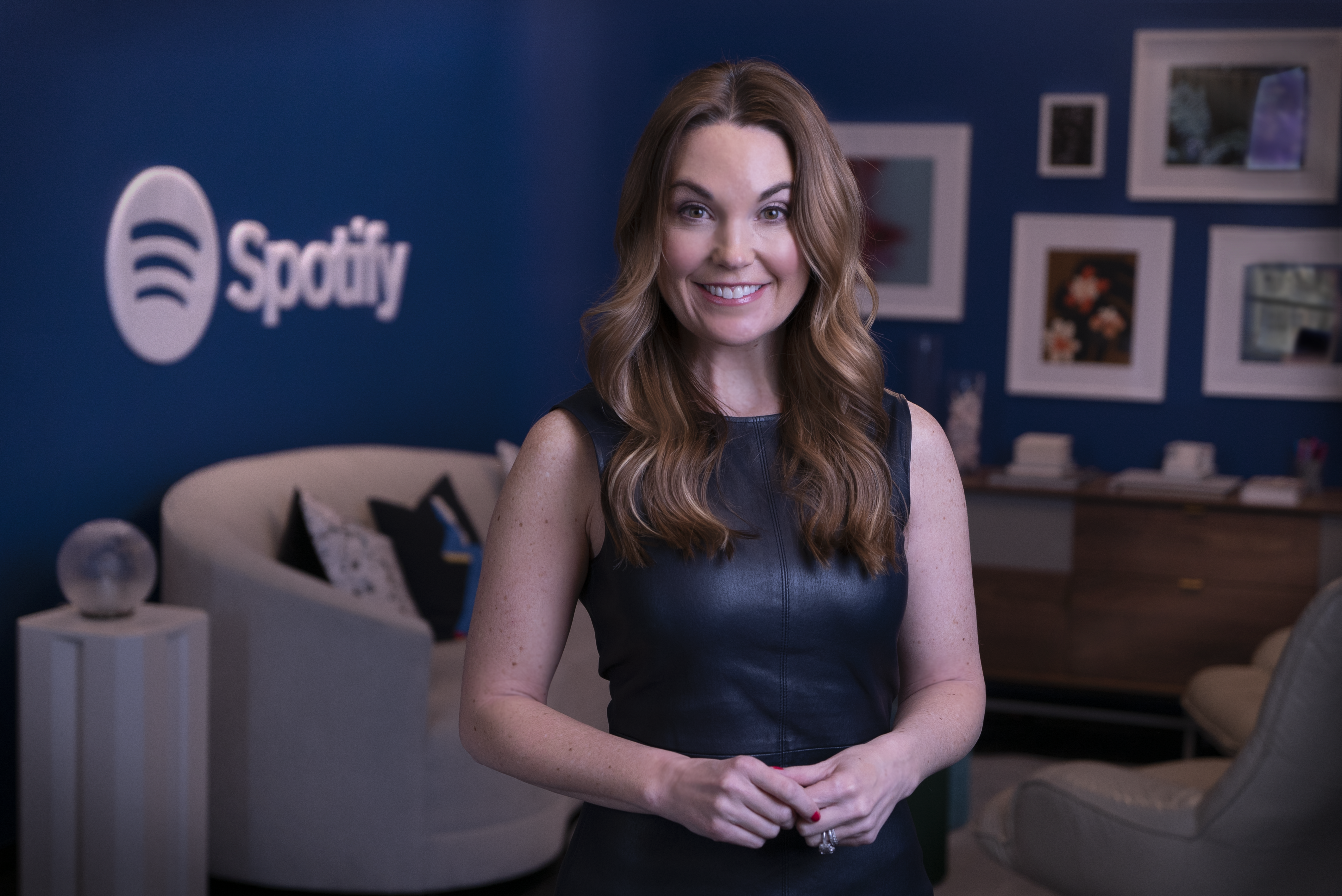 Music carries us through the best of times and worst of times. For the past year, arguably the latter role applied. Amid the pandemic, an escape into a favorite song or creation of a new playlist has been a balm for the soul.
Dustee Jenkins, head of global communications and public relations at audio streaming company Spotify, embraces this responsibility with verve. More than 345 million people worldwide stream Spotify's music and podcasts every month.
"Music has given people some relief during this difficult time," says Jenkins, "We leverage music to respond to uncertainty, challenges and even bright spots."
The experience of the pandemic is in many ways reflected in the playlists created by listeners over the past year. To wit, there were playlists created for baking bread, cutting hair at home, working from home and spring cleaning.
Jenkins spoke to us from her home in New York City, where she has been managing a global team of almost 70 communicators, helping to keep 7,000+ employees engaged and informed, and counseling Spotify on its efforts to support the millions of musical artists and podcast creators and their teams financially impacted by the pandemic.
"There has never been a better time to be in communications," she says. "We are not just an output for the teams we support across the business, the partner you bring in at the end to write the press release. We are being asked to play the role of strategic communicator, managing risks and driving decisions across the organization—which for companies of all sizes, has been entirely upended by this pandemic."
Be first to arrive, last to leave
Jenkins began her career answering phones on Capitol Hill and managing constituent issues for the office of Sen. Kay Bailey Hutchison, who represented her home state of Texas. She would arrive at work before sunrise to read all the news items and clip them for the senator, aiming her sights at the press office. "I was likely the most sleep deprived person in that office, but always knew exactly what was going on around the world, including in small towns across Texas. This was something the Senator really valued and where I could differentiate myself." she recalls.
After serving as deputy press secretary and then and press secretary for Sen. Hutchison, Jenkins became director of communications with the U.S. Dept of Housing and Urban Development, then joined agency Hill + Knowlton Strategies as director of media relations and crisis communications.
Before joining Spotify in late 2017, Jenkins spent seven years at Target as senior vice president and chief communications officer. During that time, in 2013, the retailer was hit with a major data breach, which led to Target paying $18.5 million in a multistate settlement in 2017.
"The first days of the data breach were dark days as I watched the fall of such a beloved brand. We knew we had to do right by our guests," says Jenkins, referring to Target's customers as guests. "It was one of the biggest challenges of my career, but we operated with transparency and worked daily to re-earn trust."
While at Target, the CEO asked her to take on internal communications and reimagine the department. Up to that point, Jenkins viewed internal comms as "formal and corporate," and initially declined, but she soon changed her tune, seeing the opportunity to help engage more than 350,000 employees in an entirely new way.
"I thought about how we could bring internal and external voices together. Brian Cornell gave me a blank sheet of paper and the permission to reimagine everything. We restructured the entire internal communications role and made the voice of the company much more approachable."
Embedded in the Business
As with all communications leaders, a strong, trusted relationship between comms and the CEO is integral to advancing ideas and positioning communicators in a strategic business role. Spotify founder and CEO Daniel Ek, based at the company's headquarters in Stockholm, empowers Jenkins to take risks that underscore his commitment to transparent communications.
"He's invested in truly understanding communications and thinks a lot about employee communications, in particular, which can be an afterthought in many companies," she says. "He pushes me and allows me to disagree with him. Every once in a while, I even change his mind."
At Spotify, communications is embedded across the business, and internal and external comms are viewed as one unit. Jenkins questions why a company would splinter its internal and external voices. "Employees don't want to read one thing about the company in the news and hear a different thing on the company intranet. Employees are savvy and they expect transparency in good and bad times and need to have a solid understanding of the company strategy to do their job."
While Jenkins is a glass-half-full person, she concedes there's been constant pressure on communicators in the past year and surely for the year ahead. "Public Relations is always near the top of the list for most stressful jobs," she says. "We are dealing with a series of unknowns, so as communicators we need to be comfortable operating in the unknown on a daily basis."
A warm hug on Zoom
To keep her global team connected, Jenkins borrowed a page from her experience working in the Bush administration when she and the team would have daily huddles. Now, Jenkins and her entire global team get on a call for 30 minutes every morning. "Asia is going to bed and the U.S. is just waking up. In 24 hours so much can change; it's important everyone is aligned on the issues and stories taking shape around the world."
These daily huddles, she describes as "a virtual warm hug."
Jenkins is a shining example of women breaking the glass ceiling but sees a long and winding road to equity. "Because of this pandemic, so many women are leaving the workplace, and progress is slow, between the number of women leading top companies to the number of women on boards," she says. "The results so far don't reflect the conversations we're having."
She is the mother of two young children, son Hutch, 4, and daughter, Havanna, 7. She is deliberate when she talks to Havanna about her job. "I tell her how much I love my job and that it helps me to be an awesome person and a better mom," she says. "You need to say you love your job, to say it out loud so that kids know it's a choice you are proud to make—not a burden to carry."
The explosion of podcasts
With more than 2 million podcasts on its network, Spotify is one of the leading platforms for audio storytelling. The Joe Rogan Experience, exclusive to Spotify, is the most-listened to podcast with 200 million downloads per month, and has earned the comedian/UFC commentator upwards of $30 million a year (per Forbes).  The top genres for Spotify podcasts reflect a certain mood, as well, with true crime and mental health/wellness podcasts topping the list.
Before launching your own podcast, Jenkins cautions brands to thoroughly consider time and resources. "You need to understand what you are signing up for when you commit to producing a podcast. The good news is that you don't need a lot of technical resources to produce one. For our own team's Spotify For the Record podcast, we are not at a studio producing it – we're at home with a blanket on our head in the closet recording the podcast."
But successful podcasts require a consistent production schedule, content with a point of view, and guests and hosts who are transparent and show some vulnerability. "No one wants to listen to a commercial for your brand." That transparency also applies to brands advertising on podcasts – a burgeoning revenue stream expected to generate more than $3.5 billion in ad revenues globally across all podcasts.
Always let them know you're there
Jenkins grew up in a small West Texas town among strong women, including her mother, who owned an engineering firm, and her grandmother. "My grandma was feisty and fiery and told me to come early, stay late and always let them know you're there."
Jenkins used to be someone who worried about what she said in a meeting or group setting, and how she was perceived. She attributes that to an meaningful conversation with a former manager early in her career who commented, "You need to get a dimmer switch." For about a year and a half, Jenkins says she became quiet, demure. "I do think the advice was well-intentioned but it was counter to what I believed and who I was at my core. It really threw me for a while."
It wasn't too long before Jenkins deleted that advice.
When recently she was asked to write a letter to her third-grade self, she wrote "Dear Dustee, Keep talking. Someday they will pay you to do it."
COMMENT