Twitter users slam NYT over non-apology, promoted posts on social media appear less 'authentic' and Google pushes a return to the office
Also: Elon Musk tweets an invitation for union organizers to hold vote at Tesla, and more.
Hello, communicators:
Elon Musk invited (via tweet, of course) the United Auto Workers (UAW) to hold a vote on unionizing the Tesla workers at a factory in Fremont, California.
Our real challenge is Bay Area has negative unemployment, so if we don't treat and compensate our (awesome) people well, they have many other offers and will just leave!

I'd like hereby to invite UAW to hold a union vote at their convenience. Tesla will do nothing to stop them.

— Elon Musk (@elonmusk) March 3, 2022
The invitation came as part of the latest development in the Tesla CEO's beef with President Joe Biden, who he says has been "ignoring" Musk and Tesla while simultaneously uplifting the efforts of other U.S. automakers that are developing electric vehicles.
Musk has been vocally anti-union in the past, and in 2019, a judge found Tesla management guilty of 12 actions that violated U.S. labor laws, including "letting security guards harass workers who were passing out union pamphlets in the parking lot, banning employees from wearing pro-union T-shirts and buttons, repeatedly interrogating union organizers, and eventually firing one of them."
Recent research shows Americans are broadly in favor of workers' unions, and as more workers organize across the country, Musk's tactics could be a bellwether for the future of labor relations. At the very least, his approach will be unique, full of the online swagger that has become his trademark.
Here are today's other top stories:
Social media flames NYT after mislabeling photo of tennis star Venus Williams
The New York Times erroneously published a photo of tennis star Venus Williams alongside a print story about her sister, Serena Williams, a global feminist icon and tennis star in her own right.
Serena called out the paper in a tweet, writing, "No matter how far we come, we get reminded that it's not enough," referencing the concerning pattern of media outlets and reporters misidentifying people of color.
No matter how far we come, we get reminded that it's not enough. This is why I raised $111M for @serenaventures. To support the founders who are overlooked by engrained systems woefully unaware of their biases. Because even I am overlooked. You can do better, @nytimes. pic.twitter.com/hvfCl5WUoz

— Serena Williams (@serenawilliams) March 2, 2022
The Times' Business section account responded, but did not apologize, writing, "This was our mistake. It was due to an error when selecting photos for the print edition, and it did not appear online. A correction will appear in tomorrow's paper."
Twitter users were not impressed:
What a piss poor response. The error in "selecting photos" is that your systems think all Black people look alike. Own up to THAT. Biased algorithms, racial ignorance and lazy editors. That's how this happened.

— Aisha C. Mills (@AishaMoodMills) March 2, 2022
Holy stating the obvious, Batman.

An "error" that was missed by how many eyes on the way to final print and before distribution?

From journalist to distribution, how many Black people had a hand in producing this piece? My guess is 0.

There lies your problem.

— Secola Edwards (@SecolaEdwards) March 2, 2022
And where in that statement is an apology?

— Liz Ghiselin Stein🇺🇦 (@litknitgrit) March 2, 2022
Why it matters: The newspaper's response, while accurate, fails to address the historical frequency of such misidentifications and the racial bias behind them. When someone in your organization screws up, it's important to own it. NYT Business' tweet addresses that the error was the newspaper's fault, but took no responsibility for the message that mistake sent to Black readers—or employees.
When apologizing, it's crucial to be explicit about what you are apologizing for, especially when addressing racial bias and inequality.
---
MEASURED THOUGHTS
Research from Best SEO Companies reveals more than half of people, regardless of age, believe that sponsored content should be disclosed as such on social media platforms.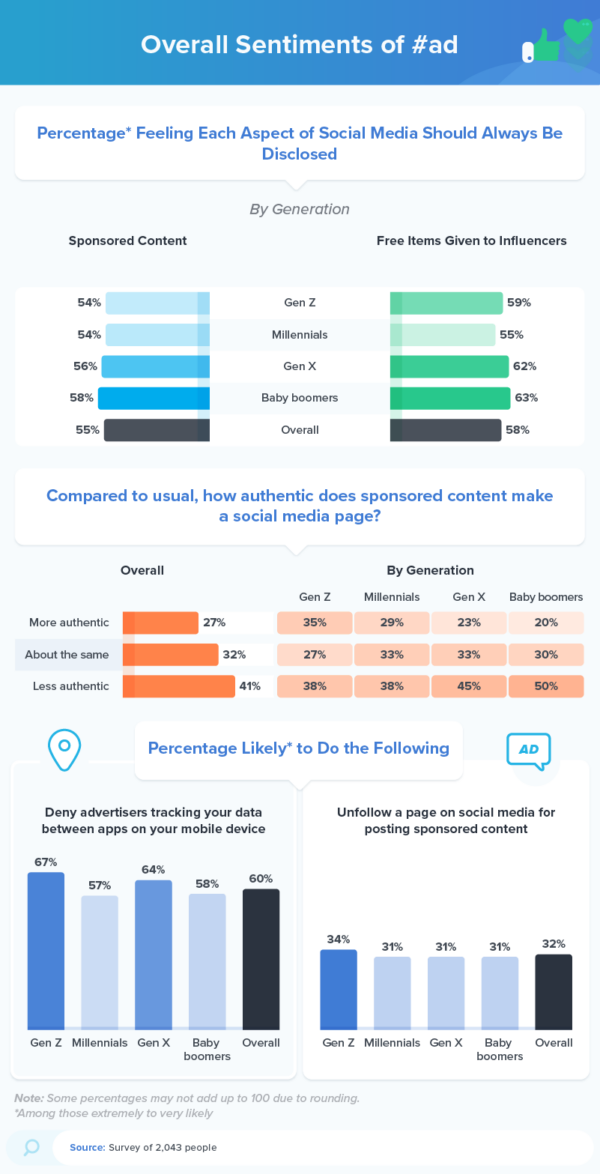 In addition to transparency about sponsored content, 58% of survey respondents said they felt influencers should be upfront about any items they receive free of charge.
Further, the older the audience, they less likely people are to find a social media page using sponsored content authentic. Fifty percent of baby boomers reported finding social media pages with sponsored content less authentic, while just 38% of Gen Z respondents said the same.
View the full report from Best SEO Companies here.
---
TAKE OUR SURVEY
We want to know about your career as a social media professional.
How big is your team? Are you valued at your organization?
If you're interested in helping benchmark the career path potential of social media professionals and shedding light on how social media is internally managed, viewed and evaluated, take our survey. The Social Media Career Survey is a follow-up to a 2020 report by the Institute for Public Relations, Ragan Communications and the University of Florida.
Whether you're in charge of company social media or involved in social media for a client, we welcome your participation.
Respondents will receive a full report on the findings, which will also be shared on PR Daily.   Responses will remain confidential.
Google tells employees to return to offices in April
The tech giant says workers should get back to their offices this spring, citing advances in prevention and treatment for the COVID-19 virus. The push also comes after the Centers for Disease Control and Prevention updated guidance that will see millions of Americans allowed to stop wearing masks indoors.
Google had already begun to relax some of its COVID-19 restrictions after it last pushed off a return to the office originally set for Jan 10 amid the omicron variant surge.
"It's been a long and challenging two years since the vast majority of our people started working from home," wrote John Casey, Google's vice president of global benefits in an email to employees that was viewed by CNBC. "But the advances in prevention and treatment, the steady decline in cases that we continue to see, and the improved safety measures we have implemented across our Bay Area sites now mean we can officially begin the transition to the hybrid work week."
What you should know: Comms pros should be prepared for another big push to return to workplaces and a more "normal" baseline after years of pandemic response. Yet, audiences are likely to be skeptical. This will be the third or fourth attempt from some employers to bring employees back to the office in a major way.
As guidance changes, comms leaders must make clear how future decisions about closing the office again will be made. New variants cannot be ruled out and transparency about how the choices on health safety will be made is paramount.
COMMENT