Credit Suisse defends dealings with criminal clientele, American audiences stick with the union and McDonald's fights activist investor on animal welfare
Also: TikTok stars make more than top CEOs and more.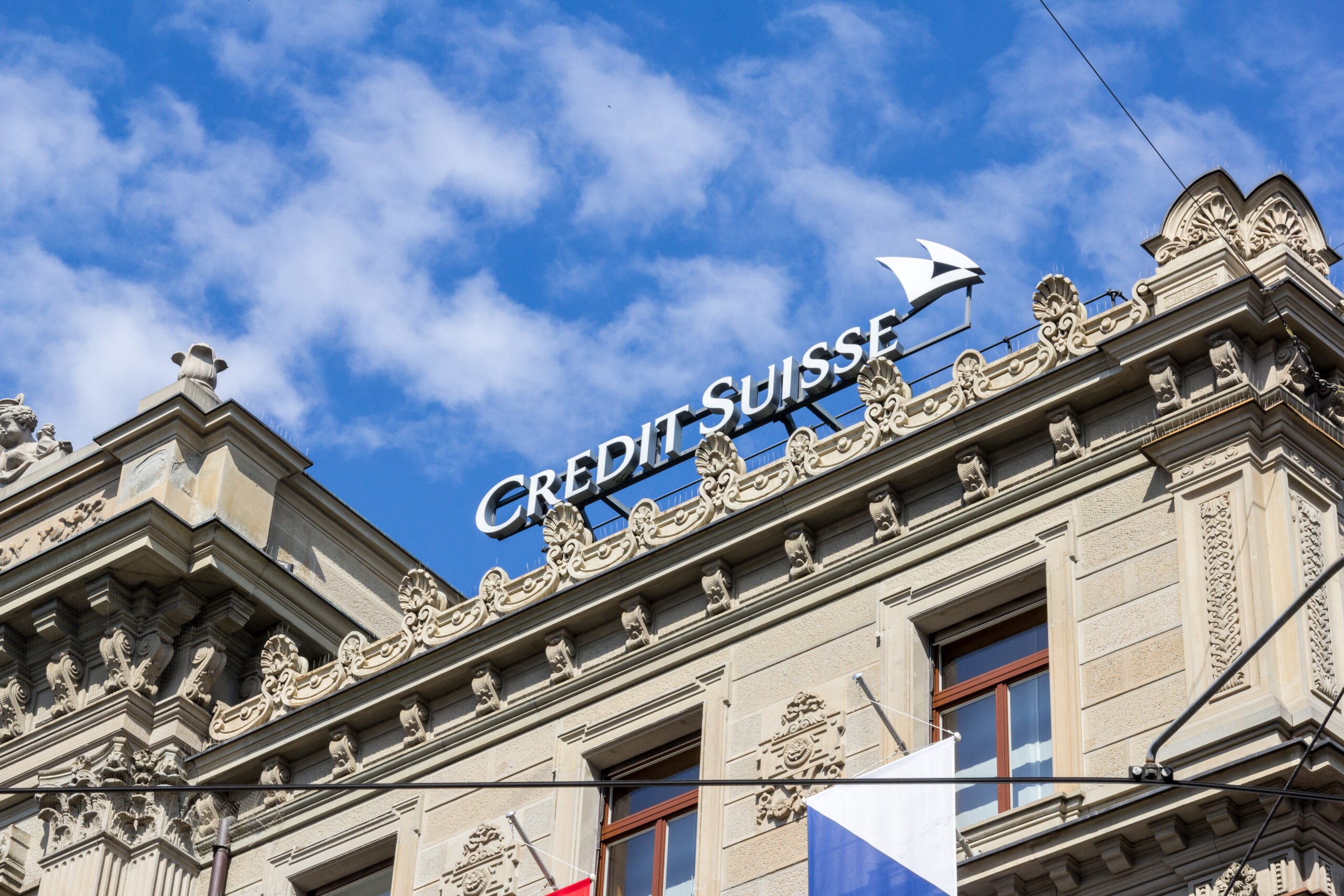 Hello, communicators:
A 17-year-old made more money in the last year than the CEOs of Live Nation, Expedia and Etsy combined.
That teen is none other than TikTok star Charli D'Amelio, whose presence on the short-form video app skyrocketed her and her family to fame and (considerable) fortune. The Wall Street Journal reports that seven of the top-earning TikTok creators made a combined $55.5 million in 2021, up 200% from 2020.
Charli D'Amelio made nearly $2 million more than ExxonMobil CEO Darren Woods last year, and she's not the only influencer out-earning S&P 500 companies' top brass https://t.co/6wpSgqKYeC

— The Wall Street Journal (@WSJ) February 21, 2022
The numbers show the rising power of social media stars and how brands must adapt their strategies to engage with entities that are quickly becoming very big business.
For more on which CEOs brought home less than social media stars last year, check out the Wall Street Journal's full story here.
Here are today's other top stories:
Credit Suisse responds to leak of international client roster
An investigation by The Guardian and other news organizations found that Swiss bank Credit Suisse had provided banking services and accounts to people involved with "torture, drug trafficking, money laundering, corruption and other serious crimes," despite promises to attempt to clean up its involvement with "high-risk" clients.
The leak points to widespread failures of due diligence by Credit Suisse, despite repeated pledges over decades to weed out dubious clients and illicit funds.
In a statement published by the Guardian, Credit Suisse puts its involvement with nefarious customers solely in the past, "including at a time where laws, practices and expectations of financial institutions were very different from where they are now."
Credit Suisse claims that the actions it took were legal at the time they happened and says that The Guardian's investigation is "a concerted effort to discredit the bank and the Swiss financial marketplace, which has undergone significant changes over the last several years."
More from the Credit Suisse statement, as reported by The Guardian:
"In line with financial reforms across the sector and in Switzerland, Credit Suisse has taken a series of significant additional measures over the last decade, including considerable further investments in combating financial crime. Across the bank, Credit Suisse continues to strengthen its compliance and control framework, and as we have made clear, our strategy puts risk management at the very core of our business."
Why it matters: It's becoming commonplace for consumers and stakeholders to demand transparent company policies. Credit Suisse's response doesn't exactly deny the allegations of business dealings with unsavory clients; rather, it reframes the issue as one that has already been dealt with internally.
While Credit Suisse uses its crisis communications to reaffirm its values, its claim that all the allegations were "historical" doesn't align with the facts that two-thirds of the accounts reported in the leak were opened after the year 2000.
---
MEASURED THOUGHTS
A majority of Americans think that the decline of union membership in the U.S. is a bad thing for both the country and working people, according to a new study from the Pew Research Center.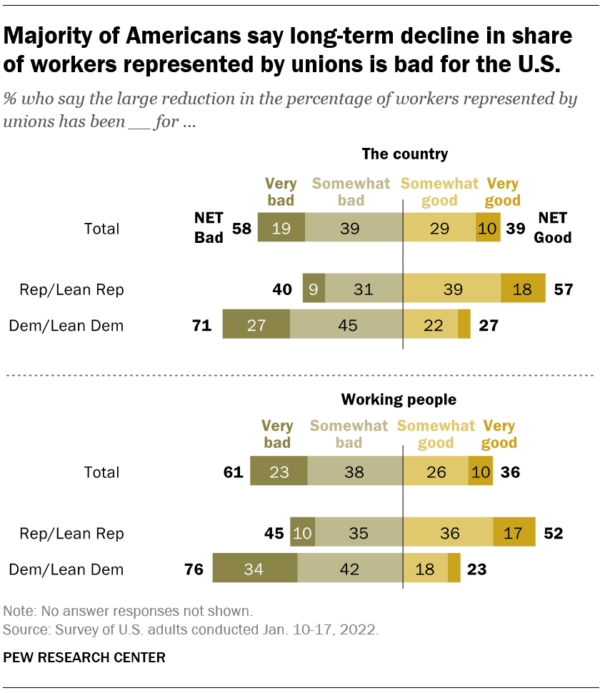 Fifty-eight percent of adults said the "large reduction in the percentage of workers represented by unions" has been very or somewhat bad for the country, while 61% said that the reduction has been very or somewhat bad for working people.
The share of U.S. workers who belong to a union has fallen since 1983, when 20% of American workers were union members. In 2021, 10.3% of U.S. workers were in a union.
According to Pew, Americans' attitudes toward declining union membership have changed very little since last year. The data is important to note for organizations that face a rising tide of union drives and labor organization among their employees. Efforts to convince employees that unions don't have their best interests at heart aren't convincing for a large segment of the U.S.
Check out more from Pew Research here.
---
TAKE OUR SURVEY
We want to know about your career as a social media professional.
How big is your team? Are you valued at your organization?
If you're interested in helping benchmark the career path potential of social media professionals and shedding light on how social media is internally managed, viewed and evaluated, take our survey. The Social Media Career Survey is a follow-up to a 2020 report by the Institute for Public Relations, Ragan Communications and the University of Florida.
Whether you're in charge of company social media or involved in social media for a client, we welcome your participation.
Respondents will receive a full report on the findings, which will also be shared on PR Daily.   Responses will remain confidential.
McDonald's strikes back on welfare of pigs from its suppliers
McDonald's is calling investor Carl Icahn's demands about the treatment of pregnant pigs used for the company's pork "impossible."
Axios reports that Icahn, who owns 200 shares of the fast-food chain, has joined the Humane Society of the United States in asking McDonald's to commit to using "crate free" pork suppliers. Icahn has launched a proxy fight over the issue, nominating two people for board seats.
In a statement, McDonald's fired back at the activist investor, saying the "current pork supply in the U.S. would make this type of commitment impossible."

"Furthermore, it reflects a departure from the veterinary science used for large-scale production throughout the industry, and would harm the Company's shared pursuit of providing customers with high-quality products at accessible prices."
McDonald's also noted in its statement that Icahn is the majority owner of Viskase, a pork products packaging supply company.
"Mr. Icahn's ownership provides him with unique exposure to the industry-wide challenges and opportunities in migrating away from gestation crates," the statement says. "Thus, it's noteworthy that Mr. Icahn has not publicly called on Viskase to adopt commitments similar to those of McDonald's 2012 commitment."
McDonald's' ten-year commitment to ending the use of gestation stalls by 2022 was delayed by supply chain issues related to the pandemic, the company says.
What it means: Activist investors are becoming more of a thorn in many companies' sides, thanks to social media ad an increased consumer interest in ESG. McDonald's statement demonstrates how a company can offer a measured response to claims it isn't living up to its ESG commitments.
It's a reminder for companies that failing to demonstrate meaningful progress on commitments form environmental impact to diversity and employee equity is more than a messaging gaffe. The consequences can be real in the boardroom and with investors who are looking to use their dollars to create change.
---
Announcing the PR Daily Leadership Network
PR Daily has launched the PR Daily Leadership Network, a unique membership group from Ragan Communications offering peer-to-peer advisory and team training along with a unique slate of resources and events to help public relations professionals break through the noise, increase their visibility and forge meaningful connections.
The Network provides daily insights and coverage on a range of topics including media relations, social media, measurement, Diversity, Equity & Inclusion, branding, thought leadership and crisis communications.
"The fast pace of change coupled with the demand on public relations professionals to protect and sometimes defend their company's reputation make it imperative for leaders to tap into the wisdom of other communicators and continue to learn and grow," says Diane Schwartz, CEO of Ragan Communications. "The PR Daily Leadership Network provides the answers but also encourages members to question the status quo and push for positive change."
Visit leadership.prdaily.com to learn more.
COMMENT