USPS defends slower deliveries with fact sheet, Twitter tests slate of in-app safety tools and 49% of all voters say it's too soon to lift mask mandate
Also: Brands take to Twitter to celebrate Earth Day.
Hello, communicators:
Ah, Earth Day. A largely non-controversial, secular holiday during which many people are inclined to share photos of their world travels and outdoor pursuits. It's the perfect recipe for some good-natured brand tweets — usually with colorful photos or custom illustrations.
Let's round some up:
We have always had everything we need on this planet. It provides for everyone as if it were a mother, and we need to protect and care for it accordingly. Happy Earth Day. #earthday #earth #nature #earthdayeveryday #climatechange #happyearthday #photography #savetheplanet pic.twitter.com/Nv4TH74YD0

— Krowd Digital (@KrowdDigital) April 22, 2022
For #EarthDay we are partnering with @onetreeplanted to plant trees 🌲

For every "like" ❤️ we'll plant a tree, for every "retweet" 🔄 we'll plant two trees—up to 10,000 trees.

Every tree matters. pic.twitter.com/UNGHgQq4pc

— DocuSign (@DocuSign) April 22, 2022
Happy #EarthDay tea lovers! Thanks to our amazing planet we get to enjoy our delicious cuppas. Read about our sustainability journey here. https://t.co/QWC6ueSKTJ

— PG tips (@PGtips) April 22, 2022
Earth Day, dudes. pic.twitter.com/CufNElG0Py

— TMNT (@TMNT) April 22, 2022
Earth Day is one of those themed holidays that is hard to get wrong. Use these opportunities to get a little creative with your brand media channels, as long as you're staying on message for your organization.
Here are today's other top stories:
USPS says slower delivery times will save money, resources
The U.S. Postal Service wants customers to know that some of their packages won't be delivered lickety-split anymore, a change that is part of the organization's 10-year improvements plan, according to CEO and Postmaster General Louis DeJoy.
The U.S. Postal Service currently considers a first-class package to be late if it's delivered more than three days after it was sent. But under new standards that take effect next month, more than 30% of first-class packages will be seen as delivered on time if they arrive within four or five days.
"The Postal Service is continually looking for ways to improve performance and provide customers with consistent, cost-effective, and reliable service," Kim Frum, a USPS spokesperson, said to NPR. "Modifying service standards would allow for additional transport time and increased efficiencies across the networks."
In addition to a press release, USPS also published a fact sheet about the operational changes, which include graphs and Q&A sections that answer common queries.
The fact sheet asks consumers to do two things: Plan ahead to mail packages early and  continue using the USPS for package shipping services.
Why it matters: The fact sheets contain some valuable information, but will most consumers be able to find the document? Some of the graphs and stats from the fact sheet could easily be turned into shareable, digestible social media posts that are more likely to get views and engagement than a long fact sheet. USPS' message is getting lots of attention from legacy media outlets, but a good way to make sure you're reaching all of your intended audience is to tell your story yourself on social media.
---
MEASURED THOUGHTS
New research from Morning Consult indicates companies that have lifted their mask mandates should move forward with consideration for travelers who say it's too soon to do so.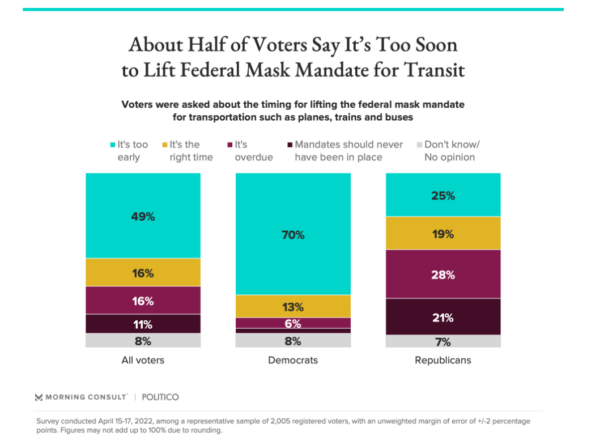 Forty-nine percent of all voters surveyed said that it's too soon to lift the federal mask mandate for transit. The survey was conducted before the Transportation Safety Administration said it would no longer enforce its mask mandate earlier this week.
The partisan politics around masking is interesting, but the part of the survey that is most valuable to PR pros is the fact that nearly half of respondents, regardless of political affiliation, said it was too soon to lift the mask mandate.
Many people will likely continue to wear masks, and companies should craft their mask messaging with consideration for these customers, or risk alienating them.
Read more from the Morning Consult report here.
Twitter tests new in-app safety features
Twitter announced this week a new slate of experimental features to make it easier for users to find and use in-app and third-party safety tools to protect their privacy (and sanity) online.
The experiment will start off small by highlighting apps from Twitter's recently launched "Twitter Toolbox" collection of ready-made services, specifically in the area of developer-built safety tools, including Block Party, Bodyguard and Moderate. The beta test will only display to select users.

When Twitter users block or mute someone using Twitter's built-in tools via the web app, they'll see a new, non-intrusive prompt that suggests various third-party services that are capable of providing more advanced levels of safety and protection.
What it means: Online audiences are growing more wary of technological intrusions into their privacy. Twitter's new tools are a direct response to that, making it a good example of how to listen to and act on your customers' wants and needs, especially when it comes to something as sensitive as online safety.
---
ATTEND OUR MEDIA RELATIONS CONFERENCE
Join us in New York City on May 11 for a one-day, in-person conference all about media relations and measurement.
At PR Daily's Media Relations & Measurement Conference, you'll learn how to score the coverage your brand deserves and generate results—and then showcase those results to management. You'll also learn the latest measurement tools and methods for everything from internal comms and media relations to social media.
Each attendee will receive a Media Relations & Measurement Conference Certificate of Completion.
Register here before April 27 to receive a special attendance rate.
COMMENT