What brands should to expect after SCOTUS decision on Roe, Ulta's Kate Spade promo goes awry and social media platforms fail to filter out hate speech
Also: Why reporters may be relying more heavily on PR pros in the near future.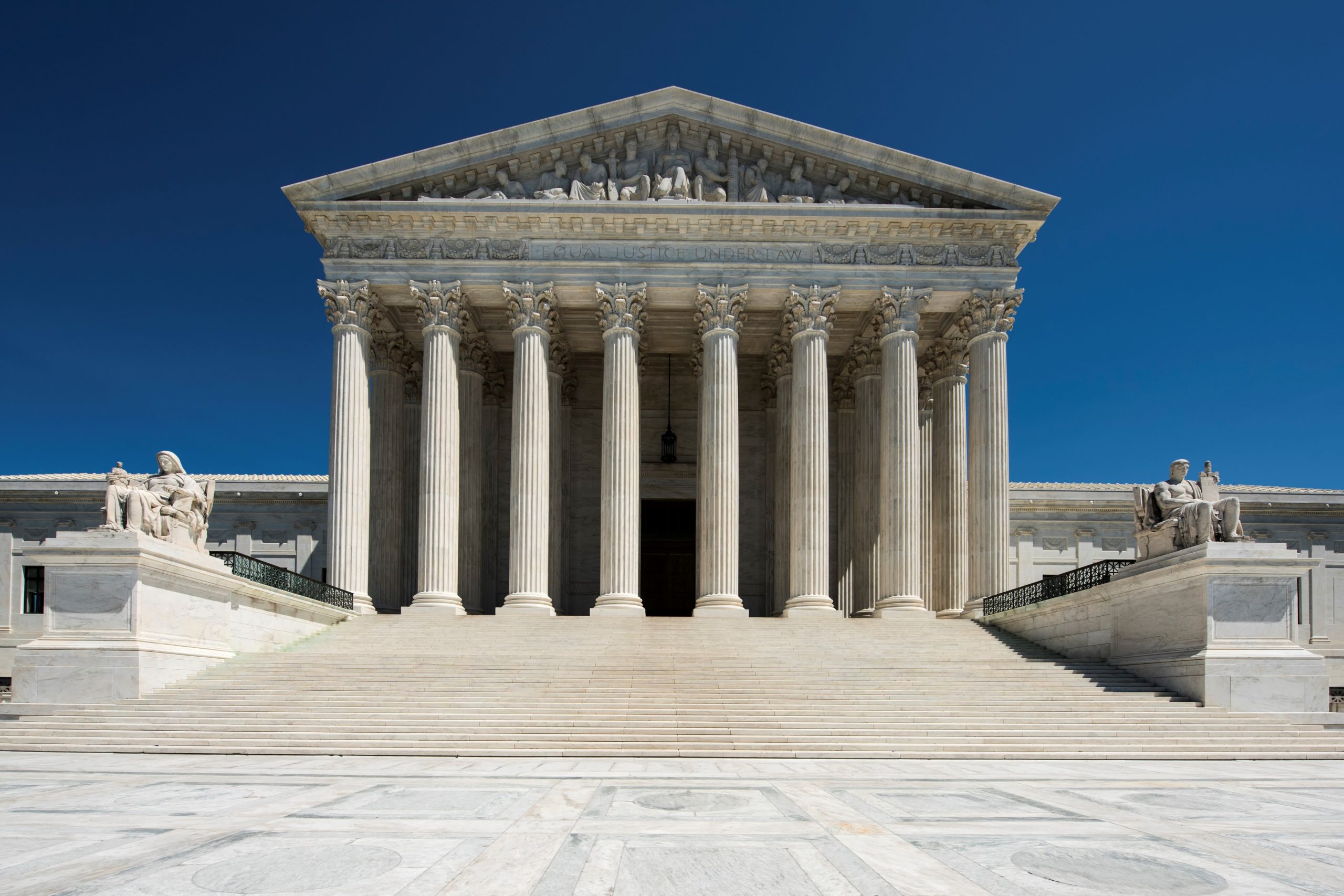 Hello, communicators:
Sourcing for stories is about to get a little bit harder for our friends in journalism.
According to reporting by NPR, Google will now allow users to request that their personal information be scrubbed from its search results. That includes contact information like phone numbers, mailing addresses and email addresses.
The new policy sharply lowers Google's bar for removing data from search results. While it previously offered to scrub personal and financial information in cases of a real or potential threat — such as doxxing or identity theft — the company says people can now ask for their information to be removed even if there's no clear risk.
The move could signal an increased reliance on PR pros for expert and anecdotal sources for news and feature stories alike. Make sure your pitching chops are up to speed.
Here are today's other top stories:
Companies should expect pressure on abortion rights issue
A leaked draft of a bombshell U.S. Supreme Court ruling that would overturn Roe v. Wade may be cause for concern for companies leery about speaking out on social issues.
In the recent legal fight over abortion rights in the U.S., several companies announced they would provide travel funds for their employees to seek abortion-related care outside of states, like Texas and Oklahoma, where abortion services had become limited.
Food delivery service Yelp and financial services company Citigroup both announced earlier this year that they would cover travel expenses for Texas-based employees who had to leave the state to seek abortion care. Amazon just announced its own policy earlier this week.
PR firm Bospar has had its own abortion care relocation plan in place since September 2021.
Bospar principal Curtis Sparrer says the firm is looking to encourage other companies to speak out, tying the issue of reproductive rights to other social issues, too:
We are proud Bospar was first in the nation to cover relocation expenses for staff seeking reproductive freedom. We want other companies and PR agencies to join the fight, especially since many are composed of women and are led by women.  The rights of women are not just on the line. So is the fate of LGBTQIA people.  As someone who credits his same-sex marriage to the legacy of Roe, I am imploring my colleagues and friends to end their silence and speak truth to power. We are stronger together.
Why it matters: As the issue of reproductive rights becomes part of the American political conversation once again, companies may feel increased pressure to speak out. Organizations considering staying silent on the issue may want to consider what can happen if they decline to issue a statement, à la Disney's squabble with Florida's "Don't Say Gay" bill.
Employer branding will come into play as well, as potential new hires expect more from their future employers when it comes to social issues and corporate responsibility.
---
MEASURED THOUGHTS
A new report from the Center for Countering Digital Hate has found that five top global social media companies failed to address anti-Muslim posts, even when those posts were reported to moderators.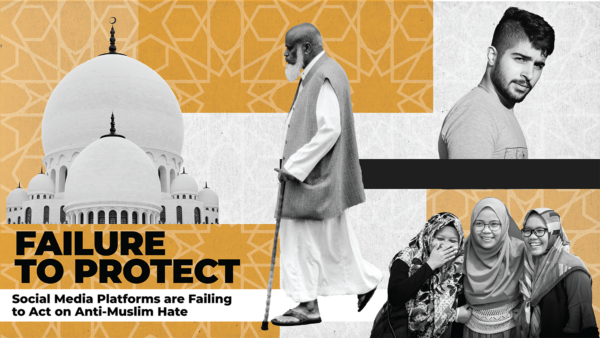 The report finds that Facebook, Instagram, TikTok, Twitter and YouTube collectively failed to act on 89% of posts containing anti-Muslim racism or Islamophobia.
CCDH says that 530 posts it flagged as containing anti-Muslim sentiment were viewed at least 25 million times.
Facebook: failed to act on 118 of 125 = 94.4% failure to act rate

Twitter: 102 of 105 = 97.1%

YouTube: 23 of 23 = 100%

Instagram: 195 of 227 = 85.9%

TikTok: 32 of 50 = 64%
This data comes just three years after the Christchurch attack, a deadly 2019 terror attack on mosques in New Zealand.
Meta, Google, YouTube and Twitter all signed New Zealand Prime Minister Jacinda Arden's "Christchurch Call to Action," pledging to take action against the distribution of terrorist content online.
Read more from the CCDH report here.
Ulta apologizes for insensitive Kate Spade promotional email
Retailer Ulta Beauty faced nearly immediate backlash Monday after sending out an email asking customers to "come hang with Kate Spade" as a way to promote the brand's new fragrance. The unfortunate phrasing seemed to allude to Spade's death by suicide in 2018.
@ultabeauty @katespade Ulta, you might need to speak to your marketing staff. I just got an email from you saying "come hang with Kate Spade." The actual Kate Spade hung herself with a scarf. Do better.

— Betsy Gray (@BetsyGray) May 1, 2022
.@ultabeauty @katespadeny This is extremely inappropriate and insensitive. Kate Spade is no longer with us due to mental illness and suicide by hanging. I really hope an apology is in the works. #katespade #ulta #suicide #SuicideAwareness #MentalHealthMatters pic.twitter.com/vC1TZicARa

— C Parrish (@holdontosanity) May 1, 2022
The company quickly followed up with a second email apologizing to its audience for its lack of tact.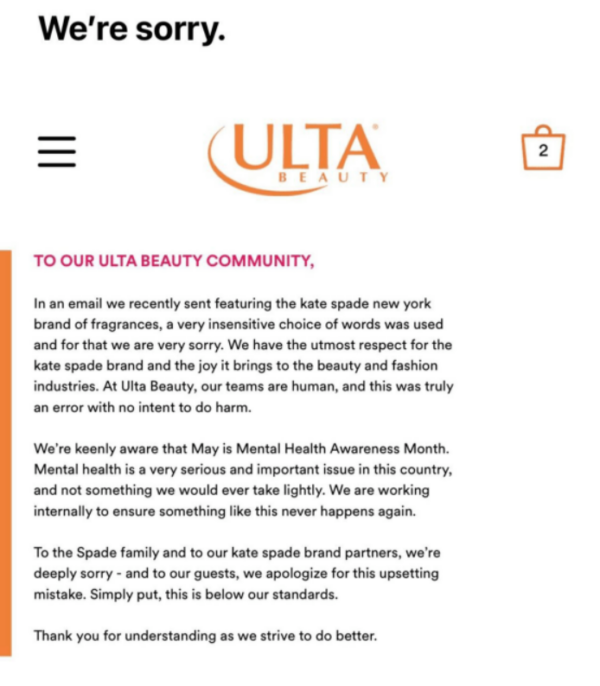 (Image via Ulta Beauty via Today.com)
In addition, Ulta spokesperson Eileen Ziesemer provided the following statement to NBC News:
"We sincerely apologize. Mental health is a very serious, important issue in this country, and not something we would ever take lightly. Thank you for understanding as we strive to do better."
What it means: This is a case study in having multiple pairs of eyes on any customer-facing copy that your organization distributes or publishes. While the error is an honest mistake, it is something that could have been avoided by having more people proofread the email. It's important to edit your copy not just for what you mean it to say, but the potential misreadings of the words you're using as well.
---
ATTEND OUR MEDIA RELATIONS CONFERENCE
Join us in New York City on May 11 for a one-day, in-person conference all about media relations and measurement.
At PR Daily's Media Relations & Measurement Conference, you'll learn how to score the coverage your brand deserves and generate results—and then showcase those results to management. You'll also learn the latest measurement tools and methods for everything from internal comms and media relations to social media.
Each attendee will receive a Media Relations & Measurement Conference Certificate of Completion.
Register here before April 27 to receive a special attendance rate.
COMMENT