Better.com faces new layoff outrage, Disney CEO condemns 'Don't Say Gay' bill and TikTok gets the most engagement
Also: A Yale professor has compiled a list of companies continuing to do business in Russia.
Hello, communicators:
A Yale professor is keeping a running list of which companies are continuing to do business in Russia.
Jeffrey Sonnenfeld and the research team at Yale's Chief Executive Leadership Institute are keeping tabs on which organizations are still operating in the country with a downloadable database that is updated in real time.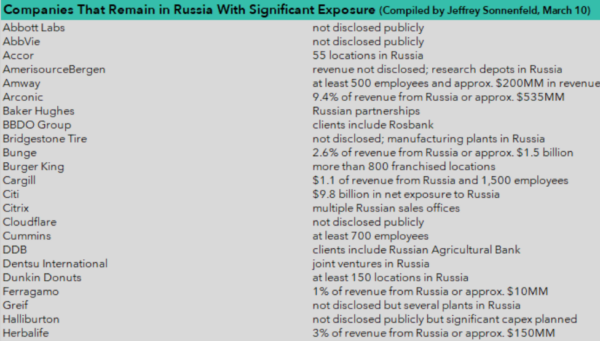 "Despite the cost of abandoning major investments and the loss of business, there is a strong reputational incentive to withdraw," Sonnenfeld wrote in an essay published by Fortune. "Companies that fail to withdraw face a wave of U.S. public resentment far greater than what they face on climate change, voting rights, gun safety, immigration reform or border security."
Here are today's other top stories:
Better.com's latest layoffs gaffe shows glaring comms missteps
Employees at digital mortgage lender Better.com are facing another round of mass layoffs, and according to reporting from TechCrunch, workers were alerted to the fact they were about to lose their jobs when severance checks appeared in their payroll accounts.
From TechCrunch's Mary Ann Azevedo's interview with an anonymous employee:
Apparently, when execs realized their mistake, they deleted the checks from some people's Workday accounts. According to the employee, the severance checks arrived without any additional communication from the company.

The employee told me:

Better Layoffs have started. Severance showing in our Workday app (which is payroll) as of 12 AM respective time zones. No email, no call, nothing. This was handled disgustingly.

The employee — who had an inkling that the cuts were coming — added: "Leadership remained absolutely silent, never acknowledged anything in regards to layoffs. They still haven't."
Kevin Ryan, Better.com's CFO, addressed the situation in an email to employees.
The company's reputation first took a hit in late 2021, when CEO and co-founder Vishal Garg announced layoffs to affected employees in an emotionless Zoom call. The latest round of layoffs promises another unforgiving news cycle.
Why it matters: Linda Thomas Brooks, CEO of PRSA, says that Ryan's apology wasn't enough.
"Learning that you're being laid off is never welcome news, so great thought and planning should be put into how that news is delivered," she says. "The communications strategy for this type of decision must include input from senior leaders across all departments and coordination on the timing and execution of the plan. While an apology was issued and an explanation made, transparency and the human touch should always be front and center, never an afterthought."
---
MEASURED THOUGHTS
New data from SocialInsider shows the average engagement rate of TikTok content is more than five times higher than that of content from Instagram, Facebook and Twitter.
Through 2020 and 2021, Twitter saw the smallest rate of engagement, with averages of 0.06% and 0.05% each year.
TikTok's engagement rates increased from 5.11% in 2020 to 5.96% in 2021. These numbers serve as a reminder to continuously look for new ways to engage your audiences—even if it's on an app dominated by dancing teenagers.
Is your organization on TikTok? What types of videos have been most successful for your brand? Let us know on Twitter using the #DailyScoop hashtag.
View the full SocialInsider report here.
---
TAKE OUR SURVEY
We want to know about your career as a social media professional.
How big is your team? Are you valued at your organization?
If you're interested in helping benchmark the career path potential of social media professionals and shedding light on how social media is internally managed, viewed and evaluated, take our survey. The Social Media Career Survey is a follow-up to a 2020 report by the Institute for Public Relations, Ragan Communications and the University of Florida.
Whether you're in charge of company social media or involved in social media for a client, we welcome your participation.
Respondents will receive a full report on the findings, which will also be shared on PR Daily.   Responses will remain confidential.
Disney takes a stand on 'Don't Say Gay' bill following backlash
After earlier inaction angered employees and consumers alike, Disney CEO Bob Chapek has taken a public stance against recent anti-LGBTQ+ legislation in Florida.
Earlier this week, Chapek wrote in an email to employees that the company would not take a stance on Florida's "Don't Say Gay" bill, which would ban the discussion of sexual orientation and gender identity in grade-school classrooms. The outcry was swift—#boycottDisney began trending on Twitter.
In an off-camera virtual meeting Wednesday, Chapek walked back his declaration that the company wouldn't take sides.
"While we've been strong supporters of the community for decades, I know that many are upset that we did not speak out against the bill," said Mr. Chapek, who made his remarks off camera during the virtual meeting. "We were opposed to the bill from the outset, and we chose not to take a public position because we felt we could be more effective working behind the scenes directly with lawmakers on both sides of the aisle."

Since that effort failed, Mr. Chapek said, with the Florida Legislature passing the bill on Tuesday, he had called Gov. Ron DeSantis on Wednesday "to express our disappointment and concern that if legislation becomes law, it could be used to unfairly target gay lesbian, nonbinary and transgender kids and families."
Chapek added that Disney would donate a total of $5 million to LGBTQ+ advocacy organizations, including the Human Rights Campaign (HRC). HRC declined the donation, with the organization's president writing that the nonprofit would not accept Disney's money "until we see them build on their public commitment [to support LGBTQ+ families]."
What you should know: Choosing inaction on social issues isn't how your company will avoid the issue. The decision to stay silent is a choice that will be increasingly questioned as advocacy groups push business leaders to address the topics that matter to them.
For Disney, the work required to rebuild its reputation with LGBTQ fans and employees will require more than a walking back its recent statement. As evidenced by HRC's decision to decline the company's donation, it's hard to get back the trust of your audience once it is lost.
COMMENT