What to know about the flop of CNN+, WFH double standard threatens employer branding and sponsored social media posts skyrocket
Also: The bus system in Anchorage, Alaska offers a cautionary tale with Easter social media mishap.
Hello, communicators:
Last weekend marked a time of religious tradition around the world, with families gathering to celebrate Easter, Passover and Ramadan.
Unfortunately, for the public transportation department in Anchorage, Alaska, last weekend's attempt to hop into the holiday spirit went a little awry. NSFW-level awry.
"Move over, Easter Bunny, there's a new mascot in town!" the Facebook post read. "Say hello to the Easter Bussy, and they're not hiding anything!"
"Bussy" was meant as a play on words, combining "bus" with "bunny." However, the word has a very different definition in popular culture. The social media gaffe was compounded by an attempt to play with the Easter bunny's well-known penchant for hiding eggs, but "they're not hiding anything" proved to be an unfortunate choice of words.
The account issued an apology, which was met with good-natured comments from locals and observers alike:
Anchorage People Mover officials acknowledge "Easter Bussy" was a rhyming Easter post gone wrong.

Admits that the meaning of Bussy was "news to us" pic.twitter.com/prVb4rVJVP

— Wesley Early (@wesley_early) April 18, 2022
It's a good reminder that when using word play in messaging, it's a good idea to double-check any words or phrases that your team dreams up, just in case there's an unintentional double entendre just waiting to explode your social media feeds.
Here are today's other top stories:
What PR pros should know about the demise of CNN+
Warner Bros. Discovery announced Thursday it will shut down its new subscription streaming service, CNN+, on April 30 after just one month of operations, according to reporting by Variety.
CNN+ reported a meager 150,000 subscribers since its March 29 launch, while HBO and HBO Max, (services also owned by parent company Warner Bros. Discovery) recently shared that their audience has reached 76.8 million global subscriptions.
According to reporting from Axios, Warner Bros. Discovery has laid off long-serving CNN CFO Brad Ferrer and is looking to eliminate other high-level positions.
Discovery executives are focused mostly on returning CNN to its journalistic core, a point Warner Bros. Discovery CEO David Zaslav reiterated in a town hall last week. That includes less of a focus on primetime perspective programming, and more of a focus on hard, breaking news. CNN+ features an array of soft news content, which doesn't align with Discovery's broader vision for CNN.
Why it matters: PR pros should heed the flop of CNN+ when considering media relations strategies. As many streaming services are growing by leaps and bounds (sorry, Netflix, not you), it's a telling indictment of the waning power of U.S. broadcast news. Consider taking a look at your earned and paid media strategies and evaluating how heavily you rely on broadcast television for exposure. Maybe it's time to try something new.
---
MEASURED THOUGHTS
According to a new data presentation from Banklesstimes.com, the number of sponsored posts across all social media platforms increased by 27% last year.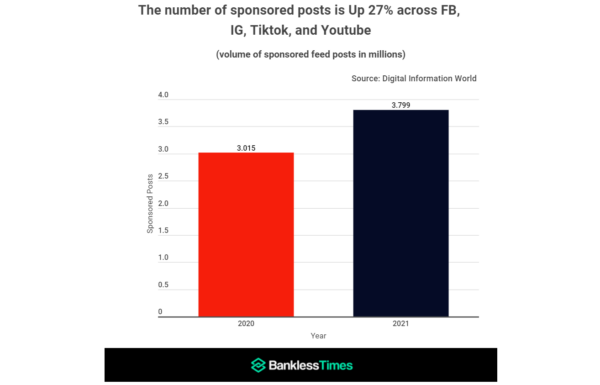 Social media channels saw sponsored posts increase to a whopping 3.799 million in 2021, compared to 3.015 in 2020.
Instagram takes the prize for those seeking an effective advertising medium. It accounts for 94% of all social media ad campaigns. Meanwhile, TikTok and YouTube attracted thirteen and ten percent of ad traffic, respectively.

That said, TikTok continues attracting micro-influencers in their droves. Statistics indicate that nearly 38% of the platform's sponsored posts and commercial content came from influencers with an under 50K following.
It's a good reminder to PR pros about the power of influencer marketing — but also a warning to be wary of over-saturating your audience's feeds with too much pay-to-play content.
Read more from Banklesstimes.com here.
---
ATTEND OUR MEDIA RELATIONS CONFERENCE
Join us in New York City on May 11 for a one-day, in-person conference all about media relations and measurement.
At PR Daily's Media Relations & Measurement Conference, you'll learn how to score the coverage your brand deserves and generate results—and then showcase those results to management. You'll also learn the latest measurement tools and methods for everything from internal comms and media relations to social media.
Each attendee will receive a Media Relations & Measurement Conference Certificate of Completion.
Register here before April 27 to receive a special attendance rate.
Survey reveals double standard for top execs working remotely
A new survey shows that while C-suite leaders are pushing employees to return to work in person, they might not be following their own rules.
The latest Future Forum Pulse surveyed thousands of workers across the globe about their preferred ways of working and found that "non-executive employees are nearly twice as likely as executives to be working from the office five days a week."

Executives are also failing to offer the transparency and clarity that employees are asking for. Knowledge workers who say their employer is not being "transparent about their future-of-work plans" are more than three times as likely to say they will "definitely" seek a new employer in the coming year.
What it means: Internal executive communications are intrinsically linked to your company's employer branding, meaning that how your execs treat your workers can be a PR asset — or nightmare. It's worth working with your internal comms team and C-suite members to ensure a standard of consistent, caring messaging.
And make sure that leaders are seen living up to the demanding standards that they set for others.
COMMENT