Yelp to cover travel for TX workers seeking abortions, top concerns for metaverse skeptics and Snapchat aims publish more news outlets
Also: Lizzo's PR team launches full-court offense ahead of the singer's new shapewear drop.
Hello, communicators:
Pop music star Lizzo's PR team is pulling out all the stops ahead of the debut of the singer's new shapewear line, which is set to launch April 12.
It's shaping up to be a big week for the star. Lizzo will serve as host and musical guest on this weekend's episode of Saturday Night Live. Additionally, the singer released a video of herself climbing onto a private jet in what can only be described as assless chaps, which sent Twitter users into a frenzy.
Lizzo Bares Almost All as She Boards a Private Jet in Shapewear from Her New Yitty Line https://t.co/PB2ACtiXWT

— People (@people) April 12, 2022
As of Tuesday morning, "Lizzo" is trending on Twitter — and her shapewear line, Yitty, hasn't even launched yet.
There is a lesson to be learned here for PR pros: Ahead of a product launch or big event, a steady cadence on social media can build buzz and boost engagement. And provocative content can boost your reach even further — people love a scandal.
Here are today's other top stories:
Yelp to cover travel for TX workers seeking abortion care out of state
Hospitality review company Yelp announced this week it will join banking giant Citigroup in covering travel expenses for its Texas-based employees who must leave the state to seek a legal abortion.
While "backlash gets a lot more attention," Yelp is not concerned about how its program, which starts next month, will be received, said Miriam Warren, the company's chief diversity officer. She and other executives have received many personal notes thanking Yelp for taking a stand on abortion, she said.

The move, which comes as companies vie for talent in a tight labor pool, will help Yelp maintain a more diverse and inclusive work force, Ms. Warren said. "We want to be able to recruit and retain employees wherever they might be living," she said.
The move isn't Yelp's first foray into protecting reproductive rights. NYT reports that in 2018, the company said it would "do more to make sure Yelp users clearly understood the difference between abortion clinics and "crisis pregnancy centers," which aim to steer people away from terminating a pregnancy."
"We've long been a strong advocate for equality in the workplace, and believe that gender equality cannot be achieved if women's healthcare rights are restricted," Warren wrote in an emailed statement to PR Daily. "As a remote-first company with a distributed workforce, this new benefit allows our U.S. employees and their dependents to have equitable access to reproductive care, regardless of where they live."
Why it matters: While Citigroup has been mostly quiet about its move to pay travel fees for Texas-based employees seeking abortion care, Yelp's deployment of its chief diversity officer frames its news as an intentional employer branding move. When it comes to employer branding specifically, it's crucial for PR pros to consult internal comms teams to make sure messaging is uniform across external and internal channels — or companies risk being accused of organizational gaslighting.
---
MEASURED THOUGHTS
New data analysis from Morning Consult shows data privacy is Americans' No. 1 concern when considering the metaverse.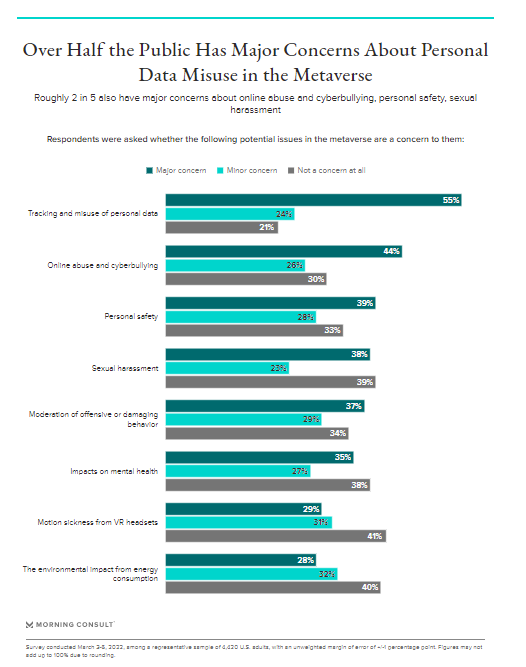 Fifty-five percent of survey respondents called tracking and misuse of personal data in the metaverse a major concern, with 24% calling it a minor concern.
Additionally, roughly 2 in 5 respondents said they're majorly concerned about the possibility of online abuse and cyberbullying in the metaverse.
Morning Consult's Chris Teale writes:
Meta Platforms Inc. already has given an indication of its intentions for the metaverse through a series of patent approvals this year, which include letting users have authentic eye and body movements. Elected officials worry that tracking those movements will mean Meta will collect scads of data on its users.
Fears about data privacy and content moderation concerns are something brands entering the metaverse will have to address if they want to gain their audiences' trust.
As an example, toy company Lego's recent announcement about its partnership with Epic Games to build a family-friendly virtual world included details about the steps the companies were taking to protect users and their data.
Read more from the Morning Consult report here.
---
TAKE OUR SURVEY
We want to hear from our community about how their thinking has changed on media relations and its value inside their organization. If you work in communications, please take our short survey to help us chart the value of media relations for 2022.
The survey will take less than 10 minutes to complete and participants will be entered in a drawing for a $100 credit toward a Ragan event. All individual responses will be kept confidential.
Results from the survey will be shared at PR Daily's Media Relations and Measurement Conference in New York City on May 11.
Snapchat makes it easier for news orgs to publish breaking news
The social media platform Snapchat wants to become a major player in new distribution.
The company announced a new feature this week that will allow many news organizations to publish directly to the app using RSS feeds, Axios reports.
Sources from Snap's partners, who have been in testing for months, say so far the partnership hasn't driven significant income, but it offers publishers an opportunity to reach the ever-distracted Gen Z audience.
The big difference for Snapchat's news feed is how the company regulates who can and can't publish. Axios continues:
Snapchat has long avoided some of the regulatory scrutiny that has plagued its peers by focusing on content moderation.

It does not offer an open newsfeed where unvetted content can go viral to a large audience. Only verified publishers are a part of its Discover content platform.
What it means: As news organizations find new ways to reach their audiences, PR pros must adapt to the different forms of storytelling. When pitching to journalists, consider how their outfit might use your story. Does it lend itself to long- or short-form video? Perhaps it would do better in print or on the radio.
As social media platforms vie for news-obsessed audiences, consider how you can make your story a perfect fit for a news outlet's latest digital venture. If you've got the perfect resource for a Snapchat item, it might need to be shared earlier in your pitch.
COMMENT