A shortcut to story structure: 'And, but, therefore' offers a speechwriting roadmap
Douglass Hatcher, a speechwriting guru with experience at Mastercard and on Capitol Hill, shows how a good speech relies on structure to deliver an unwavering message.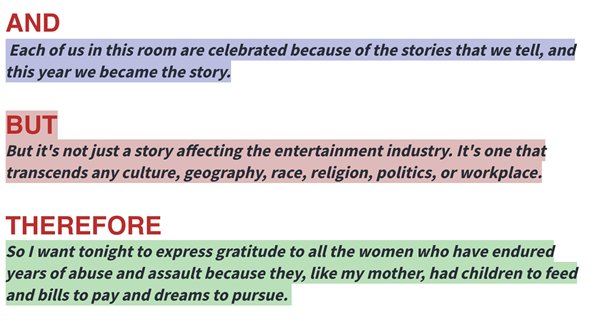 When it comes to speechwriting, storytelling structure is everything.
"The one thing every good speech has got to have is story structure," says Douglass Hatcher, founder of Communicate4impact and a former vice president of executive communications for Mastercard. He made his case for structure—and offered some shortcuts to help writers find the essential elements of their speech quickly—in his presentation for Ragan's Speechwriting and Public Affairs Virtual Conference on March 4.
To support his argument about making a speech a story, he offered the scientific research of the psychologists Fritz Heider and Marianne Simmel from 1944. The researchers showed students an animation of geometric shapes moving across the screen and asked the students to describe what they saw.
One student shared an unembellished account of shapes and lines moving about the page, but most of the focus group shared stories that they saw in the movement. To Hatcher's point: when there is "no clear story structure, our minds will create one." (Hatcher recommends further reading, "The Storytelling Animal.")
What this means for speeches
Without a storytelling structure, not only will the human mind create one on its own, but each story created is going to be different according to the viewer, explains Hatcher. With a clear story structure, an audience will all arrive at a similar version of events, even if the story is very short.
In a divided country, delivering a story structure that brings viewpoints together is more important than ever, Hatcher says. And your audience can't help it: The impulse to create order out of disorder, is fundamentally human. "It is in our DNA."
Story hacks
Hatcher offers a series of shortcuts that speechwriters can use to create a story with their speeches, and breaks down his first "hack" in detail: "And-But-Therefore" or ABT.
This framework is adapted from Randy Olson and his book "Houston, We Have a Narrative," Hatcher says, and Olson, in turn, takes the lesson from "South Park" writers Matt Stone and Trey Parker.
Here's a clip of Stone and Parker explaining the nuts and bolts of what makes a good story structure.
If you are moving between the beats or events of your story, with the phrase "and this"—for example "…and this happened, and then this happened, and then this happened"—your story will be crap, say Parker and Stone. Instead, the "South Park" writers say a good story should be crafted as "this happens, and therefore this happens" or "this happens, but then this happens."
In this way, your story gains structure.
Hatcher connects this story hack to Oprah Winfrey's acceptance speech at the Golden Globes in 2018, starting at about the 4:08 mark.
Winfrey uses the ABT structure, with a few variations, to set up her point: "This year we became the story… but it's not just the entertainment industry that faces the issues revealed in the #MeToo movement…so I want tonight to express gratitude for the women who have endured."
The "and-but-therefore" framework naturally creates an essential story structure: the setup, the turn, and then the resolution.
Hatcher also offers an example of how to use ABT structure in a speech you might be writing, giving the made-up example of a 25th anniversary for a company.
AND: "Today we celebrate 25 years since the inception of [company name]… it's been an extraordinary ride…"
BUT: "…yet, I want us to remember the values that got us here…"
THEREFORE (SO): "That's why I want our faith in each other, [XYZ] values, to remain as we face the future…
The "but" forces you to move in a new direction, Hatcher explains. With a "but" you can't help but move into the turning point of the speech. It forces the writer to think about something other than the setup. And once you get to the "therefore," you really have no choice but to resolve the problem.
Why does this work? Hatcher says it's really just a simplified version of a story arc, much less theory than something like the hero's journey, and easier to implement. He reminds speechwriters to remember that the story of their speech is never about their organization or even the principal or politician giving the speech. It's always about the audience, the customer, the constituents.
A word about setting
Every story has a setting, a time and place where events occur, and Hatcher encourages speechwriters to take the time to set this up. He returns to Winfrey's speech, this time going to the beginning and how Oprah sets the scene for the audience to join the story.
She doesn't begin with a bunch of "thank yous," Hatcher notes. She starts with a personal story, a few simple, personal words at the beginning. With this, she "shrinks the room and creates a dramatic intimacy that allows the audience to soar with her," Hatcher says.
Hatcher challenges other speechwriters to find a simple and effective opening the way Oprah does with her simple beginning: "In 1964, I was a little girl…"
Two more story hacks
 Hatcher also offers two other shortcuts to build a story for any occasion.
Story Hack No. 2: "What, So What, Now What"
This is a great framework that helps the writer or speaker create content that captivates under pressure, Hatcher explains. The structure breaks down this way:
What: This is your main topic.
So what: Why does this topic matter to you and your audience?
Now what: What you want people to do about it?
Whether you are writing prepared notes or speaking extemporaneously, this is a great way to organize your thoughts.
Story Hack No. 3: "Once upon a time…"
This is the framework that movie studios like Pixar will use to storyboard their films, and a longstanding story framework that has been with audiences for a very long time.
Here's the framework:
Once upon a time there was ___. Every day, ___. One day ___. Because of that, ___. Because of that, ___. Until finally ___.
It's a great formula for building a gripping story, but Hatcher says you don't have to make it that complicated. The simpler hacks (Nos. 1 and 2) will work just as well.
COMMENT