AOC nabs third-largest Twitch stream ever, Amazon allows employees to WFH until June 2021, and Cathay Pacific cuts 8,500 jobs
Also: Podcast ads increase purchase intent, Snapchat adds 11 million users during Q3, Orkin crowns Chicago 'rattiest city,' and more.
Hello, communicators:       
Snapchat might not be brand managers' social media darling, but don't count it out.
Snap's shares rose 25% Wednesday morning after the company announced it racked up 249 million daily active users in 2020's third quarter—an increase of 11 million users from the previous quarter.
"The company is also reaping the reward of investments in its advertising platform. Its third-quarter revenue rose to $679 million from $446 million a year earlier, while analysts were modeling $557 million," MarketWatch reported.
Are you using Snapchat in your social media and content strategies? Let us know under the #DailyScoop hashtag.
Here are today's top stories:
Rep. Alexandria Ocasio-Cortez makes history on Twitch
The Congresswoman from New York recently turned to the platform to livestream "Among Us," a popular video game for PC and mobile devices. The game has amassed more than 100 million downloads and its peak player numbers grew more than 6,000% between July and September 2020.
Who would you want to watch in a game together? ⬇️

— Alexandria Ocasio-Cortez (@AOC) October 19, 2020
Join me, @pokimanelol, @hasanthehun, & more on Twitch TONIGHT as we help folks make a voting plan at https://t.co/TskRLfhCt3 and officially declare orange sus on Among Us 🍊

Tune in 9pm tonight at https://t.co/nZap5fuerN https://t.co/HeKMeDDjXf

— Alexandria Ocasio-Cortez (@AOC) October 20, 2020
Ocasio-Cortez used its popularity to encourage people to vote, racking up 439,000 views and making it the third-highest-viewed Twitch stream in history.
Viewership ranged from 300,000 to 400,000 for most of the stream.

… Outside of repeated appeals to vote, the stream was light on politics. Ocasio-Cortez joked at the beginning that it's OK for people to call her AOC—except for Vice President Mike Pence. Later, she had British streamers explain the joys of the NHS, the UK's publicly funded health care system. But most of the video game stream was just that—a video game stream.
Why it's important: As more consumers turn to streaming content and video games, savvy communicators can take advantage of engagement opportunities by following the congresswoman's lead. Don't be afraid to explore video games and online streaming platforms such as Twitch, but when you do, don't make it all about your brand. Instead, have a simple call to action in mind, and focus your time on authentically interacting with those watching.
---
CRISIS COMMUNICATIONS
Cathay Pacific Airways announced that it's shutting down subsidiary Cathay Dragon and cutting 8,500 jobs, affecting more than 5,000 employees in Hong Kong. The layoffs represent roughly 24% of the airline's workforce.
"We have taken every possible action to avoid job losses up to this point," said Cathay Pacific Group CEO Augustus Tang in a statement. He said the airline has scaled back capacity, deferred new aircraft deliveries, frozen recruitment and cut executive pay, among other measures.
However, Tang said Cathay Pacific is still losing as much as $258 million monthly, despite the changes and previous layoffs. The restructuring will save the airline about $65 million each month.
The airline will also ask Hong Kong-based cabin and cockpit crew to agree to changes in their employment conditions "to match remuneration more closely to productivity".

Cathay said this week that it expects to run at half capacity through next year.

"This crisis is deeper, and the road to recovery slower and more patchy than anyone thought possible just a few months ago," said Mr. Healy.
---
MEASURED THOUGHTS
MusicOomph's infographic "The Meteoric Rise of Podcasting" reveals the growing opportunity for brand managers to reach and inspire passionate consumers who are active across social media platforms.
Though only 6% of consumers in the United States are avid podcast listeners, 75% of consumers are familiar with the format and 55% have listened to at least one podcast. The largest listener demographic group falls within ages 25 to 34 years, followed by consumers ages 35 to 44.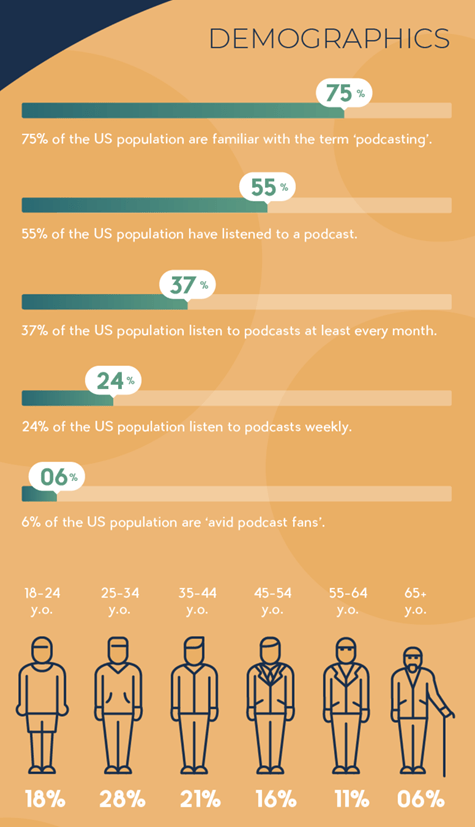 Along with increasing reach for branded messages, podcasts also pump up purchase intent, with 12.8% of news and politics podcast listeners reporting they're more likely to purchase a product or service after listening to an ad during the show and 14% of business podcast listeners reporting they're more likely to purchase after hearing the podcast's sponsored message.
You can view thee entire infographic here.
---
CRISIS LEADERSHIP NETWORK
Looking for more insight on how to address the current global crisis and lead your organization into a strong recovery?
Join Ragan's Crisis Leadership Network to network and brainstorm with peers, get the latest intelligence and research and start to strategize for the future of your organization.
Learn more about this exclusive membership here.
Amazon extends remote work for office employees to June 2021
The e-commerce giant announced that it's allowing corporate workers to log on from home through June 30, 2021, following earlier moves by Twitter, Uber, Facebook and Apple to extend remote working policies. Previously, Amazon told its corporate workforce that it could remain remote through January 2021. 
"We continue to prioritize the health of our employees and follow local government guidance," said Amazon in an email to USA TODAY. "Employees with work that can effectively be done from home can continue to do that work from home through June 30, 2021."
Why it's important: Amazon recently boasted of its No. 2 spot on Forbes' 2020 World's Best Employers List—which it clinched with its COVID-19 response along with its efforts in talent development, gender equality and CSR initiatives. Setting up remote working policies and regularly communicating with employees builds trust as well as confidence in your organization's ability to handle crises including COVID-19.
---
CATCH UP WITH OUR REPORT
More than half (57%) of social media managers say they plan to leave their current position within two years, according to a new survey from the Institute for Public Relations, Ragan Communications and the University of Florida. Though these managers are ambitious, the career path to social media leadership roles remains unclear.
The report sheds light on social media pros' career trajectory as well as the challenging lack of resources and employee burnout that's on the rise. Check out the findings here.
To learn more about how to prepare for the future of social media and more, join us at Ragan's Future of Communications Conference, Nov. 10-11.  You'll learn from PR, social media, marketing and internal communications experts about the top trends and what's on the horizon for the industry.
---
TACTICALLY SPEAKING
If you've recently seen a headline about rats in your city, thank Orkin.
It recently released its 2020 "Orkin's Rattiest Cities List," on which it crowned Chicago the winner for the sixth year in a row, followed by Los Angeles, New York, Washington, D.C., and San Francisco.
Cities looked a little different this year. How did that affect Orkin's Rattiest City List of 2020? Check out this year's Top 10 to see. https://t.co/jdiRyCIvZJ pic.twitter.com/e3bLV5Ssl7

— Orkin Pest Control (@OrkinPest) October 19, 2020
The effort is a clever media relations strategy that ties the company's mission and services to a trend that enticed several journalists. Orkin also used its list to share pest-control changes during COVID-19 and tips for avoiding rodent infestation.
---
EDITOR'S PICKS
Your pets have become your closest colleagues during COVID-19 and as many communicators continue to work from home. That can bring both smiles and groans, especially if your furry or scaly partner interrupts virtual events or important meetings. Embrace your new working relationship with a treat for the office pet.
Consider these surprises:
---
WHAT YOU SAID
We asked if you're integrating influencer campaigns into your current strategies, and 40% of you have increased your partnerships and efforts with content creators, though roughly 33% have done less with influencers and 13% want to increase the amount of influencer partnerships.
How much are you integrating influencer marketing campaigns or strategies as you plan for the next year?

Share your thoughts with us below and we'll share in tomorrow's #DailyScoop.

— PR Daily (@PRDaily) October 20, 2020
Is there a question you'd like us to ask in an upcoming poll? Let us know!
---
SOUNDING BOARD
Which social media platform is giving you the most engagement for your branded content efforts?
Which social media platform is giving you the most engagement for your branded content efforts?

Share your thoughts with us, and we'll dish in tomorrow's #DailyScoop.

— PR Daily (@PRDaily) October 21, 2020
Share your thoughts with us below and under the #DailyScoop hashtag on Twitter.
Editor's note: Ragan Communications may earn a commission through our affiliate partnerships when purchasing items in our content.
COMMENT