As the NFL returns to the field, Lincoln Financial Group shows how to join the action
The firm, which owns the naming rights for the Philadelphia Eagles' stadium, is using its gridiron connections to boost brand loyalty.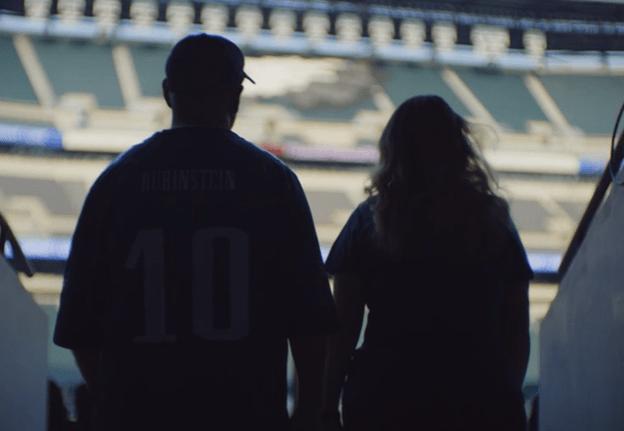 "Family. Football. Financial security." That's the emphasis for Lincoln Financial Group's new content series that spotlights stories about the need for financial planning.
The effort is a trendy example of newsjacking: The release is timed with the start of the 2021-2022 NFL season. And it's also an example of purpose-driven digital storytelling, using the stories of everyday fans—not NFL stars—to highlight the power of Lincoln Financial's offerings.
With the help of former Eagles player Connor Barwin—who now works as an exec with the team—Lincoln celebrates and elevates the backstories of each featured fan before concluding with a personalized tribute that celebrates their unique fandom and financial journey.
"We are fortunate to have a longstanding partnership with the Eagles, and we worked alongside their Fan Services area to review the stories of many passionate fans," says Angela Laubmeier, vice president of advertising and sponsorships for Lincoln Financial Group.
"This year was our first year putting the fans in the spotlight — instead of only players or personnel. We're excited to see the reactions of Eagles Nation as they watch their fellow fans' moving stories."
Getting great footage
As with any storytelling effort, the secret for success is about unearthing stories that will captivate an audience. With Lincoln Financial's series, that's meant putting extra care into the interview process.
"We strive to create an environment where people recognize how much we value their participation, enabling them to feel comfortable sharing their unique experiences," says Laubmeier. "Alongside our longstanding experiential agency, GMR Marketing, we listen for areas of real emotion—happiness, excitement, concern for family members, wistfulness for relationships of the past—and we encourage interviewees to dive deeper."
Video, in particular, is an emotionally driven medium, and storytellers must pay extra attention to the details that will pull on viewer's heartstrings. It's also essential to make sure a camera is capturing everything.
"When we go into shoot, we make sure we are capturing as much relevant content as possible," Laubmeier says.
Maximizing reach and resonance
Once you have a great video, how will you get it in front of your desired audience? While digital tools have made it easier than ever to create a great video, the fractured media landscape means you will have to fight for every eyeball.
"Lincoln Financial is sharing the video series on our social media channels," Laubmeier says of the storytelling effort. Those platforms include Instagram, Twitter, LinkedIn, Facebook and YouTube. But it's the partnership with the Philadelphia Eagles that really builds the audience.
"We're also proud to have them featured on the social channels of the Philadelphia Eagles and of our talent, Connor Barwin," says Laubmeier. "We hope the featured fans will choose to share them as well!"
Measuring success
"Ultimately, the series helps us extend our stadium naming rights and Eagles partnership with fans," explains Laubmeier of the strategic goals behind the campaign. "Our goal is to reinforce awareness of Lincoln Financial while also educating fans about what Lincoln does and how we can help people plan, protect and retire."
So what are the metrics that will show if the content series is a success? "Beyond impressions and views on social media, we are looking to deepen the relationship with Eagles fans so that they can learn more about our financial solutions and how they can work with us," Laubmeier says.
Such goals will require sentiment analysis or listening sessions—work that is increasingly important for showing the qualitative impact of communications campaigns.
Lessons learned
For any brand that partners with a sports organization or entertainment entity, there are lots of storytelling opportunities.
"We've been the Eagles' proud naming rights partner since Lincoln Financial Field was built in 2003," says Laubmeier. "Since starting the series in 2017, we've clearly seen that Eagles fans have never-ending appetites for Eagles-related stories."
It's also important to take the calendar of partner organizations into consideration when looking to reach their audience. For any organization with a naming rights deal or other comms tactics tied to sports and entertainment, the content series is a win-win.
"While brand awareness comes inherently, a content series that infuses your brand story into meaningful storytelling extends your investment beyond awareness alone and drives greater familiarity with your audience," Laubmeier says.
COMMENT