Boeing CEO blames bad Air Force One deal in earnings miss, Zuckerberg sticks with metaverse despite profits drop and US adults increasingly worry over finances
Also: A former journalist is collecting merch from the graveyards of failed companies and Jason Derulo stars in Amazon Prime's incredibly successful first TikTok.
Hello, communicators:
A tote bag from Fyre Festival. A T-shirt and beer koozie from MoviePass. A Popsocket phone accessory from CNN+ (RIP).
These are examples of the kinds of merchandise that former journalist Christina Warren collects — souvenirs from dead companies.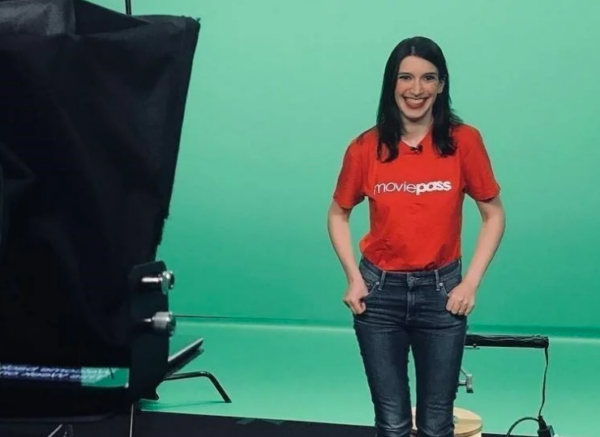 Warren told NPR she's got about 20 of these items so far.
From NPR:
Warren isn't looking for merch from just any business or startup that quickly shuttered. She's looking for the ones that came out of the woodwork with huge fanfare but then failed in an epic way.

"I'm looking at the ones that were flying high, too close to the sun," she said.
Do you have any swag from a now defunct brand or business? Tell us about your favorite boom/bust stories in the comments or tweet us @PRDaily.
Here are today's other top stories:
Boeing CEO regrets 2018 Air Force One deal on earnings call
Dave Calhoun, CEO of airplane manufacturing giant Boeing, told listeners on an April 27 conference call that the company's deal with then-President Donald Trump to build two new Air Force One planes was "a unique moment."
"Air Force One I'm just gonna call a very unique moment, a very unique negotiation, a very unique set of risks that Boeing probably shouldn't have taken, but we are where we are and we're going to deliver great airplanes," The Verge reports Calhoun said in the meeting. "And we're gonna recognize the cost associated with it,"
The 3.9 billion-dollar deal came after Trump said he was considering canceling a previous order for new Air Force One planes to save money. The new agreement stated that Boeing should have the planes finished by 2021 — a deadline that the company did not meet. Boeing has reported that it has lost more than one billion dollars on the contract.
Calhoun said during Wednesday's call that COVID-19 had been especially rough for the company's work on the new Air Force One. "In the defense world when a COVID line goes down or a group of workers steps out, we don't have a whole bunch of cleared people to step into their shoes," he said, noting the "ultra-high" security clearances required to work on the president's plane. "We just got whacked in a number of different areas."
Why it matters: Companies that act as government contractors are often faced with a delicate comms situation. Calhoun's statement on the Air Force One mess — during an earnings call in which he is required to address the company's floundering profits — is gracious toward Trump, who remains a polarizing figure in American politics.
PR pros should be cognizant that company news that includes a former president, particularly Donald Trump, will make headlines.
---
MEASURED THOUGHTS
A new report from Gallup indicates that PR pros should be careful about promoting spending in their messaging, as many Americans say their financial situations have worsened in the last year.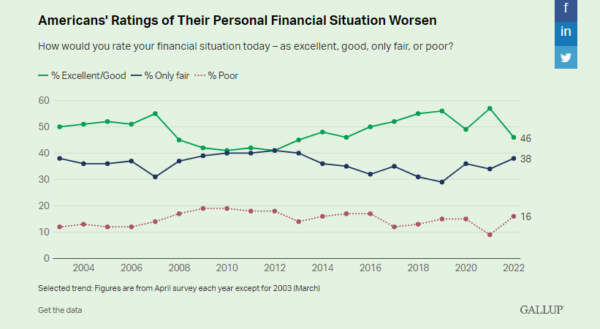 Just 46% of poll respondents rated their financial situations as "good" or "excellent," down from 57% of U.S. adults last year.
Sixteen percent of adults said their financial situation is "poor," an increase of seven percentage points since 2021.
It's important to take your audience's finances and economic status into account when you're crafting your messaging. This data indicates that working with influencers who are taking extravagant vacations or buying expensive clothes may not be the right move for the moment.
Read more from the Gallup report here.
---
BRAND POST OF THE DAY
Step 1: Identify brand niche. Step 2: Make social media account. Step 3: Hire pop superstar Jason Derulo to star in your very first TikTok and garner more than 102,000 likes and 16 million views.
That was Amazon Prime's recipe for success this week:
The video is a mad dash through the last year or so of trends on the video-sharing app, featuring (among other trends) Derulo posing seductively with Prime boxes against a red background, dancing around as a little lad who loves berries and cream and running through Versailles as an animated Marie Antoinette on her way to pick up her Prime packages from her ornate doorstep.
Safe to say, Amazon Prime nailed it with their first TikTok — how will they follow it up with video No. 2?
Zuckerberg sticking with metaverse plan as profit plummets
Meta on Wednesday reported a 21% drop in profits since the same time last year. CEO Mark Zuckerberg said in a statement reported by The New York Times that he plans to stand by his metaverse vision for the company.
"We remain confident in the long-term opportunities and growth that our product road map will unlock," Zuckerberg said.
The two quarters were the company's first back-to-back profit declines in over a decade, a sign of the difficulties it is encountering as it changes course. While Meta is spending heavily on metaverse-related products like virtual-reality goggles, whether people want to buy such gadgets remains far from certain. At the same time, the company's core social networking apps — including Instagram, WhatsApp and Messenger — face challenges. New-user growth has slowed, and competition from rivals like TikTok, the Chinese-owned video site, is increasing.
What it means: While Zuckerberg's response to the company's not-so-good financial news is nothing special, the company's increased PR push to get its VR- and metaverse-related products to consumers shows that Meta is committed to its metaverse strategy.
Make sure your team is ready for the potential and pitfalls of the metaverse.
---
ATTEND OUR MEDIA RELATIONS CONFERENCE
Join us in New York City on May 11 for a one-day, in-person conference all about media relations and measurement.
At PR Daily's Media Relations & Measurement Conference, you'll learn how to score the coverage your brand deserves and generate results—and then showcase those results to management. You'll also learn the latest measurement tools and methods for everything from internal comms and media relations to social media.
Each attendee will receive a Media Relations & Measurement Conference Certificate of Completion.
Register here before April 27 to receive a special attendance rate.
COMMENT