Delta Airlines increases insurance costs for unvaccinated workers, 55% in US plan to look for new jobs, and tech companies push cybersecurity training
Also: Krispy Kreme doubles down on donut vaccine promotion, Walmart lets other merchants use its delivery service, and OnlyFans reverses porn ban.
Hello, communicators:
Krispy Kreme is doubling down on a March campaign that offered a free donut for customers who provide proof of vaccination. Now, customers can get two donuts by flashing their vaccine record. Dubbed the "Show Your Heart" campaign, vaccinated customers can claim one glazed donut and one heart-shaped glazed donut for free.
Krispy Kreme says that it has given away more than 2.5 million of its glazed doughnuts through the original campaign, and that it gave away more than 30 million free doughnuts to healthcare workers, teachers, graduating seniors and others in 2020.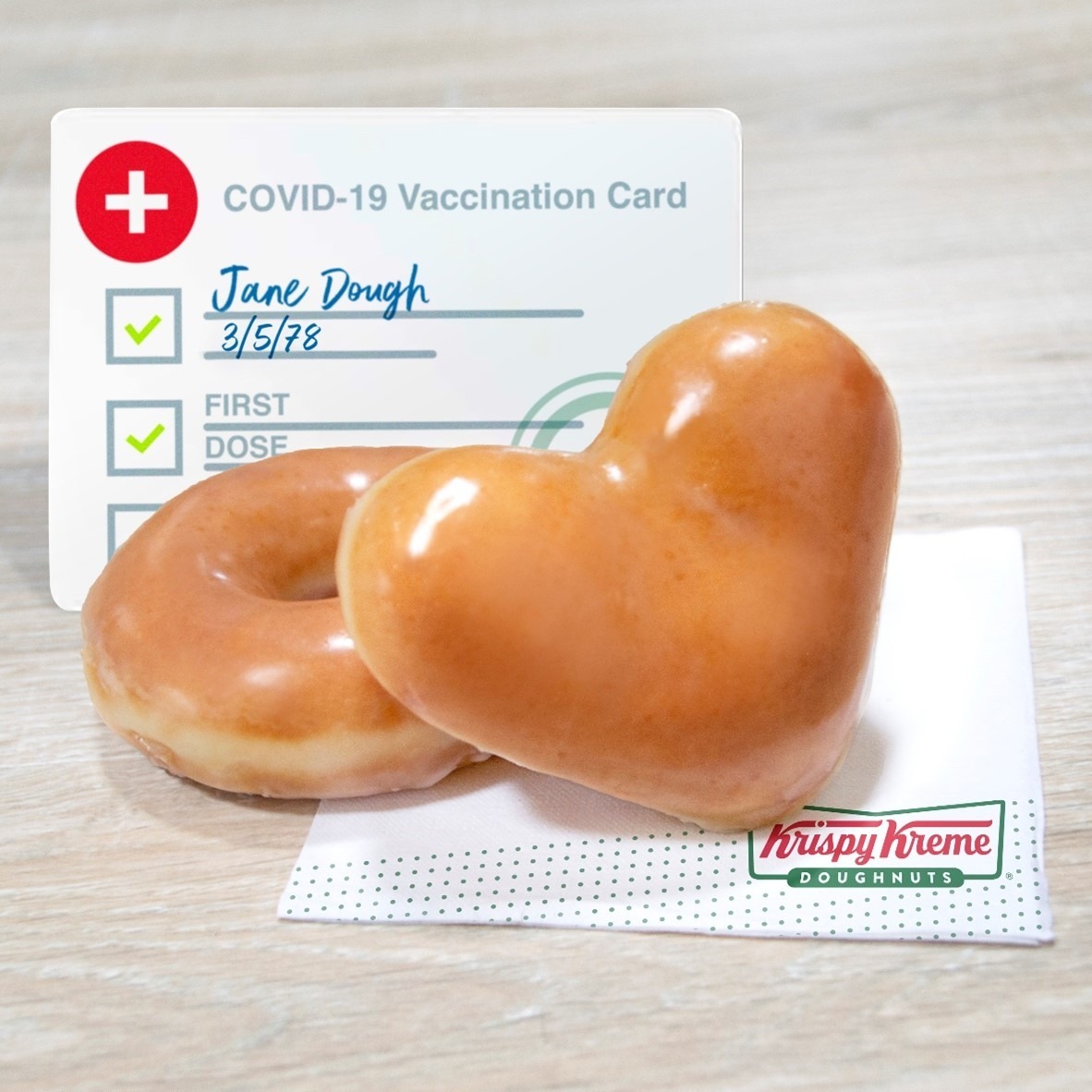 "We all hoped we'd be near the end of this pandemic by now," says Krispy Kreme CMO Dave Skena.  "We're not. So, please consider getting vaccinated if you've not done so already. And then enjoy and share two amazing doughnuts with our heart-felt thanks."
The timing of this promotion, which was announced days after the FDA formerly approved the Pfizer vaccine, highlights the tactic of timing your purpose and value campaigns to coincide with larger developments in the news cycle.
Delta Airlines raises healthcare costs for unvaccinated workers
Delta CEO Ed Bastian explained in a letter to employees that the company will require all unvaccinated workers to wear masks indoors, take weekly COVID-19 tests and forfeit pay protection for missing work due to quarantine (vaccinated employees will be fully protected). Additionally, Delta will raise the insurance costs for unvaccinated workers by $200 for those who plan to stay on the company's healthcare plan.
"This surcharge will be necessary to address the financial risk the decision to not vaccinate is creating for our company," Mr. Bastian said. "In recent weeks since the rise of the B.1.617.2 variant, all Delta employees who have been hospitalized with Covid were not fully vaccinated."

The average coronavirus-related hospitalization has cost the company about $50,000 per person, he said.

"We've always known that vaccinations are the most effective tool to keep our people safe and healthy in the face of this global health crisis," he said. "That's why we're taking additional, robust actions to increase our vaccination rate."
Why it matters:
Though Delta hasn't taken United Airlines' approach and mandated employee vaccinations, its incentives for employees to get the shot create financial considerations that put into focus the real cost the company faces from the ongoing pandemic. By removing questions of morality or politics from the campaign and grounding the messaging in hard numbers, the move echoes similar approaches to purpose campaigns around sustainability and DE&I and serves as a reminder that speaking about your decisions from a financial perspective can make the debate a more cool-headed, logic-based discussion.
---
MEASURED THOUGHTS
A new survey from Bankrate found that 55% of Americans plan to search for a new job over the next 12 months, while 28% of working Americans who said that they are not currently looking for a new job expect to search for a different position at some point next year.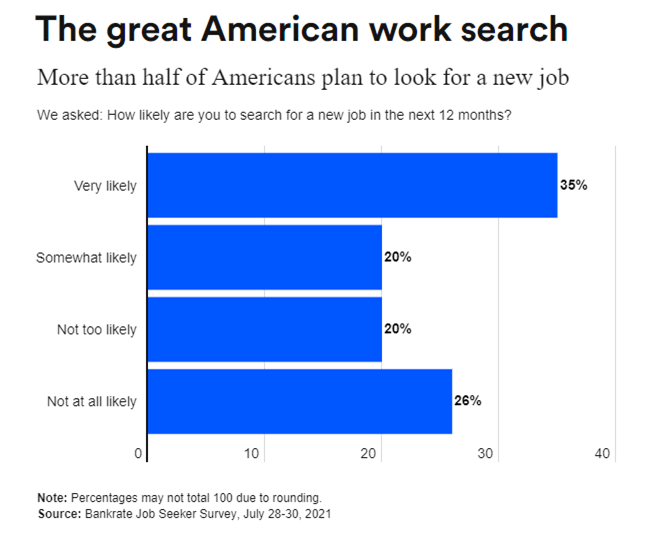 "After spending the last year or more stuck in their homes, a good number of American workers now expect to be on the move, searching for new employment," said Bankrate senior economic analyst and Washington bureau chief Mark Hamrick. "Pandemic-inspired changes, including the ability to work remotely and/or from home, have transformed mindsets and expectations for many workers."
Check out the full report here.
---
TECH TALK
Content-creator subscription site OnlyFans is reversing its ban of sexually explicit content on the platform that was set to take effect on Oct. 1. The adult content creator community protested the decision, claiming that OnlyFans was catapulted to profitability on the back of adult entertainers only to abandon those content creators once it became big enough.
In a tweet about the reversal, OnlyFans framed the decision around inclusion and community feedback:
Thank you to everyone for making your voices heard.

We have secured assurances necessary to support our diverse creator community and have suspended the planned October 1 policy change.

OnlyFans stands for inclusion and we will continue to provide a home for all creators.

— OnlyFans (@OnlyFans) August 25, 2021
While the platform initially framed the ban around losing the support of banks and credit card companies to process fan membership payments, it told Variety that those issues had been resolved.
An OnlyFans spokesperson declined to say which bank or banks it has new or renewed payment-processing agreements with. "The proposed Oct. 1, 2021 changes are no longer required due to banking partners' assurances that OnlyFans can support all genres of creators."
The platform's response shows how you can regain the control of a narrative and steer it away from an angle that isn't serving your brand (like the financial angle) to fold it into a larger national conversation that makes the focus of discussion bigger than your brand's issues alone.
---
TACTICALLY SPEAKING
Walmart will soon launch GoLocal, a new delivery service that lets other companies use Walmart's own delivery platform to make both scheduled and unscheduled deliveries. Walmart says that GoLocal, which will use the same system as Walmart's current express delivery service, will allow merchants who sign up to reach 70% of the U.S. population.
"We've worked hard to develop a reliable last mile delivery program for our customers," said Tom Ward, senior vice president, Last Mile, Walmart U.S., in a statement. "Now, we're pleased to be able to use these capabilities to serve another set of customers – local merchants. Be it delivering goods from a local bakery to auto supplies from a national retailer, we've designed Walmart GoLocal to be customizable for merchants of all sizes and categories so they can focus on doing what they do best, leaving delivery speed and efficiency to us," he added.
Walmart's words about GoLocal go beyond providing a service to other businesses and highlight the company's own successes with its supply chain model and delivery processes. This initiative arrives at a time when e-commerce sales are booming and smaller merchants struggle to keep up with the demands of their customers. Golocal not only solves a marketplace problem but hope to reframe Walmart from its identity as a big box villain into a community steward that is helping the little guy.
---
TAKE OUR SURVEY
If you're looking for benchmark data to take to your bosses the next time you ask for a raise or search for a new job, lend us a hand—and help yourself and your peers while you're at it. Participate in Ragan's Salary & Workplace Culture Survey, a comprehensive look at salaries, benefits, culture, bonuses and other aspects of the job in a fast-moving industry.
Both internal and external communicators are encouraged to participate.
By taking part, you will receive a $150 discount to a Ragan virtual conference of your choice and be entered to win one of five $50 gift cards. All who complete the survey will receive a full report on the findings. Responses are anonymous. Enter by Sept. 17.
Take the Ragan Salary & Workplace Culture Survey now.
Tech companies pledge to increase cybersecurity investment and training  
President Biden hosted a summit at The White House yesterday with tech executives from companies including Apple, Microsoft, Amazon, Google and JPMorgan Chase to urge that these companies do more to respond to cybersecurity threats.
Companies used the summit as a chance to unveil their cybersecurity commitments, which included Microsoft's pledge to invest $20 billion over the next five years to integrate cybersecurity in its products. Google announced a similar $10 billion commitment along with plans to launch a training program for 100,000 Americans in fields such as IT support and data analytics. Apple claimed it would start a program to focus on the security of its supply chain, requiring over 9,000 U.S. suppliers to take cybersecurity training. IBM also promised to train 150,000 people on cybersecurity best practices and work with historically Black colleges and universities to establish cyber security programs. Amazon said it would make its employee cybersecurity training publicly available.
"The reality is most of our critical infrastructure is owned and operated by the private sector, and the federal government can't meet this challenge alone," Biden said in his remarks before the summit. "You have the power, capacity and responsibility, I believe, to raise the bar on cybersecurity. Ultimately we've got a lot of work to do."
What it means:
Each company's announced investments and educational initiatives highlight the need for communicators to be strategically embedded in the rollout of these programs, from communicating new cybersecurity expectations to customers or suppliers to working with the language of training initiatives in order to assure that they are easy to understand and put into practice.
These companies' decision to announce their new initiatives at the summit also emphasizes the importance of having your leaders participate in a high-profile event to establish your role as an industry leader and increase the reach of your company's latest news.
COMMENT
One Response to "Delta Airlines increases insurance costs for unvaccinated workers, 55% in US plan to look for new jobs, and tech companies push cybersecurity training"
Ronald N Levy

says:

Companies don't sell by saying PLEASE buy our beer, cars or drugs so why keep saying PLEASE get vaccinated? Would it not be more motivating to pitch vaccination to protect your life as better than non-vaccination to show you're independent?

Or show that over 600,000 have died of Covid but how many have died from vaccination so which peril do you think is worse?

We could ridicule people who risk their lives—and sometimes lose their lives—to show "no one can tell me what to do." Harder hitting could be pointing out that the more you love "life's pleasures," the more eager you are likely to be to protect your life. That positions non-vaxers to admitting in effect that they are undersexed.

People brighter than we are could write better ad appeals but surely "PLEASE buy" isn't a big winner.